On Dance
Renowned Festival Celebrates Its 15th Anniversary
September 19, 2018 by Susan Reiter
As Fall for Dance marks its 15th anniversary, the festival holds a singular position as a vibrant, crucial anchor to the city's dance season. Those who line up and clamor for its wonderfully affordable tickets cannot imagine the launching of a new season without Fall for Dance.
It has provided a wealth of opportunities for audiences and for artists. Its ten days of highly varied programming offer exposure to the unfamiliar and unexpected, alongside a chance to catch up with familiar favorites. Artists and companies appearing on the festival's diverse, well-balanced programs make their own discoveries, encountering new colleagues and sometimes entering into exciting new collaborations.
"Fall for Dance exposes so many people to new artists and gives people an opportunity to see long cherished artists on a program with dancers they may never have been exposed to before." observes Kyle Abraham, who first performed in the 2007 festival and presented a commissioned work last year. "I don't know if there's any other festival that does such a great job of introducing people to new work while also embracing the familiar. They do it with such class."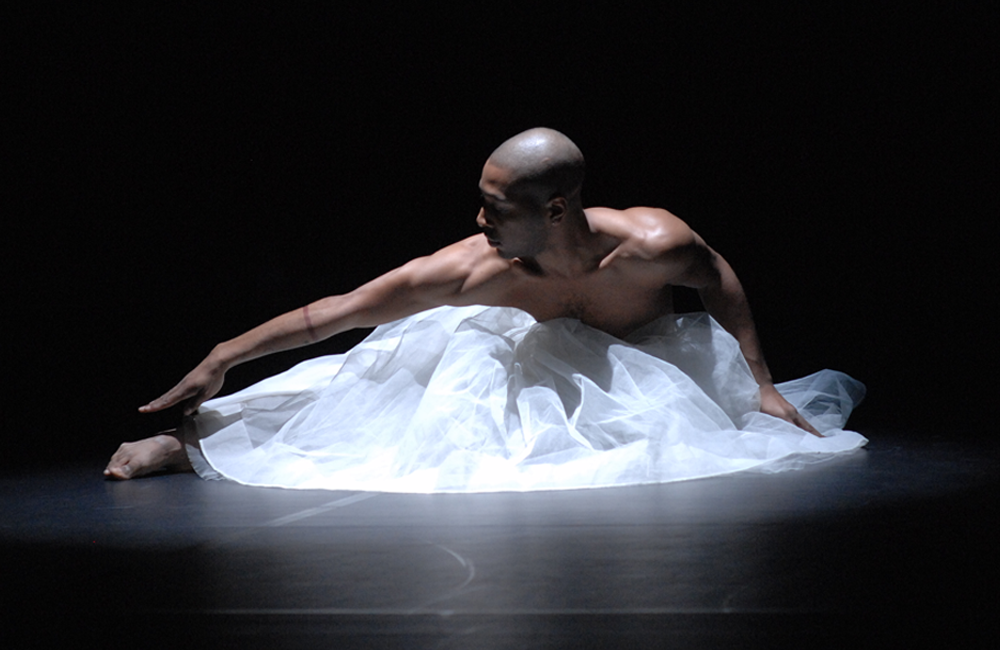 PHOTO: Kyle Abraham in Inventing Pookie Jenkins, 2007 Fall for Dance
Peter Boal, now artistic director of Pacific Northwest Ballet, performed during the first festival in 2004, while he was a principal dancer with New York City Ballet. He danced the previously "lost" solo that George Balanchine created for Paul Taylor in his 1959 ballet Episodes, sharing the program with Trisha Brown Dance Company, Parul Shah & Dancers, Ballet Hispánico, and Rennie Harris Puremovement - American Street Dance Theater.
"I loved the concept of fusion and commonality among dancers. The evenings were wonderfully unexpected in a way that differed from other performances. The juxtapositions were unknown and the caliber tremendous. It felt like a new frontier," Boal recalls. "On my first night performing in the festival, all the dancers were together in the main studio on the fifth floor preparing with the usual mix of excitement and nervousness. I was the only ballet dancer in the room, and 40 or so bodies moved around me, some with flexed fingers and flat feet counting in Hindi. Trisha Brown was in the corner conversing with her dancers in quiet tones, someone was planning a hip-hop explosion, and I was trying to channel a young Paul Taylor. It was nothing less than surreal, sobering, and thrilling."
STREB Extreme Action—the daredevil ensemble that gamely takes on the seemingly impossible challenges devised by Elizabeth Streb—was also part of that inaugural festival and has returned on three more occasions. She greatly admired and appreciated Fall for Dance from the start.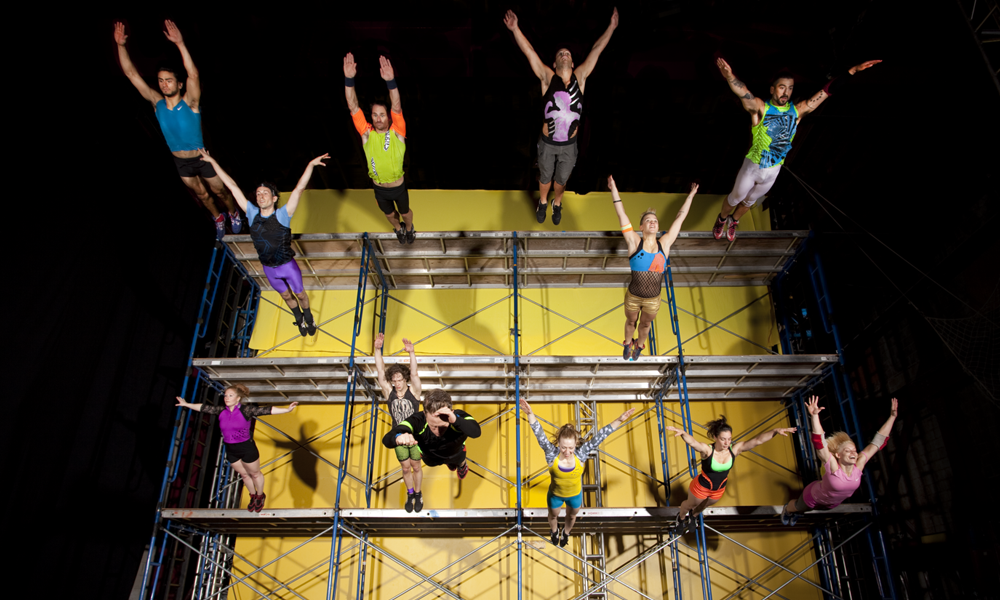 PHOTO: STREB Extreme Action in Human Fountain, 2013 Fall for Dance. Photo by Tom Caravaglia
"When Arlene [Shuler] came up with the festival–essentially a very seriously curated showcase–I thought it was a visionary idea. It's a brilliant structure, really well-curated. It was such a raving success from the start and has continued to be. I really think it has changed the fabric of the dance world in so many ways. People go there who really don't go to see dance the rest of the year."
After presenting numerous world and New York premieres over the years, the festival became even more adventurous and began commissioning works in 2013. 2018's programs include an ambitious total of six commissioned dances.
Sara Mearns, the illustrious New York City Ballet principal dancer, received one of those first commissions and participated in another last year. For her, Fall for Dance has provided opportunities to expand her horizons. "It definitely offers me an outlet to explore new things and to show off different sides of myself that I can't show at NYCB or other places. Every year they ask, 'What are you working on?' They're really generous with me."
Her 2013 commissioned work was a duet by her NYCB colleague Justin Peck that she performed with Casey Herd. She'd been impressed by Peck's earliest choreography for her company, "but I had not worked with him yet. That was an opportunity I needed and wanted to have. At that time, he was not yet so busy with outside work. It was probably one of his first commissions outside NYCB. We were in the studio together for the first time and it was really exciting for both of us. We worked really fast. Now that duet is being done in other places by other dancers, so it has a life afterward."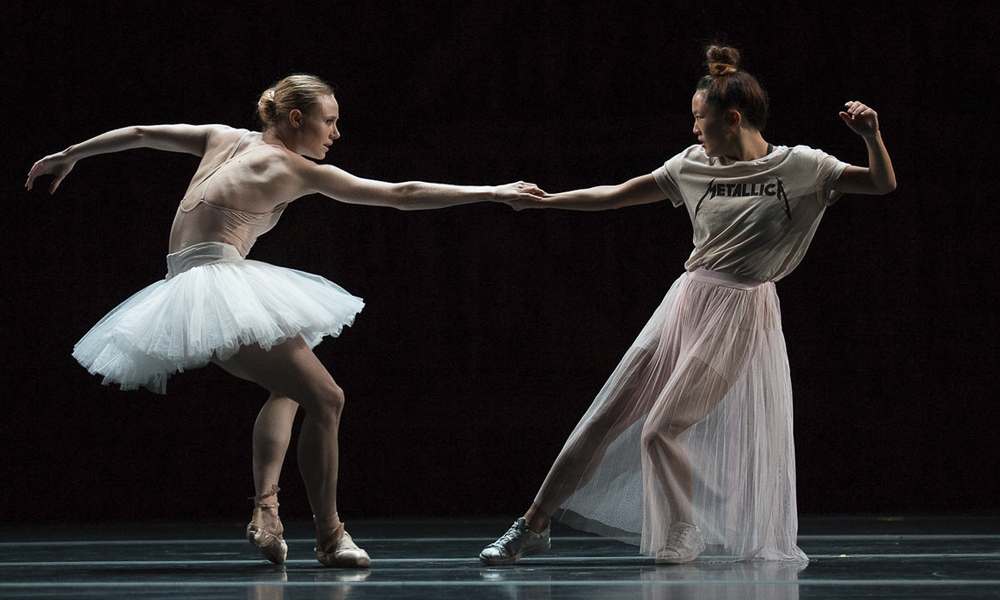 PHOTO: Sara Mearns and Honji Wang in No. 1, 2017 Fall for Dance. Photo by Christopher Duggan
When Mearns exuded Broadway-style glamor in Stairway to Paradise, choreographed by her fiancé Joshua Bergasse, during the 2014 Fall for Dance Festival, she discovered the work of Sebastien Ramirez and Honji Wang and felt compelled to collaborate. "I saw them and felt I had to work with them somehow." Another Fall for Dance commission made it possible, resulting in a world premiere last year.
Boal, whose Pacific Northwest Ballet has appeared twice at Fall for Dance, made several important connections through the festival, discovering choreographers whose work he later brought into his company's repertory. "I saw Victor Quijada's Rubberbandance troupe the year I performed, which prompted me to commission two works from Victor for PNB. I saw Susan Marshall's Kiss and thought it might be a fascinating work for PNB. I also discovered Annabelle Lopez Ochoa's Before/After which we have since performed and toured."
Many have taken note of the festival's breadth and democracy. "Fall for Dance creates such a unique blend of art," Abraham says. "It levels things in a really beautiful way. It's not saying that a company with a budget of millions of dollars is any more amazing or valid than a company that may just be starting out. It's saying that the art can be respected and honored for just what it is."
And Boal notes, "Artists are always so hungry to be in the presence of fellow artists and the festival's environment inspires, whether through dialogue or just proximity. Fall for Dance is so ripe with possibilities."
Streb's experiences with the festival span almost its entire history–including one of the two programs performed outdoors at the Delacorte Theater–and her initial admiration remains undimmed: "Arlene's genius has been to make this exciting for so many years; it's a testament to her vision. Fall for Dance keeps re-inventing itself, yet it is the same structure, and she understood the architecture of that so well."
Susan Reiter is a freelance journalist who contributes regularly to TDF Stages, Los Angeles Times, and many other publications