On Musicals
From Hollywood to Broadway: Styne & Cahn's High Button Shoes
April 15, 2019 by Rob Berman
The final Encores! installment in City Center's 75th Anniversary Season celebrates City Center's historic relationship with choreographer Jerome Robbins—as well as the Jerome Robbins Centennial—and pays homage to the brilliance of hit-making duo Jule Styne and Sammy Cahn.
It was surprising to learn that the legendary composer Jule Styne (1905-1994) was already 41 years old when his first Broadway show opened in October 1947: the rollicking musical comedy High Button Shoes. For comparison, Richard Rodgers and Cole Porter were in their early 20s when they wrote their first Broadway musicals and Stephen Sondheim was 27 when he provided lyrics to West Side Story.
So what took so long? Styne was born in London but grew up in Chicago in the 1920's, the real-life "All That Jazz" world depicted in the musical Chicago. A classical piano prodigy, he began playing jazz with dance bands and in burlesque halls, experiences that would come in handy years later when writing shows like Gypsy. At age 29 he moved briefly to New York but was then lured to Hollywood where he worked as a vocal coach at 20th Century Fox, working with Shirley Temple and many other performers.
It was in Hollywood that he began writing songs of his own, at first out of necessity. In those early days of the exploding film industry, vast amounts of musical material were needed, and needed quickly. Early on he was paired with Frank Loesser and together they wrote a few hits including "I Don't Want to Walk Without You, Baby." Loesser taught Styne the fine art of marrying music with lyrics, advising him, "Don't ever write with smart-ass rhymers. Write with people who have something to say with their words."
Sammy Cahn (1913-1993) was just such a writer. Born and raised in New York, Cahn arrived in Hollywood in 1940 with his first writing partner Saul Chaplin. The producer Al Cohn brought Styne and Cahn together and in 1943 they signed a deal with Columbia Pictures. This was the start of a hugely successful partnership; they turned out hit after hit in the 1940s. The first song they wrote together was "I've Heard That Song Before" and after that they wrote many popular standards including "It's Been A Long, Long Time", "It's Magic", "Let It Snow", "Time After Time", and "The Things We Did Last Summer."
Both men had colorful show business personalities. The energetic Styne had been described as a "mad, buzzing bee" and was a compulsive gambler. For many years, Cahn enjoyed the swinging Hollywood bachelor's life and both Styne and Cahn became part of Frank Sinatra's circle of friends and collaborators.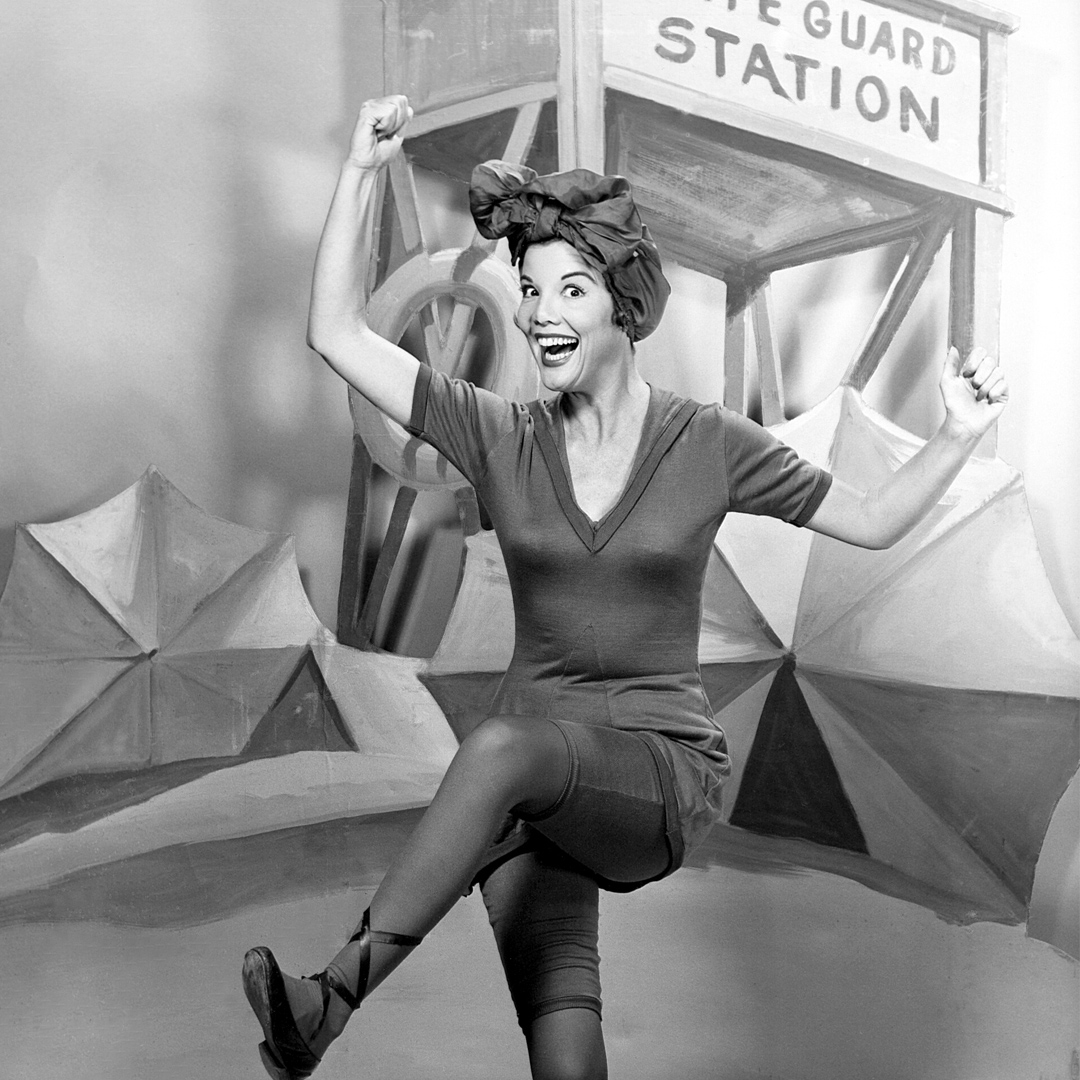 Photo Courtesy of Photofest
High Button Shoes was not the team's first attempt at a Broadway musical. In 1944 they teamed up with director Busby Berkeley (decidedly out of his element) on a show called Glad to See You. The plot involved a USO show touring the South Pacific and it starred the nightclub performer Eddie Davis. It had two disastrous out of town engagements in Philadelphia and Boston and was never seen in New York. Things were so dire that in Philadelphia when Davis got sick, Sammy Cahn himself went on in the lead role for several performances. Styne found the whole experience humiliating.
Both men returned to Hollywood, where Styne was encouraged not to give up on the theater by none other than the old master Jerome Kern. So Styne found a new property to adapt: the 1947 semi-autobiographical novel The Sisters Liked Them Handsome by Stephen Longstreet. Cahn agreed to give the stage another try and Longstreet was enlisted to write the adaptation himself.
So Styne and Cahn, two Hollywood giants but Broadway novices, were joined by two theater legends, choreographer Jerome Robbins and the director George Abbott (who also took over bookwriting duties). Styne recalled being rather intimidated by both Robbins and Abbott. Robbins, then just 28 years old, conceived the entire Mack Sennett style ballet, "Sunday By the Sea." To help celebrate the Jerome Robbins Centennial, the Encores! production has recreated Robbins' ingenious choreography for that piece, as well as for the duet "I Still Get Jealous."
The cast was led by comic Phil Silvers, who was a life-long friend of Sammy Cahn. Silvers played the role of Harrison Floy, a conman who tries to fleece an innocent family in New Jersey. His presence in the show insured a high level of madcap comedy. For the role of Mama, Nanette Fabray was brought in to replace the originally announced Vivienne Segal. It was a star-making turn for Fabray, who sang one of the biggest hits from the show, "Papa Won't You Dance with Me." The reviews were strong and the show ran for 727 performances—a significant hit for the Broadway first-timers.
So Styne finally made it to Broadway by way of London, Chicago, New York (the first time), and Hollywood. And once he got there, he never left. Upon the opening of High Button Shoes, Robbins commented, "Jule's been bitten, God help him." He had a towering career on the Great White Way, writing at least 20 more Broadway shows. Styne's second show on Broadway was Gentlemen Prefer Blondes, another major hit and one which Encores! presented in 2012.
Cahn, on the other hand would not have further success on Broadway. He wrote lyrics for three more Broadway shows: Skyscraper, Walking Happy and he reunited with Styne for the 1970 show Look to the Lilies, which ran for just 25 performances.
By the 1950s Styne and Cahn had mostly gone their separate ways. Cahn started writing with Jimmy van Heusen and continued his major Hollywood career as well as his ongoing collaboration with Sinatra. He was nominated for 31 Academy Awards and one of his four Oscar wins was with Styne for the 1954 song "Three Coins in the Fountain."
The score for High Button Shoes may not have any major enduringhit songs, but it has all the hallmarks of what made Jule Styne and Sammy Cahn two of the most successful songwriters of the 20th Century: charm, wit, great melodies, honest sentiment, and showbiz flair. It was an impressive Broadway debut indeed.
Rob Berman is in his twelfth season as music director of Encores!
See Encores! High Button Shoes at City Center, May 8 – 12.