Encores! Off-Center
2017 – 2018 Season
Songs for a New World

Jun 27 – 30
Wed & Thu at 7:30pm,
Fri at 8pm, and Sat at 2 & 8pm
Gone Missing

Jul 11 & 12
Wed & Thu at 7:30pm
Don't Bother Me, I Can't Cope
Jul 25 – 28
Wed & Thu at 7:30pm
Fri at 8pm
Sat at 2 & 8pm
"A summer theater highlight" (The New York Times), Encores! Off-Center was founded in 2013 with the mission of presenting Off-Broadway musicals that pushed creative boundaries when they were first produced. Filtered through the lens of today's artists, these shows are presented not as historical documents but as living, vital works that speak to audiences both new and old. In keeping with City Center's founding mission to make the arts accessible to all, many Off-Center tickets are $25.
The season opened with Jason Robert Brown's breakout musical Songs for a New World and closed with Micki Grant and Vinnette Carroll's vibrant, radical 1971 work Don't Bother Me, I Can't Cope. The centerpiece of the season was a special two-night-only engagement of Gone Missing, which honored composer and the previous season's Off-Center Artistic Director, Michael Friedman, whose life was tragically cut short in the Summer of 2017.
On select nights, The Lobby Project was presented in the Grand Tier lobby featuring new work by City Center Artists-in-Residence, The Civilians, examining the dynamic history of 2018's Off-Center programming. Utilizing The Civilians' unique brand of artistic and journalistic exploration, a group of up-and-coming composers created three 25-minute docu-musicals based on and inspired by interviews with each Off-Center musical's original creative teams, as well as other artists and community members who have been affected by the legacy of these shows.
"We wanted to celebrate the profound vision of our friend and colleague Michael Friedman, who is sorely missed. Represented by this 2003 work with The Civilians, we're certain that Michael's voice will continue to break open what musical theater can be and inspire audiences and artists for decades to come."
—Encores! Off-Center Co-Artistic Director Anne Kauffman
"This season is about the New World—songs of the moment of decision, loss and love, and the raising of the voice for change. It's about three composer/lyricists—Jason Robert Brown, Michael Friedman, and Micki Grant—whose work shines a light on the fleeting moments of life, looking back at who we were, and forward to who we hope to become."
– Encores! Off-Center Co-Artistic Director Jeanine Tesori
The Lobby Project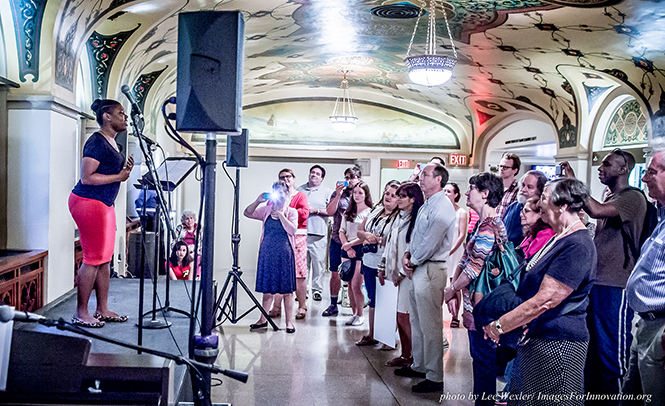 Presented in tandem with Encores! Off-Center productions, The Lobby Project is a series of free performances, conversations, and readings that will place each musical in the context of its legacy and provide insights into the work the audience is about to experience. The events will take place in City Center's beautiful Grand Tier lobby one hour before curtain and are free for that evening's ticket holders. Each Lobby Project event is 45 minutes long.
This summer, The Civilians are teaming up with New York City Center as Artists in Residence to create and premiere investigative theater pieces focusing on each of the three Encores! Off-Center productions. With their characteristic journalistic curiosity and playful artistry, The Civilians will illuminate their creative process by exploring the impact the original productions of the Off-Center revivals have had on audiences and artists alike.
The Lobby Project investigating Gone Missing
Wed & Thu at 6:30pm
The Lobby Project investigating Don't Bother Me, I Can't Cope
Thu at 6:30pm
Fri at 7pm
Sat at 1 & 7pm


To learn more about The Civilians visit www.thecivilians.org
Encores! Off-Center Sponsors
75th Anniversary Season Sponsors
Stacey and Eric Mindich

Series Sponsors
Stacey and Eric Mindich
Stacy Bash-Polley
Luigi Caiola and Sean McGill
Elizabeth and Dean Kehler
Andrew Martin-Weber
Major Support for Songs for a New World is provided by
Stacey and Eric Mindich
Major Support is provided by
Paula and Ira Resnick
Arts Access Fund



Blanchette Hooker Rockefeller Fund
Additional support is provided by
Paula and Ira Resnick
The Lobby Project is sponsored by
The Frederick Loewe Foundation
Support for the Artistic Innovation Fund is provided by
Lisa and Richard Witten
Past Productions
2017
Assassins
Jul 12 – 15
Music and Lyrics by Stephen Sondheim
Book by John Weidman
Assassins is based on an idea by Charles Gilbert, Jr.
Choreography by Lorin Latarro
Music Director Chris Fenwick
Directed by Anne Kauffman
Starring Damian Baldet, Steven Boyer, Alex Brightman, Victoria Clark, John Ellison Conlee, Clifton Duncan, Andrew Durand, Shuler Hensley, Ethan Lipton, Hudson Loverro, Erin Markey, Steven Pasquale, Cory Michael Smith, Pearl Sun, and Danny Wolohan
The Bubbly Black Girl Sheds Her Chameleon Skin
July 26 – 27
By Kirsten Childs
Choreography by Byron Easley
Music Supervisor Chris Fenwick
Music Director Annastasia Victory
Directed by Robert O'Hara
Starring Penelope Armstead-Williams, Tanya Birl, Kaitlyn Davidson, Josh Davis, Yurel Echezarreta, Lauren E.J. Hamilton, Korey Jackson, Nikki M. James, Kingsley Leggs, Jo'Nathan Michael, Kenita R. Miller,Julius Thomas III, Shelley Thomas, and Alex Wong
Really Rosie
Aug 2 – 5
Book and Lyrics by Maurice Sendak
Music by Carole King
Choreography by Ayodele Casel
Music Supervisor Chris Fenwick
Music Directors Mary-Mitchell Campbell and Carmel Dean
Directed by Leigh Silverman
Starring Swayam Bhatia, Kenneth Cabral, Taylor Caldwell, Ayodele Casel, Jaiya Chetram, Eduardo Hernandez, Nanyellin Liriano, Chris Lopes, Zell Steele Morrow, Charlie Pollock, Ruth Righi, Anthony Rosenthal, and Nicole Wildy
---
2016
Runaways
Jul 6 - 9
Book, Lyrics, and Music by Elizabeth Swados
Choreography by Ani Taj
Music Director Chris Fenwick
Directed by Sam Pinkleton
Starring Frenie Acoba, Sumaya Bouhbal, Kenneth Cabral, Maxwell Cabral, Taylor Caldwell, Sophia Anne Caruso, Xavier Casimir, Joshua DeJesus, Adleesa Edwards, Aidan Gemme, Reyna Guerra, Matthew Gumley, Christina Jimenez, Kylie McNeill, Cele Pahucki, Sam Poon, Siena Rafter, Claudia Ramirez, Ren,MJ Rodriguez, Deandre Sevon, Jeremy Shinder, Ripley Sobo, Chris Sumpter, and Maxwell Vice
Off-Center Jamboree!
Jul 16
Choreography by Noah Racey
Music Supervisor Chris Fenwick
Music Director Jeanine Tesori
Directed by Michael Mayer
Starring Sutton Foster and Jonathan Groff
With César Alvarez, Darren Biggart, Holly Ann Butler, Ayodele Casel, Julian Hornik, Patrick Lazour, Daniel Lazour, Marla Louissaint, Arri Lawton Simon, Shaina Taub, Ben Wexler, Karley Willocks, and featuring members of the City Center Staff
Kurt Vonnegut's God Bless You, Mr. Rosewater
Jul 27 - 30
Book and Lyrics by Howard Ashman
Music by Alan Menken
Additional lyrics by Dennis Green
Choreography by Lorin Latarro
Music Director Chris Fenwick
Directed by Michael Mayer
Starring Skylar Astin, Derrick Baskin, Jeff Blumenkrantz, Nick Choksi, Eddie Cooper, Kevin Del Aguila, Santino Fontana, Clark Johnson, James Earl Jones, Rebecca Naomi Jones, Kevin Ligon, Marla Louissaint, Liz McCartney, Bonnie Milligan, Brynn O'Malley, and Kate Wetherhead
---
2015
A New Brain
Jun 24 - 27
Music and Lyrics by William Finn
Book by William Finn and James Lapine
Directed by James Lapine
Choreography by Josh Prince
Starring Jenni Barber, Quentin Earl Darrington, Bradley Dean, Dan Fogler, Ana Gasteyer, Jonathan Groff, Josh Lamon, Aaron Lazar, Alyse Alan Louis,and Rema Webb
Little Shop of Horrors
Jul 1 - 2
Book and Lyrics by Howard Ashman
Music by Alan Menken
Choreographed by Patricia Wilcox
Directed by Dick Scanlan
Starring Tracy Nicole Chapman, Eddie Cooper, Ellen Greene, Joe Grifasi, Jake Gyllenhaal, Marva Hicks,Anwar Kareem, Ramona Keller, and Taran Killam
The Wild Party
Jul 15 - 18
Book, Music, and Lyrics by Andrew Lippa
Choreographed by Sonya Tayeh
Directed by Leigh Silverman
Starring Ryan Andes, Brandon Victor Dixon, Sutton Foster, Joaquina Kalukango, Talene Monahon, Steven Pasquale, and Miriam Shor
With Renée Albulario, Penelope Armstead-Williams, James Brown III, Rachel De Benedet, Raymond J. Lee, Kenita R. Miller, Sydney Morton, Clifton Oliver, Charlie Pollock, Britton Smith, Ryan Steele, and Samantha Sturm
---
2014
tick, tick…BOOM!
June 25-28
Book, Music, and Lyrics by Jonathan Larson
Script Consultant David Auburn
Choreographed by Camille A. Brown
Music Direction by Chris Fenwick
Directed by Oliver Butler
Starring Lin-Manuel Miranda, Leslie Odom Jr., Karen Olivo
Randy Newman's Faust: The Concert
July 1
Music and lyrics by Randy Newman
Choreographed by Marcos Santana
Music Direction by Chris Fenwick
Directed by Thomas Kail
Starring Michael Cerveris, Isaiah Johnson, Randy Newman, Laura Osnes, Vonda Shepard, Brooklyn Shuck, Tony Vincent, Broadway Inspirational Voices
Pump Boys and Dinettes
July 16-19
Book, Music and Lyrics by John Foley, Mark Hardwick, Debra Monk, Cass Morgan, John Schimmel, and Jim Wann
Choreographed by Danny Mefford
Music Direction by Chris Fenwick
Directed by Lear deBessonet
Starring Jordan Dean, Hunter Foster, Mamie Parris, Randy Redd, Katie Thompson, Lorenzo Wolff
---
2013
The Cradle Will Rock
July 10–13
Music, Lyrics and Book by Marc Blitzstein
Choreographed by Chase Brock
Music Direction by Chris Fenwick
Directed by Sam Gold
Starring Danny Burstein, Eisa Davis, Raúl Esparza, Peter Friedman, Aidan Gemme, Judy Kuhn, David Margulies, Martin Moran, Michael Park, Robert Petkoff, Da'Vine Joy Randolph, Anika Noni Rose, Matthew Saldívar, Henry Stram
Violet
July 17
Music by Jeanine Tesori
Book and Lyrics by Brian Crawley
Music Direction by Michael Rafter
Directed by Leigh Silverman
Starring Sutton Foster, Joshua Henry, Van Hughes, Austin Lesch, Anastacia McCleskey, Keala Settle, Christopher Sieber, Emerson Steele, Chris Sullivan, Rema Webb, Paul Whitty
I'm Getting My Act Together and Taking It on the Road
July 24–27
Book and Lyrics by Gretchen Cryer
Music by Nancy Ford
Music Direction by Chris Fenwick
Directed and Choreographed by Kathleen Marshall
Starring Renée Elise Goldsberry, Jason Rabinowitz, Christina Sajous, Jennifer Sanchez, Frederick Weller