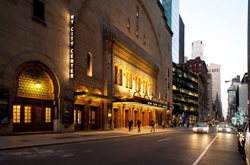 NEW YORK CITY CENTER has played a defining role in the cultural life of the city since 1943 when it was founded by Mayor Fiorello La Guardia with the mission to make the best in the performing arts accessible to all. The distinctive neo-Moorish theater welcomes 300,000 visitors annually to experience internationally acclaimed artists on the same stage where legends like George Balanchine, Leonard Bernstein, and Barbara Cook made their mark. Its landmark 75th Anniversary Season (2018 – 2019) paid tribute to this rich history while celebrating the institution's singular role in the arts today.
For more than 25 years, the treasured, Tony-honored Encores! series has given new life to the American musical theater canon, complemented in recent years by the Encores! Off-Center series, which brings today's innovative artists into contact with groundbreaking musicals from the more recent past. Dance continues to be an integral part of the institution's mission through programs like the annual Fall for Dance Festival, which exposes a new audience to an international array of artists by offering subsidized tickets for the price of a movie ticket.
City Center is also home to a roster of renowned national and international companies, including Alvin Ailey American Dance Theater (City Center's Principal Dance Company) and Manhattan Theatre Club. Through its robust education and community programs, City Center brings the performing arts to over 11,000 New York City students, teachers, and families each year and activates all areas of the building with talks, master classes, art exhibitions, and intimate performances that provide audiences an up-close look at the work of the great theater and dance artists of our time.
75 years and just getting started
From the critically-acclaimed Fall for Dance Festival and Balanchine: The City Center Years—a festival celebrating legendary choreographer George Balanchine—to memorable Encores! and Encores! Off-Center revivals including what TheaterMania called "The best production of [Sondheim and Weidman's Road Show] you'll probably ever see," the 75th Anniversary Season (2018-2019) reaffirmed the commitment to provide access to the arts for all New Yorkers for another 75 years.
Videos from City Center Artists