Apprenticeships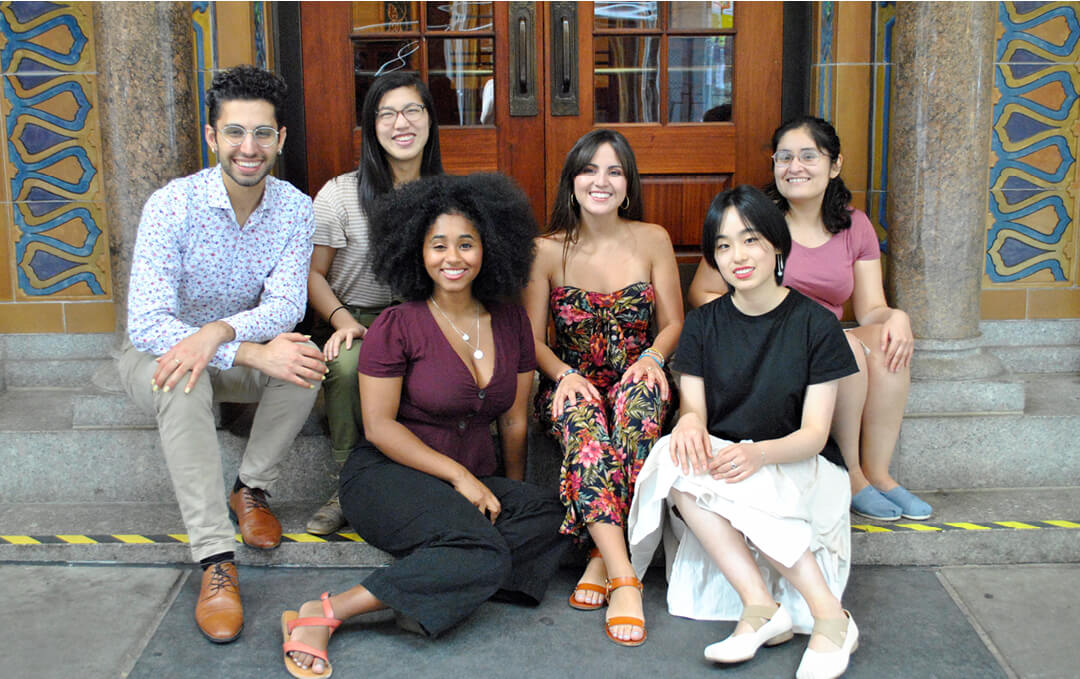 Program Mission
We are committed to training the next generation of creative, passionate arts professionals by building pathways to careers in the arts for candidates underrepresented in the field of arts administration.
Learn more about City Center's history, mission, and programs here.
Administrative Apprenticeships
Whether you are an early-career or career-changing arts professional, you can build your knowledge and experience in arts administration with an apprenticeship at City Center.
Receive on-the-job training and learn about the daily operations of a non-profit performing arts center while working alongside talented and experienced arts administrators.
Our 9-month program offers you plenty of hands-on learning opportunities in Dance Programming, Development, Education, Marketing, and Production Management.
The program runs from September to May and includes paid training. Apprentices are paid $15 per hour for 24 hours a week. Our hours of operation are Monday to Friday from 10am to 6pm. Weekly schedules vary by department.
Need-based scholarships are available. To qualify, applicants may need to provide either a recent FAFSA Student Aid Report or IRS 1040 Individual Income Tax Return at a later date.
Creative Apprenticeships
Immerse yourself in the fast-paced production process of our music theater series Encores! and work alongside renowned artists and professionals through City Center's creative apprenticeship program.
Emerging artists receive first-hand training, direction, and guidance with apprenticeships in Costume Design, Directing, Lighting Design, Music Direction, Scenic Design, and Sound Design.
The program includes pre-production training that runs in conjunction with the Encores! season (Feb – May). Apprentices are paid $15 per hour. Schedules and hours vary by department and production schedule.
Through these programs, apprentices will:
Work directly with a supervisor in their area of focus
Engage with City Center staff and artists
Participate in paid training
Receive professional development
Build a professional network under the guidance of a designated Mentor
Participate in City Center's staff initiatives, including anti-racism workshops, committees, and all-staff meetings
Attend rehearsals and performances, when possible
Deliver a final group presentation to City Center staff
Qualified program candidates will possess:
A compelling connection to the program's mission and purpose
Current authorization to work in the U.S.
A willingness to learn
Strong communication skills and attention to detail
The ability to take direction and work both independently and collaboratively
Flexible availability that includes some nights and weekends
Some previous experience or education in the field for which you apply
The application for the 2021-2022 Administrative Apprenticeship Program is now open.
Available positions include:
Dance Programming: The Dance Programming Apprentice will assist the programming team with the implementation of New York City Center's dance season, including the 18th annual Fall for Dance Festival. This will include assistance in maintaining artistic planning materials, updating and organizing programming documents, providing research support and assisting with artist services. This apprenticeship will allow for an in-depth dive into the ever-changing and diverse needs of the annual programming process of a large NYC cultural institution and is an opportunity to creatively and resourcefully solve problems while navigating a complex web with a variety of stakeholders. The ideal candidate will be proactive, flexible and detail-oriented. They should also have a passion for dance and an interest in learning more about the local, national, and international dance landscape.
Development: The Development Apprentice will be involved in all aspects of City Center's fundraising activities, including membership, special events, and institutional giving. Through this program, the apprentice will gain familiarity with donor acquisition and stewardship, event management, grant writing, and database maintenance – all while experiencing the day-to-day operations of a premier non-profit performing arts organization. The Development Apprentice will assist in answering our Member Hotline, so comfort on the phone is a must. Strong writing and editing skills are highly encouraged. This apprenticeship is an ideal fit for someone who is interested in gaining a fundamental understanding of non-profit fundraising and who wants to develop strategy, craft compelling appeals, and organize data to build a case for support.
Education: The Education Apprentice will work directly with the Education department team, teaching artist roster, and City Center partner schools. Through this program, the apprentice will gain insight into administering arts education programs in New York City schools and communities. They will assist with the coordination of school workshops and residencies, as well as Education events including professional development workshops. Additional responsibilities include assisting with the development of study guides, analyzing program evaluations, and preparing event support materials. The apprentice will also assist in processing Take 5 ticket orders, so comfort on the phone is a must. This apprenticeship is an ideal fit for someone who is passionate about arts education and access initiatives, enjoys collaborative work, is interested in generating creative and responsive educational materials and learning more about partnering with NYC schools.
Marketing: The Marketing Apprentice will play an active role in the execution of the department's initiatives to welcome audiences back to the theater this season. The apprenticeship will introduce the individual to the wide range of disciplines within marketing. Specifically, the apprentice will assist with audience development, email creation and tracking, production and artist research, advertising, and survey development and execution. This apprenticeship is a great position for someone who is a self-starter, detailed-oriented and enjoys computer-based work. They should also be passionate about musical theater and/or dance and be interested in learning about digital marketing and data analysis.
Production Management: The Production Management Apprentice will work directly with the Production Department team to oversee and support City Center productions and events in our mainstage theater. The Apprentice will have the opportunity to experience all aspects of stage production, assist in the management of production and institutional budgets, help coordinate physical needs for our mainstage theater and lobbies, and conduct general administrative duties within the Production Management department. The Apprentice will also have ample opportunities to interact with top designers, stage managers, and Local One union stagehands, as well as access to production meetings and rehearsals. Candidates should expect to do a combination of office tasks and hands-on experience mounting large-scale productions and events. This apprenticeship is a great position for someone interested in the day-to-day operation of productions and collaborating across technical departments with a variety of people.
Apply here
APPLICATION DEADLINE: WEDNESDAY, JUNE 23 at 11:59 PM
Interested in learning more about the Administrative Apprenticeship Program before applying?
Interested in learning more about the Administrative Apprenticeship Program before applying? Feel free to watch the recording from our Virtual Information Session on Thursday, June 3 to learn about the program's structure, application process and hear directly from former City Center apprentices. The transcript from the event can be found here.
Have questions about how to craft your cover letters and resumes? Feel free to review these best practices and other tips and suggestions.
Please note: This document is a resource and does not serve as a requirement for the City Center apprentice program application. Additionally, this list is not comprehensive and there are many online resources that can further assist in material preparation.
If you'd like to stay informed about City Center apprenticeship opportunities, please add your name to our email list.
Questions about the program? Email Education@NYCityCenter.org.