On Musicals
Jerome Moross and Americana
May 10, 2017 by Rob Berman
The music for the opening prelude of The Golden Apple is rhythmically propulsive, sweeping, syncopated, heroic. In a word, it sounds American. The composer Jerome Moross, born in Brooklyn in 1913 and a protégé of Aaron Copland, was known for his distinctly American musical language.
While not exactly a household name in the history of twentieth-century music, Moross had a surprisingly wide-ranging and active career which included work in film, theater, ballet, television, orchestral works, and chamber music. He is probably best known for his work as a composer of film Westerns, including the Academy Award-nominated score for The Big Country (1958). In the theater, The Golden Apple was his most successful and best-remembered work.
Moross began writing music at the age of eight; in high school, he recalled "sitting in the back of the room so the teacher shouldn't disturb me while I was composing." Despite having no formal training in composition, Moross' musical influences were considerable. As a teenager, he began sneaking into New York Philharmonic concerts with his classmate Bernard Herrmann, who became a lifelong friend. He also spent time with Charles Ives and joined the Young Composers' Group led by Copland, who praised Moross for writing "music that has a quality of sheer physicalness, music 'without a mind,' as it were." Moross even worked briefly for George Gershwin, playing piano for a touring production of Porgy and Bess.
It was on his way to Los Angeles for Porgy and Bess at the age of 23 that he fell in love with the American West. His experience seeing the expansive landscape of the flatlands outside Albuquerque overwhelmed him and influenced his later writing, especially his theme to The Big Country. As Moross once said of his work, "I was interested in digging up [the] American past."
In the 1930s and early 1940s, Moross composed works for theater, dance, and radio as well as some concert works, including his one and only symphony, which premiered in 1943. An early ballet for choreographer Ruth Page called Frankie and Johnny was based on the traditional American folk song and featured a Greek chorus of three female voices, foreshadowing the trio of Minerva, Juniper, and Lovey Mars in The Golden Apple.
His Hollywood career began in the 1940s, mostly as an orchestrator for other composers' works, including Copland's Our Town. By the 1950s he was composing his own scores; with a trio of Westerns in the late 1950s, he established his reputation as a composer who could capture the grandeur and expanse of the American West.
At the same time that his film career was flourishing, he began working with the lyricist John Latouche on theater pieces. They first collaborated on Ballet Ballads, a collection of four short pieces based on existing tales, including The Eccentricities of Davy Crockett and Riding Hood Revisited. A version of Ballet Ballads actually played on Broadway for a few weeks in 1948.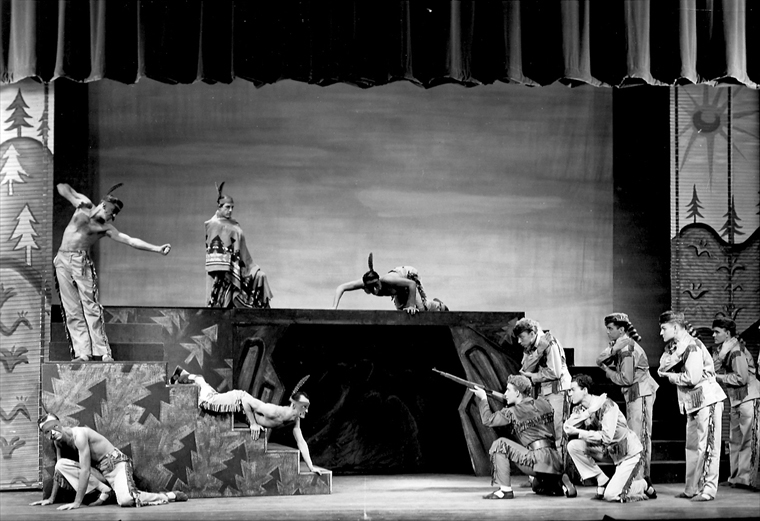 A moment from the 1948 Broadway production of Ballet Ballads.
Shortly after that, the two writers began work on The Golden Apple. The musical expanded on techniques created for Ballet Ballads, with the aim of creating a hybrid, genre-crossing form. It is a through-sung musical comedy, the entire libretto being set to music. Songs and scenes flow rapidly one into the next. The original production also featured some characters who only expressed themselves through dance.
In setting the story in the American Northwest of the early twentieth century, Moross uses the rhythmic compositional style and modal harmonic language he would bring to so much of his work while also borrowing forms and styles from classic American idioms. We hear ragtime, blues, marches, vaudeville, waltzes, burlesque, and softshoe, all employed to serve the storytelling. It is also worth noting that Moross was one of the few theater composers capable of effectively orchestrating his own music, as he did for The Golden Apple (along with Hershy Kay).

Priscilla Gillette and Stephen Douglass in the 1954 Broadway production of The Golden Apple. (Cornell Capa)
So what makes his music sound American? It's hard to define, but you know it when you hear it. Listen to his theme from the 1956 film The Sharkfighters and there is no doubt it is the same musical mind behind The Golden Apple. In both works, there are jazzy rhythmic syncopations, open voicings, spacious harmonies, and arpeggiated figuration. The heroic trumpets in The Big Country and the propulsive offbeats and modal melodies in his score for the 1960 film The Adventures of Huckleberry Finn are also characteristic of his style.
By the late 1960s and 1970s, Moross had lost interest in Hollywood and he devoted his time mostly to instrumental and chamber works. He died in 1983 at the age of 69.
Moross was a major talent but never had the breakout successes of some of his contemporaries. Some of his music was rarely performed; several works have never been heard. He is not as celebrated as Copland in the world of concert music, nor as well-known as Herrmann in the world of film music, and certainly not as famous in the world of theater as most of the great songwriters. But few composers worked in all of these worlds and enjoyed such a diverse career. Moross' music is, in turn, energetic, languid, grand, sweet, thorny, melodic, jazzy, and on and on. It is worth rediscovering.
---

The Golden Apple will run seven performances only at City Center from May 10-14.
Rob Berman is the music director of Encores! This essay is reprinted courtesy of Playbill.
Top image: Priscilla Gillette and Stephen Douglass in the 1954 Broadway production of The Golden Apple. (Cornell Capa)