News Flash
HIDDEN Assassins, The Bubbly Black Girl, and Really Rosie will come to Encores! Off-Center this summer
February 27, 2017 by Michael Friedman
This summer, City Center's acclaimed Encores! Off-Center series will return with concert revivals of Stephen Sondheim and John Weidman's Assassins (July 12-15), Kirsten Childs' The Bubbly Black Girl Sheds Her Chameleon Skin (July 26-27), and Carole King and Maurice Sendak's Really Rosie (August 2-5). We asked incoming Off-Center artistic director Michael Friedman to share a few thoughts about why these musicals matter.
For the last four years, as a happy audience member at Encores! Off-Center, I couldn't wait to find out what unexpected delights would come each season. What unmissable performance, what glorious score? Off-Center, City Center's summer series of landmark Off-Broadway musicals, has grown from a brilliant idea to an essential institution, a program as generous, ferocious, surprising, beautiful, and brilliant as its first artistic director, Jeanine Tesori. Jeanine, like everyone who brought this program to life, believes in the musical as one of the central American art forms, and one that encompasses a much larger, more inclusive body of work than we usually remember.
There has always been a world of shows born and raised beyond Broadway. And there are artists—directors, designers, conductors, choreographers, actors—whose most exciting work has not always occurred in midtown, or who are in the early stages of their brilliant careers. Off-Center brings these shows and artists together. City Center—the People's Theater, with its unique commitment to bringing the best of all the performing arts to all New Yorkers—is the inspiration.
And the most important element is you: the incredible, excitable, fearless Off-Center audience. I am so thrilled to be able to offer you these three shows. I programmed them selfishly, because I want to see them so badly. I think you will feel the same way.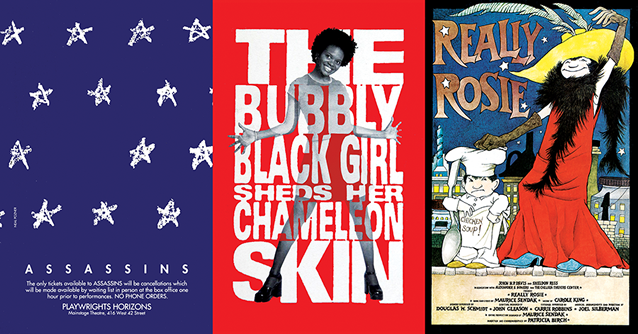 This season might be titled "Grownups with guns, kids with dreams, and a bubbly black girl trying to find her way through America." While planning the fifth Off-Center season (my first), before and after the election, I found myself asking, "What kind of America do we have?" and "What kind of America do we want?" and "How can we possibly imagine getting there?" (Also, "Why am I so angry?")
The three brilliant, gorgeous shows we're bringing to you this summer are three very different visions of the American dream, and of what happens when people try to make their visions real. They exemplify the variety of shows that we do at City Center. They also exemplify the reasons that musical theater matters in the first place.
Our first show is possibly the most perfect work by two legends of the stage: Stephen Sondheim and John Weidman's 1990 musical Assassins. A carnival ride through the history of political violence, Assassins looks right into the heart of American anger, providing a series of showstoppers for an unforgettable cast who will embody a gallery of U.S. presidential assassins ranging from John Wilkes Booth to Lee Harvey Oswald to Lynette "Squeaky" Fromme.
One of America's major directors, my friend and collaborator Anne Kauffman (A Life, Marvin's Room), makes her Encores! debut with this sensational show, which provides an uncanny lens to view where we are today and where we might be going.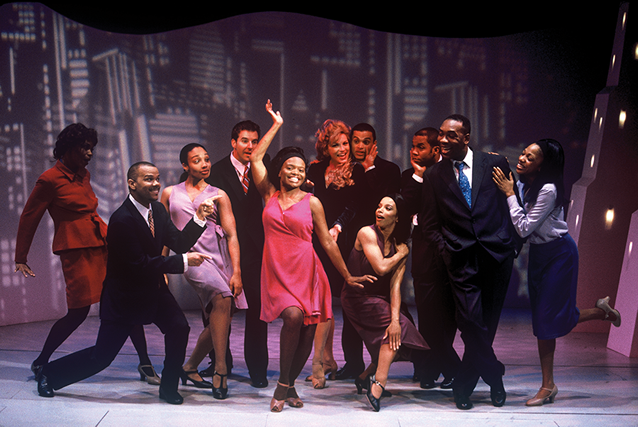 The cast of the 2000 Off-Broadway production of The Bubbly Black Girl Sheds Her Chameleon Skin. (Joan Marcus)
Next, we have a work that was ahead of its time, by a triple-threat talent whose next musical, Bella, is premiering this spring at Playwrights Horizons. Kirsten Childs' delightful, funny, provocative autobiographical 2000 show The Bubbly Black Girl Sheds Her Chameleon Skin is about a young woman from Los Angeles finding her way from dutiful suburban daughter to slightly out-of-place Broadway dancer, all while navigating the politics of race and gender as she tries to find her own identity. The score is deceptively fun and catchy, the tone is wickedly satirical, and the whole thing is incredibly moving. Robert O'Hara, a great playwright and a great director (sometimes both), directs in his Encores! debut.
Finally, we have a classic work for the whole family by two of the most popular artists of the 20th century (and the 21st!): Really Rosie, by Carole King and Maurice Sendak. The genius of Tapestry meets the genius of Where the Wild Things Are. In their sweet, sad, wonderful 1980 musical, Rosie is a little girl in Brooklyn with a big imagination; can her dreams come true, or does growing up mean letting go?
With beloved songs including "Pierre" (who said "I don't care"), "Alligators All Around," and "Chicken Soup with Rice," this promises to be the perfect show for everyone you know. Leigh Silverman, who helmed the unforgettable Encores! Off-Center productions of Violet and The Wild Party, returns to direct Really Rosie.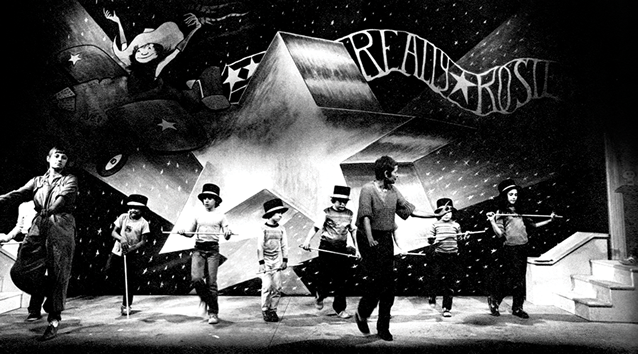 Director Patricia Birch with the cast of the 1980 Off-Broadway production of Really Rosie. (Bill Powers)
We'll be continuing The Lobby Project, our pre-show series of performances, discussions, and out-of-the box experiences. We are looking to what's next.
Does everybody have the right to their dreams? Is dancing on Broadway the solution? Is the moral of life as simple as: Care! (?)
Childs. King. Sendak. Sondheim. Weidman. Wow. For four seasons, to miss a single Off-Center show has been to miss a once-in-a-lifetime experience. I promise you: you don't want to miss anything this summer either.
Thanks, and see you at the theater!
---
Tickets to the Encores! Off-Center season are on sale now.
---
Michael Friedman is the artistic director of Encores! Off-Center and the Obie Award-winning composer of Bloody Bloody Andrew Jackson and The Fortress of Solitude. This article is reprinted courtesy of Playbill.
---
Top photo: The cast of the 2004 Broadway revival of Assassins. (Joan Marcus)
Save