On Musicals
The Yoda of the Orchestra Pit
May 11, 2017 by Matt Weinstock
Seymour Red Press remembers the days when Broadway shows were bankrolled by mobsters, when marijuana was a staple of the pit, and when brilliant maniacs like Jerome Robbins, Jule Styne, and Charles Strouse were creating the world's greatest musicals. Theater may be ephemeral, but Red's woodwind lines will live forever on the original cast albums of shows like Gypsy, Mame, Chicago, and Dreamgirls. In Mack & Mabel, he played the melancholy saxophone solo in "Time Heals Everything"; in the 1992 revival of Guys and Dolls, he played the sublime, bluesy riff at the beginning of "My Time of Day." Now 93, Red shows no signs of slowing down. He has hired the musicians for every Encores! show since the series' inception and is an unparalleled source of musical theater lore. "He's like Yoda," says Encores! artistic director Jack Viertel. "When Yoda talks, you listen." On a recent afternoon, we did just that.
CITY CENTER: How did you get your first Broadway gig?
SEYMOUR RED PRESS: I grew up in the era of the big bands. When I was 13, Benny Goodman was like Elvis Presley; it was the best music I'd ever heard in my life. As soon as I put a saxophone in my mouth, I knew that it was what I wanted to do. My dream was to play with Benny Goodman—and I did, in 1957 at the Waldorf Astoria. That same year, I got married and got my first Broadway show, The Body Beautiful. It was a flop, but it was the beginning of a career I couldn't have imagined.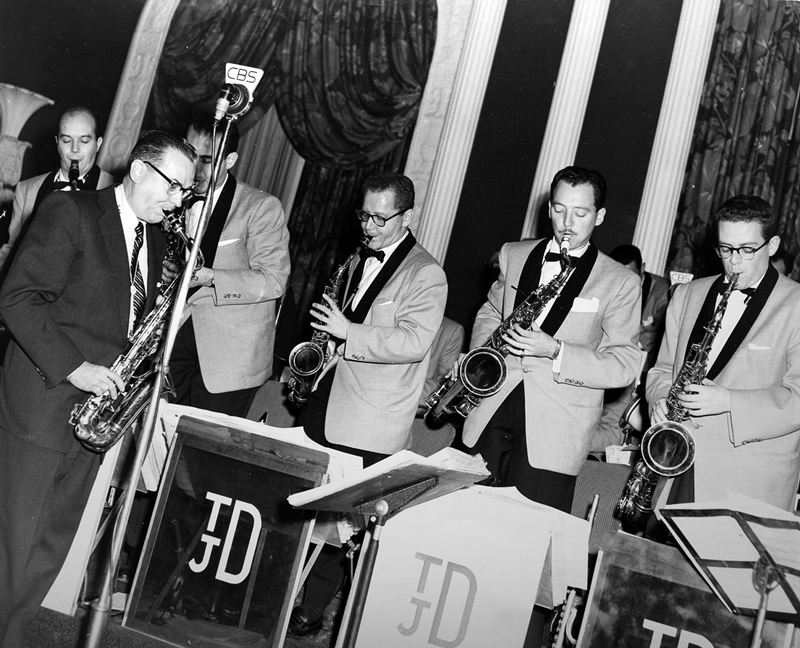 Seymour Red Press (third from right) playing with the Tommy and Jimmy Dorsey Orchestra. (courtesy of Seymour Red Press)
After The Body Beautiful, your next show was the original production of Gypsy. What are your strongest memories of that experience?
The orchestra for Gypsy was revolutionary. Jule Styne told the contractor, "I don't want the normal Broadway players. Get me big band players." So the orchestra was filled with people who'd played for Benny Goodman—like me—and Stan Kenton and Duke Ellington. From then on, a lot of Broadway shows used people from big bands. When we were doing Gypsy, I had no idea who I was in the room with: Jule Styne, Steve Sondheim, Jerome Robbins, Arthur Laurents, John Kander—who was the rehearsal pianist. If I'd known what I know today, I would have been devastated. Gypsy is still my favorite musical. The way that Jerome Robbins directed that show was unbelievable—right from the very beginning, right from "Sing out, Louise!" Tulsa's dance in "All I Need Is The Girl" still makes me cry every time I see it. And yet it didn't win the Tony. We closed at one point for Ethel Merman to have a holiday, and I think that broke the momentum and lessened the run.
Sondheim once said that Ethel Merman could become mechanical. Is that the sort of thing you notice when you're in the pit?
No, because we couldn't hear the singing. All we could hear was the orchestra. When we weren't playing, of course, we could hear dialogue.
How did you kill time between songs?
We'd read books. I burned through a lot of biographies and mysteries. Some people took college courses.
And they never missed their cues?
I wouldn't say that. (laughs)

Goddard Lieberson, Seymour Red Press, and Ethel Merman listen to a take during the Gypsy cast recording sessions. (Vernon Smith)
How did composers treat the musicians back then? Did they ever come over to you and explain what they needed, what they wanted from a song?
I worked with Richard Rodgers, Irving Berlin, Frank Loesser, Jerry Herman—none of them ever spoke to us. Duke Ellington wasn't even there [during tryouts for the 1966 musical Pousse-Café]; he just sent over his trunk music. The only composer who spoke to the musicians was Jule Styne. I remember on Subways Are For Sleeping, we were talking backstage before the show had opened. Jule said to me, "Red, this show is gonna be a hit. I have the secret for writing hits in my back pocket." Of course, it was a disaster.
When you were profiled by the New York Post last year, you said that the culture of Broadway orchestras has changed—that in the 1950s the vibe was looser and marijuana was rampant.
Alcohol, too. Somehow musicians have become health addicts. When I sit down to eat with younger musicians, they don't even have a glass of wine with dinner.
You sound disappointed.
(laughs) No, no. It's just that my generation came up during the big band era, where you traveled on the road. We were young kids, we didn't have families, we weren't involved. Everybody drank and turned on, and if you didn't turn on, you weren't one of the guys. It's different now. Pit musicians tend to be married with children. They're kids who went to Juilliard.
When you were a pit musician, you worked with the orchestra contractor Morris Stonzek—a legend, but a bit of a ballbuster.
I was in Detroit with a show once, and I got a call from the woman who was watching my kids in New York. She said, "I got a call for you. He didn't leave a message, but he was very rude." I immediately knew it was Morris. (laughs) He was the sort of contractor who expected musicians to give him gifts on Christmas to prove that we were thankful for him. When I started contracting musicians myself [in 1974], I knew that I didn't want to be like Morris Stonzek. Whenever I can, I buy lunches and dinners for musicians. And I absolutely don't want anyone to give me presents. Despite that, a couple of musicians send me cookies.
What were your first shows as a contractor?
The first few weren't musicals. One was a play called Sherlock Holmes. The director needed a violinist with a Basil Rathbone nose. I got all these violinists for him to look at, and he said, "These guys have Jewish noses! Get rid of them." They ended up hiring someone and making him wear a prosthetic. Then I did My Fat Friend, a comedy with Lynn Redgrave. In that show the director wanted a teahouse trio of lady musicians: one had to be very tall and skinny, one had to be very short, and one had to be very fat. They all had to play well, too. I knew a very tall cellist and a very short pianist. Didn't know a heavy violinist. So I had to call people. Finally somebody gave me a name, but he said, "You know, I haven't seen her in a while. She may have lost weight." So I called her, and I had to ask her if she was still heavy. (laughs)
Was she?
Yeah. But she was a pain in the ass.
Are you often asked to "cast" musicians like that?
Usually, it's just about the music—though when I did Shuffle Along last season, I had to hire an all-black orchestra.
Do you have a dream Encores! show—something that you worked on that you'd like to see again?
The one I would have wanted, The Most Happy Fella, we did. Sophisticated Ladies is something I think we should do here. Baby is a beautiful show. But truthfully, most of the shows that closed deserved to close. (pause) Let's bring back Elaine Stritch at Liberty.

From the sublime to the ridiculous: a sampling of the hundreds of shows that Red Press has gigged. (Poster art for The Body Beautiful courtesy of the Triton Gallery; poster art for In Trousers courtesy of Fraver)
I want to ask about a few of your most memorable flops. Let's start with Marilyn: An American Fable.
It was produced by the mob. The lyricist was married to a mobster who was in jail at the time. I don't know if any of the other writers had mob ties. A guy named Joey, who was with the mob, was in charge and always at rehearsals. At the opening night party, Joey made a speech—"We're going to run this show and be a hit." Marilyn opened and closed on the same night. The mobsters never came back. They walked away owing everybody money, including me.
Tell me about The Red Shoes, Jule Styne's last musical.
The show's general manager wanted me to contract it, and Jule said, "Red Press? He played for me when he was a kid." Jule said he wanted to interview me. Having seen the movie, I knew the show would be about ballet, so I prepared a resumé of all my work with New York City Ballet and symphony orchestras, so he'd know that I knew classical musicians. The general manager and I went to Jule's apartment. We said hello, but instead of talking, Jule immediately sat down at his Steinway and played all the tunes he was using in Red Shoes. We nodded along, and at the end he got up and said to me, "Okay, you're hired."
Because he liked his music so much?
(laughs) I guess.He never asked me anything or looked at my resumé. The songs had nothing to do with symphonic ballet music, anyway. It was obvious that they were tunes that had been cut from his other shows. The Red Shoes was a disaster.
What about Rags?
It's a beautiful score. There's one song that's sort of like a swing tune. I went over to Charles Strouse in Boston and said, "This show takes place in 1890, and you've got a swing tune in there that sounds like the 1950s." He said, "I'm a composer, not a historian." When Stephen Schwartz directed Rags in Boston, we were a smash. I'll never forget the general manager at the opening night party. He put his arm around me—and he didn't even like me—and said, "Isn't it great to have a hit?" But in New York we opened on Thursday and closed on Saturday—after Gene Saks fixed it, so to speak.
Has the opposite ever happened, where a show started out lousy and gradually improved into a hit?
Whether I think it's lousy has nothing to do with it. I mean, I thought Annie 2: Miss Hannigan's Revenge was going to be great. (laughs) When a show gets up on stage and people are in the audience—that's the first time you know whether or not it's good. As a musician sitting in a pit, you have no idea what you've got. The audience tells you.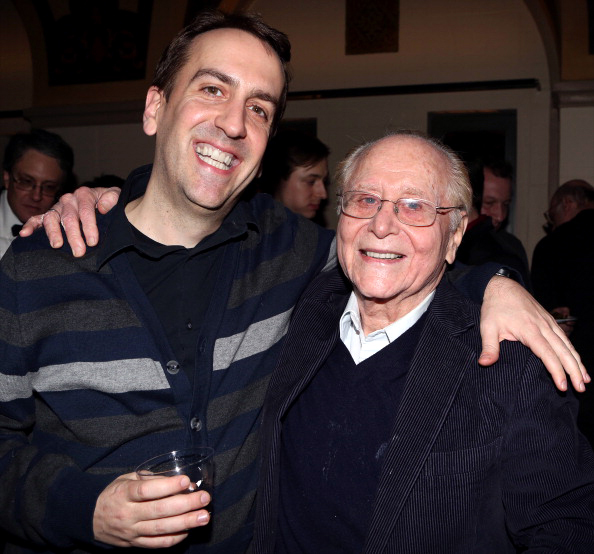 Encores! music director Rob Berman and Red Press. (Getty Images)
The Golden Apple is your 72nd Encores! show. What does the Encores! mission mean to you?
It means an awful lot to me. I mean, how can you not be proud of what we do? Encores! is showing a whole generation what theater used to be. When the public sees an Encores! show, with great orchestrations played by a big, marvelous orchestra, they realize that they've been missing something.
You've had a ridiculously accomplished career. Do you ever think about retiring?
It comes into my mind as a question, but I never answer by saying, "Yes." I have nothing to retire to, anyway. I don't play golf anymore; I don't want to buy a sailboat. I'd just sit at home and read The New York Times and be bored stiff. As long as people keep calling me, I'm planning to stay in the theater.
---

Matt Weinstock edits the publications at New York City Center.
Top image: Seymour Red Press in front of the Music Box Theatre. (Annie Wermiel for the New York Post)