On Musicals
Upholding a Tradition of Pride in the Black Aesthetic
July 13, 2018 by Charmaine Patricia Warren
Tony Award winner Savion Glover, whose career and work are bent on celebrating the legacy of Black culture in the arts, directs and choreographs the New York City Center Encores! Off-Center revival of Don't Bother Me I Can't Cope, the hit gospel revue that premiered at Ford's Theater in Washington, D.C. (1971). Dubbed by CBS as "the man who saved tap dancing," Glover was first registered for tap classes with his brothers when he was seven, and he was eventually mentored by the late Gregory Hines. The two starred together as the older and younger versions of Jelly Roll Morton in the 1992 Broadway production of Jelly's Last Jam. A child of the '80s hip-hop music scene, and an acclaimed tap dancer and choreographer, Glover now steps into the gospel, jazz, soul, calypso, and rock of Don't Bother Me's radically charged score, which holds family ties—his mom, Yvette Glover, and "auntie" Jean Cheek toured with the show.
The original team behind Don't Bother Me was Vinnette Carroll (1922 – 2002) for concept and direction, and Micki Grant for book, music, and lyrics. Original choreography was by George Faison, the first African American to win a Tony, and who later choreographed The Wiz (1975). Back then, Don't Bother Me, like other works charged by the Civil Rights Movement (1954 – 1968) and the Black Arts Movement (1965 – 1975), shed a pointed light on issues that address the Black community and survival in America. These mass protests of discrimination, on and off stage, encouraged Black artists to make their own works and to use their own voice. There was Mario Van Peebles' Ain't Supposed to Die a Natural Death (1971) about life in the Black ghetto, Loften Mitchell's Bubbling Brown Sugar (1976) celebrating the Harlem Renaissance, plus Ain't Misbehavin' (1978) and Eubie (1979) honoring Black music. In song after song that brought attention to Black culture through gospel, the blues, dance, or dapping (the Black male handshake), Don't Bother Me upholds a tradition that exudes pride, community, and achievement in the Black esthetic.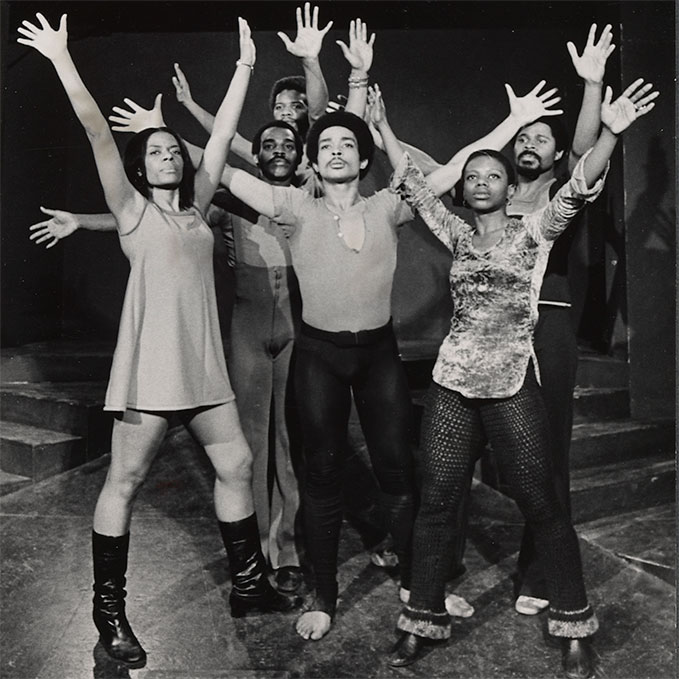 The original Broadway cast of Don't Bother Me, I Can't Cope.
When Don't Bother Me reached New York City in 1972, ultimately earning four Tony nominations among other accolades, Playbill couldn't help but describe lyricist, composer, writer, and performer Micki Grant as "a young lady with a strong sense of social purpose and racial roots." Trained in music, acting, and writing, Grant moved to Los Angles under the wings of her cousin and tap dancer Jeni LeGon, and then to New York with the cast of Fly Blackbird, where she studied acting before working with Carroll on Don't Bother Me. "No one knows how to energize a stage better than she does," said Newsweek about Vinnette Carroll, the playwright, director, and actress. Carroll, now honored in the Smithsonian National Museum of African American History and Culture, was the first African American woman to direct on Broadway. After receiving a master's degree in psychology from New York University and beginning studies at Columbia University, acting was her calling. Carroll studied acting at the New School under Lee Strasberg and Stella Adler and, in 1967, founded the Urban Arts Corps in NYC, aimed at addressing the cultural needs of the Harlem and Bedford-Stuyvesant communities. For the Los Angeles Times, she famously said, "I have had a great deal of hurt in the theater both as a Negro and as a woman, but I don't get immobilized by it."
Don't Bother Me has always been powered by the energy of the cast and music, along with its story being built on the African American experience. Even more, Vinnette Carroll and Micki Grant's presence on Broadway with this show came on the heels of Lorraine Hansberry, the first African American woman to present work on Broadway—A Raisin in the Sun (1959), and later Les Blancs (1970), both works addressing racial identity. Hansberry's play was adapted into a musical, Raisin, in 1974, winning a Tony. And in 1975, continuing to provoke audiences vis-à-vis the Black female lens, playwright Ntozake Shange's "choreopoem" For Colored Girls Who Have Considered Suicide/When the Rainbow Is Enuf further emboldened a position for Blacks on Broadway.
As Hansberry opened many doors for Shange, Carroll and Grant, in turn, laid the framework for Savion Glover, whose own Broadway credits include the choreography for Bring in 'da Noise, Bring in 'da Funk (1996) and Shuffle Along, or, The Making of the Musical Sensation of 1921 and All That Followed (2016). From a large cast in Shuffle Along, to this smaller one in Don't Bother Me, Glover is known for bringing communities together in order to tell their stories. For his direction and choreography for the Encores! Off-Center 2018 revival of Vinnette Carroll and Micki Grant's groundbreaking production, as Playbill inferred in 1972, "It [may be] the unexpected that is the most delightful."
Charmaine Patricia Warren teaches dance theory, sits on various panels, writes on dance for The Amsterdam News, keeps an active blog, and is a contributing writer to Dance Magazine and various dance journals.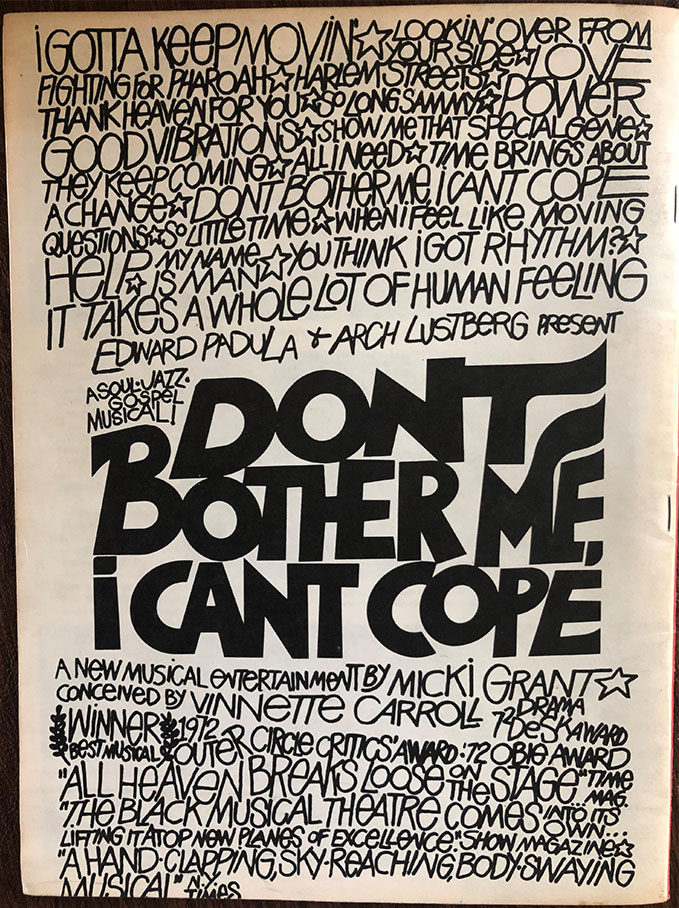 A page from the original Don't Bother Me Broadway playbill.
---
Learn more about Micki Grant, composer and lyricist for Don't Bother Me, I Can't Cope.
Micki Grant (Composer/Lyricist, Playwright/Librettist, Actor/Singer) has been involved in creating over a dozen theatrical productions. For Don't Bother Me, I Can't Cope (in which she also starred), Grant won the 1972 Grammy for Best Score/Cast Album. For this one show, she garnered Outer Critics Circle Awards, Drama Desk Awards, and three Tony nominations. Grant was nominated for another Grammy for Your Arms Too Short to Box with God, and another Tony nomination for Working. When Arms and It's So Nice to Be Civilized opened on subsequent evenings, Grant had the distinction of having two Broadway musicals running simultaneously. She wrote music and lyrics for Prodigal Sister and contributed to revues commissioned by the Bread & Roses Project. Her Springtime in Alaska was commissioned by The Public Theater, and Don't Underestimate a Nut was commissioned by Omaha's Emmy Gifford Children's Theatre. In addition to Cope and Arms Too Short, she collaborated with Vinnette Carroll on I'm Laughin' but I Ain't Tickled; The Ups and Downs of Theophilus Maitland; Croesus and the Witch; and Step Lively Boy. She has written songs for TV's The Infinity Factory and won a CLIO Award for one of her commercial jingles.
Grant made her Broadway debut in Langston Hughes' Tambourines to Glory. She performed major roles in A Sunbeam, Anchorman, The Balcony, Funnyhouse of a Negro, The World of Sholem Aleichem, To Be Young, Gifted and Black, The Cradle Will Rock, Jerico-Jim Crow, and Brecht on Brecht. A 1996 national tour of Having Our Say took her to more than 68 cities and Johannesburg, South Africa, earning her the Helen Hayes Award for her performance. Her directing credits include: A Lullaby to Broadway (NJ Phil. Glee Club), Two Hah Hahs and a Homeboy (Crossroads Theatre), and Don't Bother Me, I Can't Cope (The Apollo Modern Black Classic Series). The first African-American contract player on a daytime serial, Grant played Peggy Nolan on NBC's Another World, and had recurring roles on Edge of Night, Guiding Light, and All My Children.
Grant is a member of the Dramatists Guild Council and serves on the Advisory Boards of New Federal Theatre, The Black Academy of Arts & Letters, and The National Black Theatre Festival. She served on the Boards of the American Federation of TV & Radio Artists where she was National Chair of the Equal Employment Committee. She served on the Board of Governors (and as Trustee) of the National Academy of TV Arts & Sciences, the boards of the National Academy of Recording Arts and Sciences, National Academy of Popular Music, and on an NEA advisory panel on Opera & Musical Theatre.
Her numerous awards include: the NAACP Image, OBIE, and Mademoiselle Achievement Awards; the Living Legend Award at The National Black Theatre Festival; The NBT's Sidney Poitier Lifelong Achievement Award; AUDELCO's Outstanding Pioneer Award; AFTRA's WIN Award; the Paul Robeson Award from Actors Equity; a citation from the NY City Council; and the Lifetime Achievement Award from the Dramatist Guild.
The native Chicagoan is a member of the University of Illinois/Navy Pier alumni Hall of Fame, where she studied Speech/Drama and played bass violin with the orchestra and jazz ensemble. She has a BA in Humanities from CUNY (Lehman), where she was awarded with an honorary degree of Doctor of Fine Arts in 2015. Grant is a member of Delta Sigma Theta, and of Canaan Baptist Church of Christ where she was Woman of the Year 2000-2001.