On Musicals
Upholding a Tradition of Pride in the Black Aesthetic
July 13, 2018 by Charmaine Patricia Warren
Tony Award winner Savion Glover, whose career and work are bent on celebrating the legacy of Black culture in the arts, directs and choreographs the New York City Center Encores! Off-Center revival of Don't Bother Me I Can't Cope, the hit gospel revue that premiered at Ford's Theater in Washington, D.C. (1971). Dubbed by CBS as "the man who saved tap dancing," Glover was first registered for tap classes with his brothers when he was seven, and he was eventually mentored by the late Gregory Hines. The two starred together as the older and younger versions of Jelly Roll Morton in the 1992 Broadway production of Jelly's Last Jam. A child of the '80s hip-hop music scene, and an acclaimed tap dancer and choreographer, Glover now steps into the gospel, jazz, soul, calypso, and rock of Don't Bother Me's radically charged score, which holds family ties—his mom, Yvette Glover, and "auntie" Jean Cheek toured with the show.
The original team behind Don't Bother Me was Vinnette Carroll (1922 – 2002) for concept and direction, and Micki Grant for book, music, and lyrics. Original choreography was by George Faison, the first African American to win a Tony, and who later choreographed The Wiz (1975). Back then, Don't Bother Me, like other works charged by the Civil Rights Movement (1954 – 1968) and the Black Arts Movement (1965 – 1975), shed a pointed light on issues that address the Black community and survival in America. These mass protests of discrimination, on and off stage, encouraged Black artists to make their own works and to use their own voice. There was Mario Van Peebles' Ain't Supposed to Die a Natural Death (1971) about life in the Black ghetto, Loften Mitchell's Bubbling Brown Sugar (1976) celebrating the Harlem Renaissance, plus Ain't Misbehavin' (1978) and Eubie (1979) honoring Black music. In song after song that brought attention to Black culture through gospel, the blues, dance, or dapping (the Black male handshake), Don't Bother Me upholds a tradition that exudes pride, community, and achievement in the Black esthetic.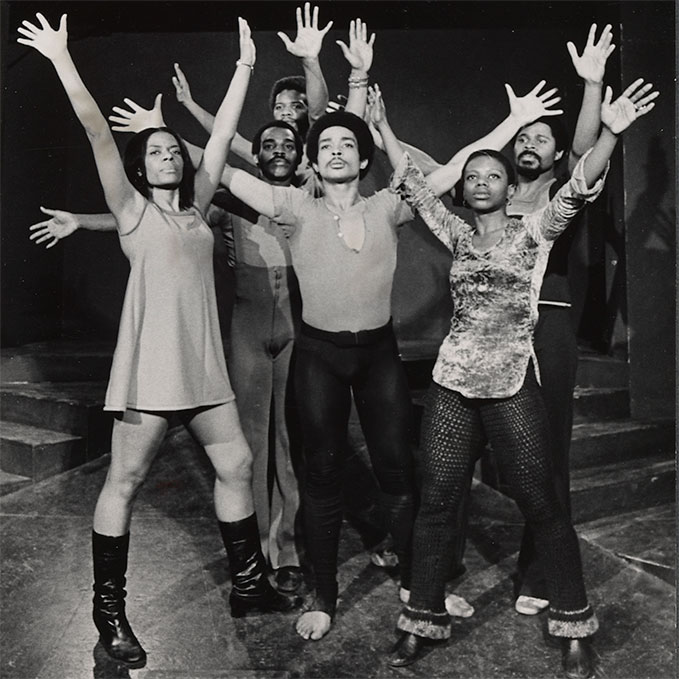 The original Broadway cast of Don't Bother Me, I Can't Cope.
When Don't Bother Me reached New York City in 1972, ultimately earning four Tony nominations among other accolades, Playbill couldn't help but describe lyricist, composer, writer, and performer Micki Grant as "a young lady with a strong sense of social purpose and racial roots." Trained in music, acting, and writing, Grant moved to Los Angles under the wings of her cousin and tap dancer Jeni LeGon, and then to New York with the cast of Fly Blackbird, where she studied acting before working with Carroll on Don't Bother Me. "No one knows how to energize a stage better than she does," said Newsweek about Vinnette Carroll, the playwright, director, and actress. Carroll, now honored in the Smithsonian National Museum of African American History and Culture, was the first African American woman to direct on Broadway. After receiving a master's degree in psychology from New York University and beginning studies at Columbia University, acting was her calling. Carroll studied acting at the New School under Lee Strasberg and Stella Adler and, in 1967, founded the Urban Arts Corps in NYC, aimed at addressing the cultural needs of the Harlem and Bedford-Stuyvesant communities. For the Los Angeles Times, she famously said, "I have had a great deal of hurt in the theater both as a Negro and as a woman, but I don't get immobilized by it."
Don't Bother Me has always been powered by the energy of the cast and music, along with its story being built on the African American experience. Even more, Vinnette Carroll and Micki Grant's presence on Broadway with this show came on the heels of Lorraine Hansberry, the first African American woman to present work on Broadway—A Raisin in the Sun (1959), and later Les Blancs (1970), both works addressing racial identity. Hansberry's play was adapted into a musical, Raisin, in 1974, winning a Tony. And in 1975, continuing to provoke audiences vis-à-vis the Black female lens, playwright Ntozake Shange's "choreopoem" For Colored Girls Who Have Considered Suicide/When the Rainbow Is Enuf further emboldened a position for Blacks on Broadway.
As Hansberry opened many doors for Shange, Carroll and Grant, in turn, laid the framework for Savion Glover, whose own Broadway credits include the choreography for Bring in 'da Noise, Bring in 'da Funk (1996) and Shuffle Along, or, The Making of the Musical Sensation of 1921 and All That Followed (2016). From a large cast in Shuffle Along, to this smaller one in Don't Bother Me, Glover is known for bringing communities together in order to tell their stories. For his direction and choreography for the Encores! Off-Center 2018 revival of Vinnette Carroll and Micki Grant's groundbreaking production, as Playbill inferred in 1972, "It [may be] the unexpected that is the most delightful."
Charmaine Patricia Warren teaches dance theory, sits on various panels, writes on dance for The Amsterdam News, keeps an active blog, and is a contributing writer to Dance Magazine and various dance journals.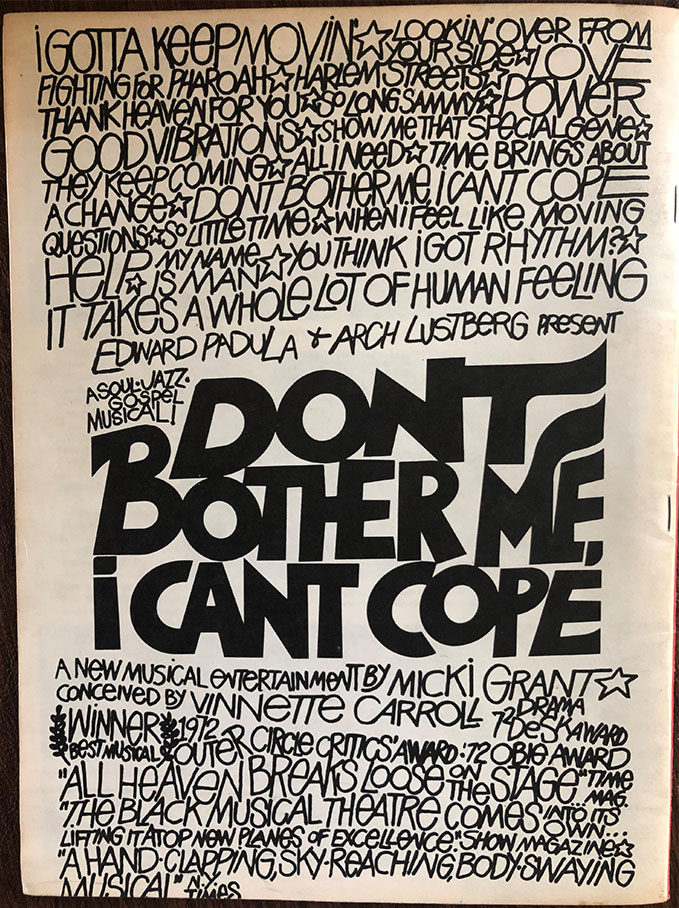 A page from the original Don't Bother Me Broadway playbill.