On Musicals
Goodbye Encores! at 25, Hello City Center 75th Anniversary
February 8, 2019 by Jack Viertel
When Mayor Fiorello La Guardia lifted a baton to conduct "The Star-Spangled Banner" at the opening night bash for New York City Center in December of 1943, he set in motion any number of unpredictable developments. One of those, some 50 years later, was the founding of City Center Encores! For the subsequent 25 years, Encores! has presented three musicals a season, making a total of 75—one, you might say, for every year of City Center's existence. It only makes sense, and it also adds up, that having said goodbye to our 25th anniversary, the next Encores! season should be a tribute to City Center's 75th.
Our normal procedure for picking a season had a special mandate this year—to find shows that could connect some part of their history to the legacy of City Center itself. This added an element of complexity to the puzzle, but we're extraordinarily happy with the results: one show that comes from Encores! own past, and two more that tip their caps to two of the greatest choreographers of the 20th century whose seminal experiences took place in this building. Call Me Madam was the highlight of Encores!' second season, and, for all intents and purposes, put the series on the map for the first time. Rodgers and Hart's 1938 I Married an Angel marked that team's third major collaboration with George Balanchine, who later went on to found New York City Ballet here on 55th Street. And High Button Shoes marked one of the early high points of Jerome Robbins' career as a dancemaker on Broadway. Robbins, who had begun his career in the choruses of several Broadway shows choreographed by Balanchine, followed the master to City Ballet shortly after the founding of that company, and immediately began creating important work on our stage. Taken together, the three shows constitute a love letter to the building we call home as we both celebrate its founding and look forward to the next set of unpredictable developments.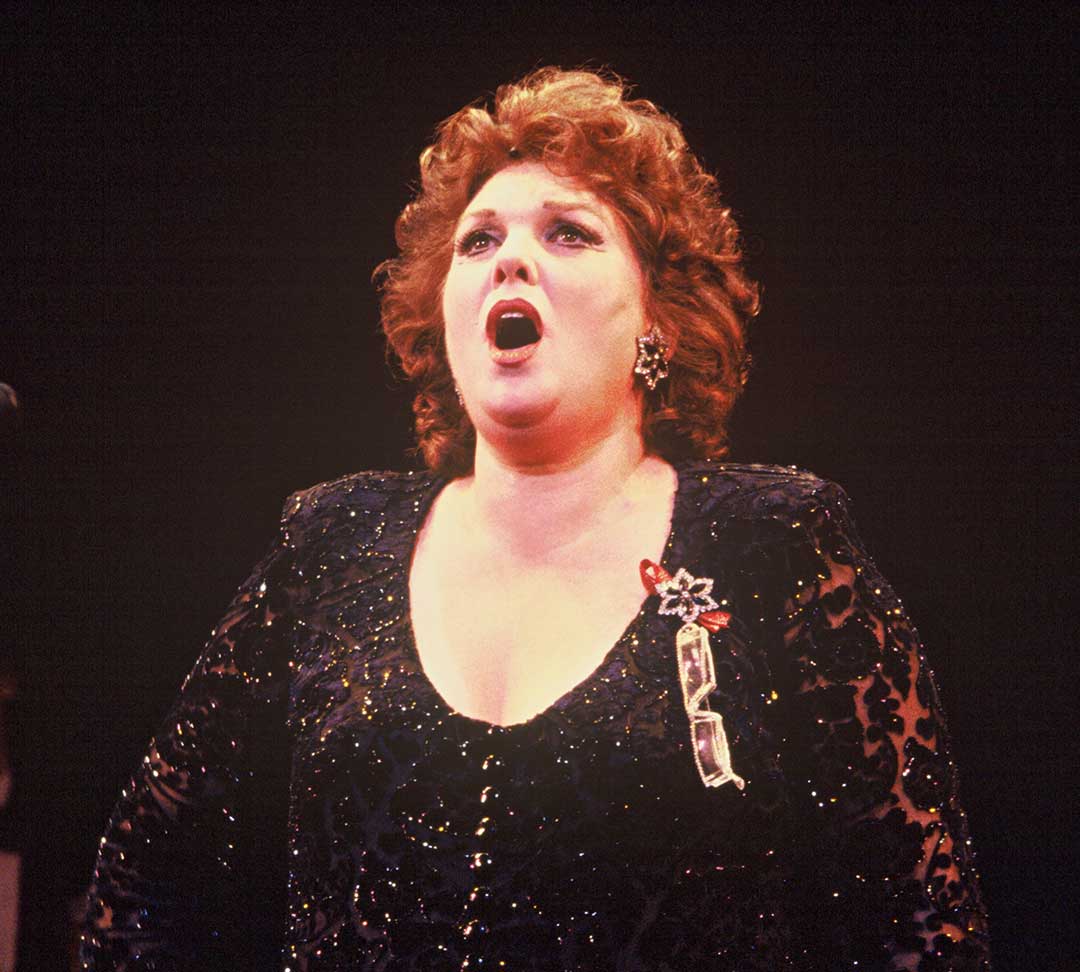 Tyne Daly in the Encores! production of Call Me Madam; photo by Gerry Goodstein

Call Me Madam (February 6 – 10), with a memorable score by Irving Berlin and a book by Howard Lindsay and Russel Crouse, was, among other things, an opportunity to prove that Ethel Merman, who had triumphed a few years earlier as the un-scrubbed Annie Oakley in Annie Get Your Gun, could shine equally as the chic American Ambassador to an unimportant (and fictional) European nation called Lichtenberg. The show poked fun at a far more polite and benign political world than the one we live in today, but, Merman being Merman, this particular ambassador was hardly a suave sophisticate. She was a noisemaker, a genial parody of Pearl Mesta, the Washington socialite known as the "hostess with the mostest" during the Truman years. The character turned out to be considerably more brass than silk and created an additional personal triumph for Merman. Berlin had a field day writing for his star, turning out a score that almost rivals Annie Get Your Gun, including the standards "It's a Lovely Day Today" and "Something to Dance About," and featuring his most famous counterpoint duet, "You're Just in Love," which was written during the show's out-of-town tryout. Berlin was so excited by the song when he completed it that he called backstage to sing it to Merman, but she wasn't in the building, so he sang it to the assistant stage manager picking up the phone, who happened to be a 22-year-old Hal Prince. The song spent 15 weeks on the hit parade, and has been a feature on the cabaret stage ever since.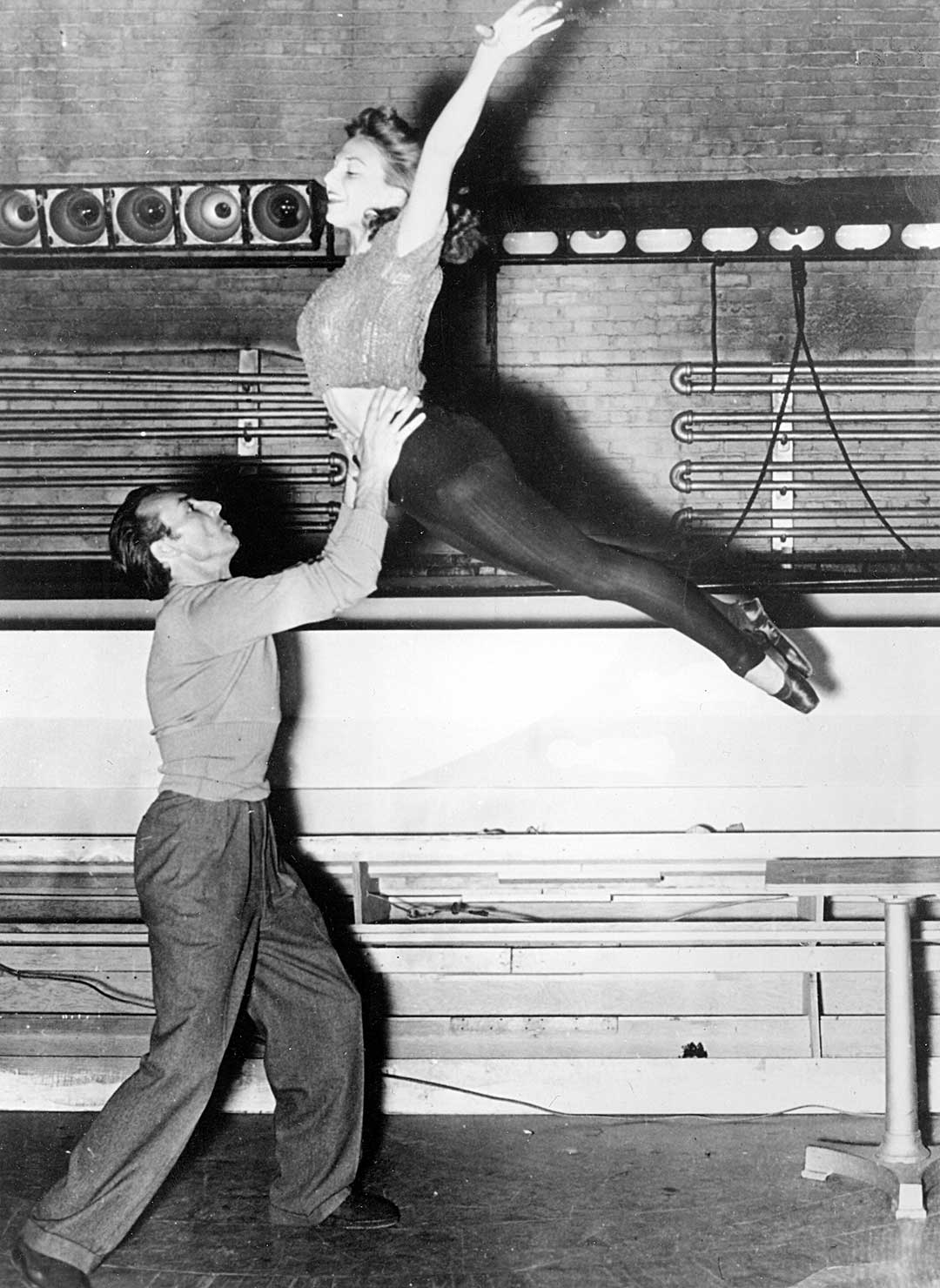 George Balanchine and Vera Zorina; photo from Photofest
I Married an Angel (March 20 – 24) is one of a handful of shows from the 1930s that was yearning to find the key to a new kind of musical—more sophisticated and innately theatrical than the average vaudeville-inspired romps that had served as the standard-bearers for the Jazz Age and were gradually beginning to fade. It would not be until 1943's Oklahoma! that the key really fit the lock, but in the late '30s and early '40s shows like Pal Joey, Cabin in the Sky, Lady in the Dark, and I Married an Angel were all in some way experimental, all daring to try something new and reach for the sky. In the case of I Married an Angel, adapted by Rodgers and Hart from a Hungarian play, the originality consisted of blending a drawing room comedy with serious and extended dance sequences, with ballet music by Rodgers. The angel of the title is literally that—she descends from heaven to save an unhappy (and moderately unscrupulous) banker from his sins and melts his generally dyspeptic heart, with completely unexpected consequences.
Balanchine cast his then wife, Vera Zorina, as the Angel, and created a series of spectacular dances to show her off. The dance music survives, but the actual ballets have vanished, alas. However, in a happy bit of symmetry, we have asked Joshua Bergasse to create new ones (to the original music) for his soon-to-be wife, the New York City Ballet star Sara Mearns. The Rodgers and Hart score includes the beloved standard "Spring is Here," a bouquet of additional beautiful (if lesser known) songs including the title number and "I'll Tell the Man in the Street," and a spectacular parody of Radio City called "At the Roxy Music Hall," featuring specialty acts by all of the principal players.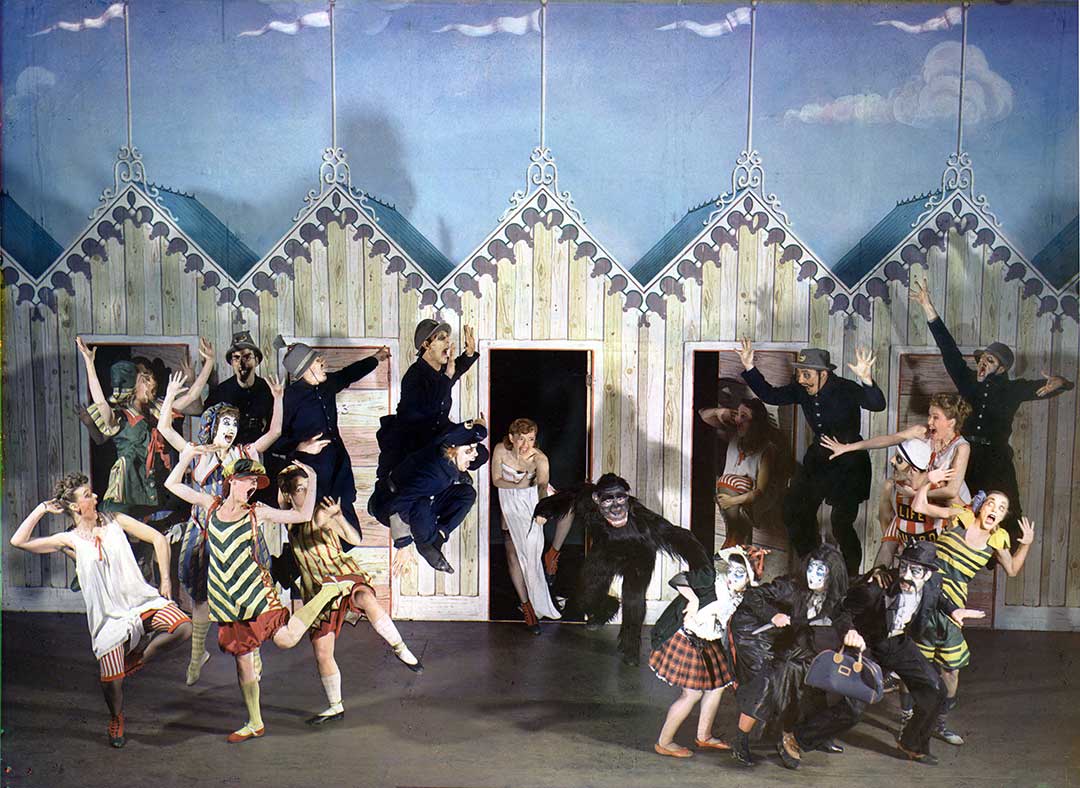 Original Broadway production of High Button Shoes; photo from Photofest
The season will end with a springtime romp, the rarely seen High Button Shoes. Among the show's many treasures is Jerome Robbins' Mack Sennett-style ballet, set to the Jule Styne-Sammy Cahn song "On a Sunday By the Sea", which created ten minutes of complete mayhem eight times a week back in 1947, with bathing beauties, Keystone Kops, mustachioed crooks, and, for no particular reason anyone could determine, a dancing gorilla. (Robbins, it should be noted, also choreographed Call Me Madam, but without a signature ballet.) Styne and Cahn's generally underrated score produced two big song hits of the period, "Papa, Won't You Dance With Me" and "I Still Get Jealous," and Stephen Longstreet's book (doctored by director George Abbott and star comic Phil Silvers) managed, in between all of this, to tell a story not unlike Meredith Willson's The Music Man, concerning the adventures of a traveling con-man caught up in small town America—in this case rural New Jersey. In fact, even the Rutgers football team gets to figure in the plot.
In every respect, one could say, it's a classic Encores! season—a mix of the fondly remembered and the happily rediscovered; but this time out, it's all in the service of saying "Happy 75th Anniversary!" to the beloved place we call home.
Jack Viertel is the artistic director of Encores! and the author of The Secret Life of the American Musical: How Broadway Shows Are Built.