On Musicals
Encores! Celebrates Balanchine with I Married an Angel
March 5, 2019 by Rob Fisher
With this production of I Married an Angel, Encores! will have produced the first five Broadway musicals choreographed by George Balanchine and all four of Balanchine's collaborations with Rodgers and Hart. Beyond the joy of leading five Balanchine" shows from the podium of the Encores! stage, bringing them to performance has given me the opportunity to see intimately how a choreographer's voice can enhance a musical, especially when the voice is as brilliant and singular as Balanchine's. Jerome Robbins and Agnes de Mille would pick up the thread a few years later and develop it for themselves, but Balanchine had already created a new integration of dance and theater. Especially in Ziegfeld Follies of 1936, On Your Toes, and I Married an Angel, dance was used to further the action and to create background stories and fantasies for the characters.
Centered around a marriage between a human and an angel, I Married an Angel is especially ripe for fantasy ballets. Based on Janos Vaszary's play of the same name, its American incarnation began as a musical film set to follow the success of the 1932 release of Love Me Tonight, starring Jeannette MacDonald and Maurice Chevalier, with songs by Rodgers and Hart. MacDonald was to be the singing Angel and Rodgers and Hart wrote the score later that year. Unfortunately, MGM producer Irving Thalberg suffered a heart attack at the end of 1932 and when Louis B. Mayer took over, he dropped the picture because of its risky implications of the Angel losing her wings by sleeping with a mortal man—one of several bits of sexual innuendo.
Although the movie was halted, the members of the future creative team for the stage show were reconvening for various projects and producing a phenomenal amount of great work. The American arts patron Lincoln Kirstein enlisted Balanchine to come to America in 1933 to create a company of American ballet dancers performing new work. Balanchine insisted that a new school would be the necessary first step and the School of American Ballet was opened on January 2, 1934 (Balanchine and Kirstein would later found the New York City Ballet at City Center in 1948.) As he devoted himself to that enterprise, Rodgers and Hart were in Hollywood writing songs for films, but they were all drawn to Broadway in 1935. Rodgers and Hart returned with Jumbo and Balanchine was choreographing ballets for the Ziegfeld Follies of 1936—with music by Vernon Duke and lyrics by Ira Gershwin—which opened on Broadway in January of 1936.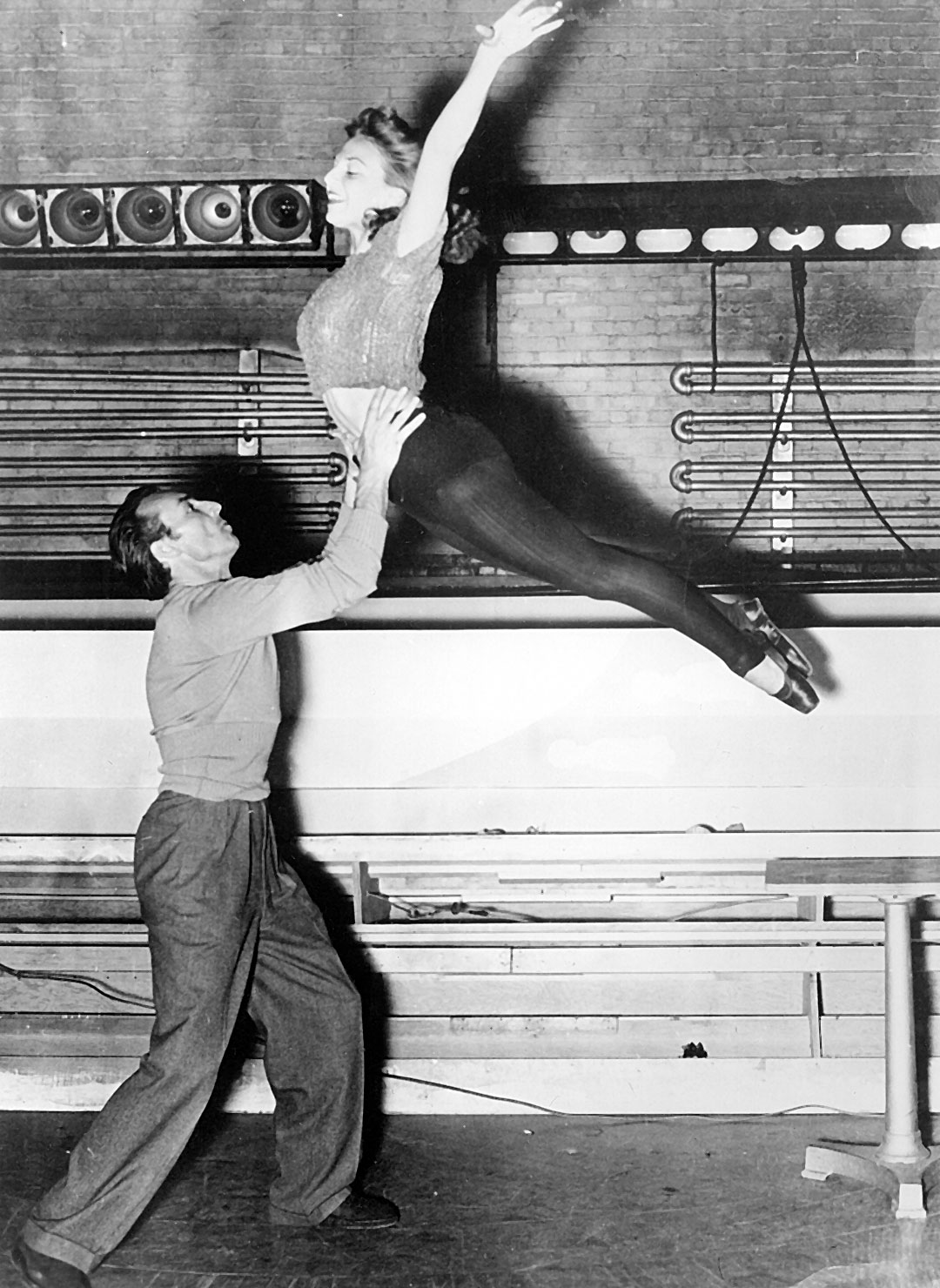 George Balanchine and Vera Zorina; Photo by Photofest
Rodgers and Hart first teamed with Balanchine for On Your Toes which opened on Broadway in April of 1936 for a long successful run. That next year, Rodgers and Hart and Balanchine got back together to create Babes in Arms which opened on Broadway in April, another big success with a long run and a score full of hit songs. Balanchine then went to Hollywood to choreograph dances for the film The Goldwyn Follies with his colleagues, Vernon Duke and Ira Gershwin, along with Ira's brother George in what would tragically be his final outing.
The producers of The Goldwyn Follies could only lure Vera Zorina from her London run of On Your Toes if they promised that Balanchine would choreograph whatever she danced (her wish was granted.) The movie was written and filmed in 1937 and released in 1938. In the background, Dwight Wiman, producer of On Your Toes, had heard about the aborted film version of I Married an Angel and wanted to obtain the rights and bring it to Broadway with his same team. After he secured the property, he asked Rodgers to meet Zorina while she filmed The Goldwyn Follies and consider her for a small role. After meeting her, Rodgers wired: "Small Part, Hell. I've Just Found Angel." Apparently, Balanchine had found his angel as well, as he married Zorina in 1938 on the stage of a New Year's Eve performance of I Married an Angel on Broadway.
The change of casting from Jeannette MacDonald's singing Angel to Vera Zorina's dancing Angel is not a small one. The singing duties would be redistributed among a cast which included the great singers Dennis King (matinee idol in Broadway operettas including Ravenal in Showboat) and Vivienne Segal (best remembered for creating the role of Vera Simpson in Rodgers and Hart's Pal Joey). New songs were required for them and Balanchine would be creating lengthy story ballets to showcase Zorina. That's a lot of composing for Mr. Rodgers, but deadlines can create geniuses of recycling. On a recent expedition to the Library of Congress, I examined the unpublished songs from the score for the unproduced film, and there in the melodies of those songs were many of the themes used to create the ballets in the stage version. I Married an Angel opened on Broadway in April of 1938, another hit, another long run. But it was only April after all, and Rodgers and Hart and Balanchine also created another hit that year, The Boys from Syracuse, opening in November and ending this incredible streak of combined brilliance.
There are excellent sources for the Encores! team to recreate much of what was done in 1938 for City Center's 75th Anniversary Season. Most importantly, all the original orchestra parts were found and, when organized, revealed the music for every instrument for every measure of the score was intact. The original production script was discovered and it included descriptions of scenes, dances, and props. There are the deposits at the Library of Congress, and there is a Vera Zorina collection at Harvard which included not only her scripts but even a handwritten copy of the music for her harp solo. There are few audio recordings extant but enough to guide us on certain points. The Library for the Performing Arts at Lincoln Center has a few delicious bits of footage from 1938 performances, many useful photos of characters and costumes, and a charming and sassy audio interview with Zorina later in her life. Original Playbills and reviews filled in even more detail. Thanks to this rich abundance of materials, we are especially confident in the authenticity of this score reconstruction.
Rob Fisher is the Founding Music Director of Encores! and is overjoyed to be reconstructing "another old show" exactly 25 years after the first one. Encores! is his proudest achievement.
See Encores! I Married an Angel at City Center, March 20 – 24.