In Step with Dorrance Dance
March 8, 2019 by Susan Reiter
During the five eventful years since her company first performed on the City Center stage, Michelle Dorrance's invigorating, intricate, and enlightening tap choreography has been seen—and most definitely heard—worldwide. Deeply respectful and knowledgeable about the venerable tradition of American tap dance, Dorrance draws on, and pays homage to, the masters of earlier eras while she boldly creates tap choreography that speaks with a newly vibrant and contemporary voice.
Dorrance Dance has made memorable appearances at the Fall for Dance Festival in 2013, 2015, and 2017, and now brings her troupe—joined by the unique, unclassifiable performer Bill Irwin—to City Center for three full evenings next month as part of its 75th Anniversary Season. She plans three different overlapping programs that include a world premiere by Irwin, a New York premiere by the esteemed and influential tap master Brenda Bufalino—who has been a mentor to Dorrance—as well as a premiere and a reconfigured earlier work by Dorrance.
Dorrance also has fond memories of performing at City Center as part of the 2016 Vail Dance Festival: ReMix NYC programs, which brought a generous, widely varied sampling of the creative energy and collaborative spirit of that annual festival, where Dorrance has been a pivotal presence since 2016. At City Center, she reunited the original cast of 1-2-3-4-5-6, a spirited quartet in which she, the exemplary Memphis Jookin' performer Lil Buck, ballet dancer Robert Fairchild, and Merce Cunningham alumna Melissa Toogood shared the stage, bringing their individual styles and approaches to the polyrhythms of a Steve Reich score.
It's no wonder Dorrance speaks at a breakneck pace, since that is also the speed at which she and her company have been creating, performing, and collaborating in recent years. Over the past year in New York alone, they took charge of the Guggenheim Museum's rotunda for an inventive program exploring the aural possibilities of that distinctive space; and in December created Elemental, an inventive and surprising evening that investigated the possibilities of BAM's Fishman Space.
Dorrance also undertook a three-part collaboration with American Ballet Theatre that culminated in the premiere of her expansive Dream Within a Dream, Deferred during the company's fall season at Lincoln Center. In that work, set to Duke Ellington compositions, she led ABT's dancers into new territory, exploring a variety of vernacular dance styles in addition to getting them into tap shoes.
Dorrance recently discussed her upcoming programs as well as her company's memorable Fall for Dance appearances. "For the first performance, in 2013, we adapted one of my favorite works, SOUNDspace—originally an evening-length, site-specific work for St. Mark's Church. We adapted it to a proscenium stage and also to very small pieces of wood, on that large expansive marley stage, creating a 15-minute version. We could not have been more excited. The Fall for Dance audience is unreal. There's so much warmth and support, and joy in that audience. I've never felt anything like it."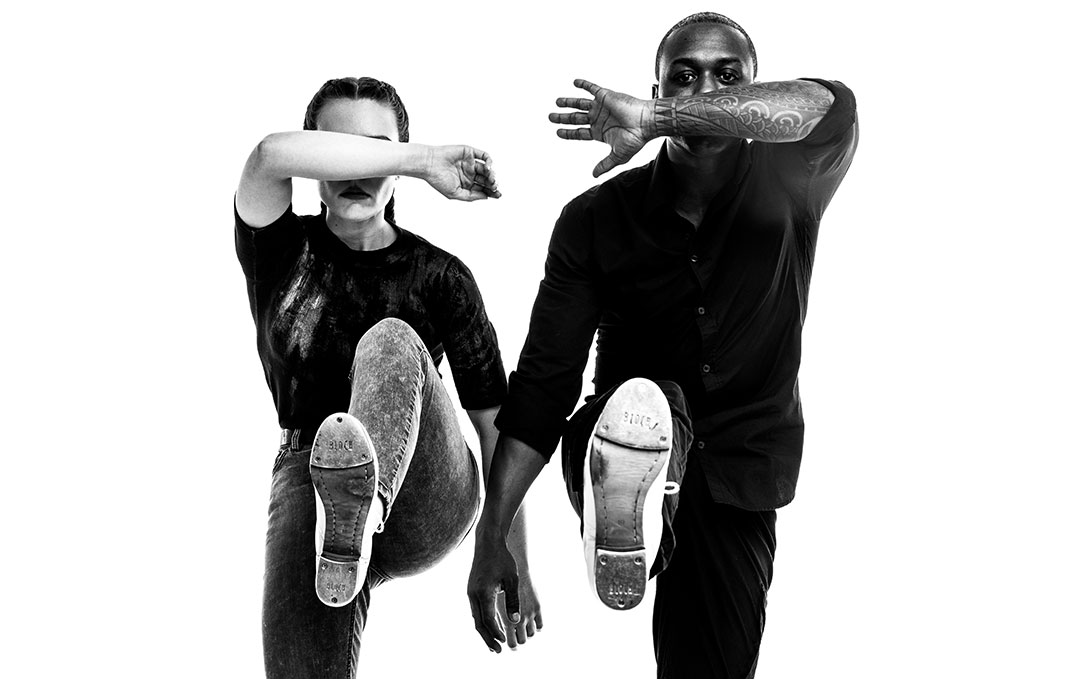 Myelination; photo by Matthew Murphy
In 2015, City Center commissioned Myelination—a work for 12 dancers, with music by Gregory Richardson and Donovan Dorrance—from Dorrance for the festival. Reviewing in The New York Times, Gia Kourlas wrote, "Throughout, Ms. Dorrance, a brilliant conductor, pushes the boundaries of tap while exposing its true nature: that it is music." She added, "Ms. Dorrance has choreographed a glittering closer that needs to have a second life after the festival. Please, someone, make that happen." City Center itself quickly stepped up; Dorrance was named a 2016-17 City Center Choreography Fellow, making it possible for her to further develop Myelination into the more substantial 40-minute piece which is now, she notes, "one of the most sought-after of the works that we perform."
She recalls how crucial that fellowship was at the time. "To be offered space, and to be supported by City Center as an institution was a blessing. Honestly, without that support it wouldn't have been possible to create the work. It was also a very important time for the company to be in that space for a month. It was our home. The way that we were able to work was very different. We experienced a different creative process." The expanded Myelination was performed during Fall for Dance in 2017 and is a staple of Dorrance Dance's touring repertory.
Looking ahead to the March programs, which will include SOUNDscape in a current version adapted to the mixed programs, Dorrance spoke enthusiastically about Bill Irwin's contribution (as choreographer and narrator for Harlequin and Pantalone and as a performer in Lessons in Tradition). She has known the versatile actor-vaudevillian-dancer (and Tony Award winner) since her teens, and the two have performed together in Vail. "He is cherished by the tap dance community, which is a very small niche community that has not been very embraced by the larger concert dance world—not with regularity, at least. He is a champion of vaudeville and of the traditions of our form."
She met Irwin while she was studying and performing with the North Carolina Youth Tap Ensemble, a formative experience for her. NCYTE's director, Gene Medler, was an important mentor, shaping her interest and expertise in tap dance. He brought in many leading, influential veterans of the art form to work with his young dancers, providing Dorrance with invaluable and formative educational experiences.
Shortly after she had graduated and moved on to NYU, Medler brought in Brenda Bufalino to work with the NCYTE dancers; 10 of whom comprised Jump Monk. Dorrance, who greatly admires Bufalino, says she felt "devastated" that she'd just missed out on the opportunity to work with her at NCYTE. She's making up for that by adding the piece to Dorrance Dance's City Center programs.
"This is a cherished work of hers, and it has only been performed by NCYTE. I've always been obsessed with it. She has had a career-long passion for, and obsession with Charles Mingus' music. I love this particular tune, Jump Monk—written in response to, and in adoration of, Thelonious Monk. But outside of that musical relationship, I love Brenda's figures, her phrasing. Brenda is a legacy and a master dancer in our community. Her relationship to swing is from this time period that we can only hope to embody and access through her direction and her musical understanding."
Catch Dorrance Dance at City Center, March 28 – 30 at 8pm.
Susan Reiter is a freelance journalist who contributes regularly to TDF Stages, Los Angeles Times, and other publications.