On Musicals
A New Generation of Women Take On Evita
October 30, 2019 by Jose Solís
The monument was going to be the tallest, most splendid, and costliest in the world. It would have been at least 460 feet tall (that's five feet taller than the Great Pyramid of Giza) and, just like the final resting place of an Egyptian pharaoh, meant to be so imposing that it could be seen from miles away. Evita herself was supervising its design, inspired by her recent visit to Napoleon's impressive tomb, Les Invalides, in Paris. But unlike the majestic structures in Africa and Europe, the edifice in Buenos Aires would not house the remains of an emperor; instead, it would celebrate the working man—a shrine to the descamisado.
But following the premature death of the Argentinean first lady in 1952, the project, like many other enterprises in the Perón regime, remained uncompleted. At one point it was meant to become her mausoleum, later an altar to the nation, and today it houses the studios of a popular TV channel. The monument became the dream of an Argentina that would never be.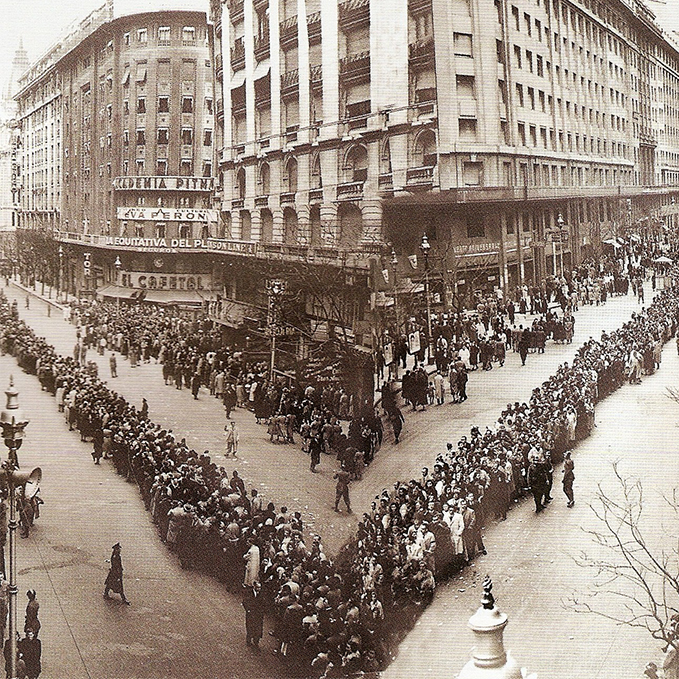 Eva Peron's Funeral, 1952.
Inspired by the melancholy of the unfinished project, director Sammi Cannold has made this idea a centerpiece of her revival of Evita at City Center. Using Eva's iconic ball gown, the "balcony dress," to convey a monument to Eva's resurrection. The streamlined production design by Jason Sherwood, featuring Argentinian costume designer Alejo Vietti's interpretation of the ball gown, is not only a nod to the mystery that surrounds Eva Perón but pays tribute to Hal Prince's original production. "I love how his production was so stripped down, and focused on the storytelling," adds Cannold.
Although she never met the legendary director before he passed away earlier this year, Cannold's reverence for his vision makes her wonder what he would've thought of her choices. Perhaps the answer lies in Prince's own famous words: "There is a responsibility to move the musical theater form forward. You always have to be aware of the work that came before and build on that."
If so, who better to take Evita into the future than the director who set Ragtime on Ellis Island and put Violet on a bus. Although some assume Cannold's aesthetic is all about location and immersion, her conceptual lens in fact answers one simple question: how do we add dimension to the work based on the time and place in which we're making it?
In the case of Evita, she is doing so by exploring aspects of Eva's humanity that have remained enigmatic. By casting two actors in the role (Young Eva, who opens the show, and Eva Perón), Cannold hopes, among other things, to separate Eva's legacy from that of her husband, Juan Perón. "She was a fervent supporter of his, but at the same time she was not an elected official, and despite her significant influence in the streets, she was not the one making the administration's policies. So I think we have to balance who we blame and do not blame," explains the director.

Solea Pfeiffer and Maia Reficco
Cannold's vision for casting also makes this the first revival in which Eva will be played by actors whose age more closely matches the character's. Traditionally the part, which spans 18 years of her life from 15 to 33, has been played by actors in their 30s. Patti LuPone was 30 when she played her on Broadway, Elena Roger 38 when she starred in the 2012 revival, Madonna 37 when she began shooting the film version in 1996. For 19-year-old Maia Reficco (Young Eva), the role presents the opportunity of a lifetime. Although she was born in Boston to Argentinean parents, she has spent most of her life in Buenos Aires where she is the star of a popular television show. "Evita is more than present in the political, cultural, and social life of an Argentinean," she explains. Growing up, Reficco learned about the pros of Peronism from her mother's family and the cons from her father's. Even though she is aware of Eva's divisive qualities, Reficco expresses that, "as a woman, Evita was an icon; her legacy for women is undeniable, regardless of her political beliefs."
Having poured over videos of various productions in archives, Cannold spotted a telling mistake that erases the legacy Reficco alludes to. A section of the number "A New Argentina," which depicts Juan Perón's victory in the 1946 election, some productions use the entire ensemble to convey Argentineans voting; however, women didn't yet have the right to vote. That right was given to them in 1947 after Evita's fight for women's suffrage.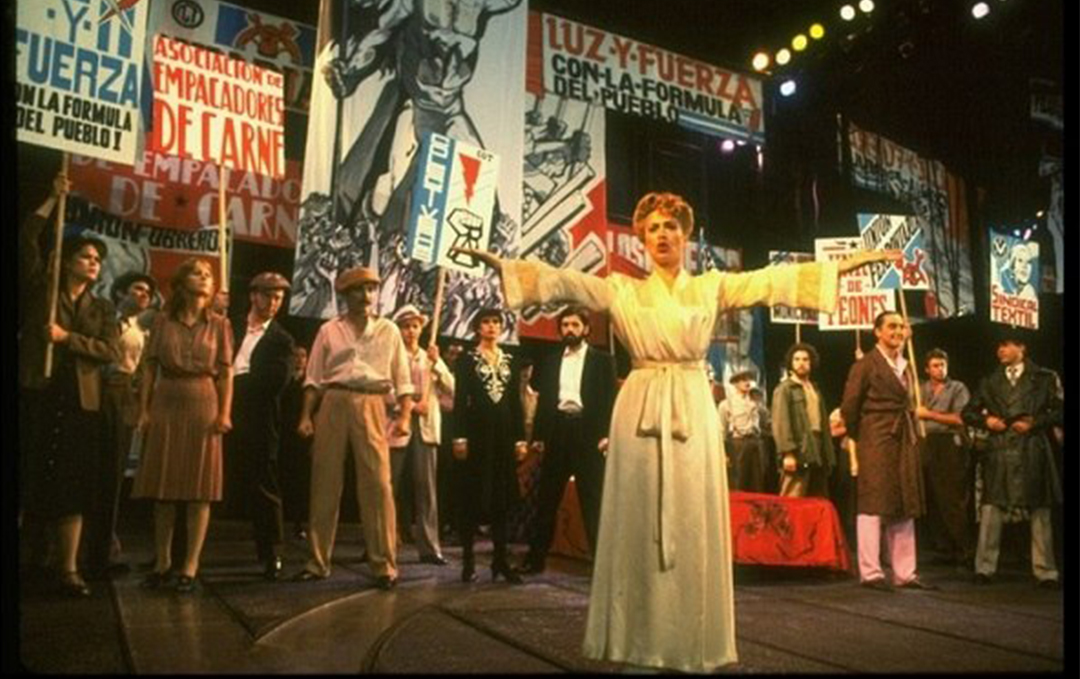 Patti Lupone in the 1979 production of Evita.
According to Eva's private nurse María Eugenia Alvarez, who Cannold befriended while doing research in Argentina, part of the reason why Perón refused to seek treatment for cancer was because she concentrated her efforts on making sure women exercised their newly acquired right during Perón's re-election campaign in 1951. Her work paid off: women voted for Perón in greater numbers than men and he won in a landslide. One of those ballots was Eva's, who voted for the first time on her deathbed.
Seeing a younger actress in the scenes where the 15-year-old Eva is seduced by 30-something Magaldi (played by Philip Hernández) also has a different effect in our time. Reficco adds, "working with Sammi is beautiful. I admire her vision—she inspires the researcher in me. The feminist perspective she brings to the piece is magical." Solea Pfeiffer, who plays the adult Eva, jokes that, "at 25 I can't believe I will already have a younger version of me in a show." Pfeiffer says she's thrilled to be taking on this role and to at last be directed by a woman who's also her contemporary. "I feel my creative input is actually wanted and necessary," she explains, "it allows more vulnerability and honesty."
Although the titanic descamisado would never top the Carrara marble monument in Buenos Aires, Evita's legacy shines brighter than ever in Cannold's vision. "There had never been a first-class production of the musical directed by a woman," she explains, and so, "I hope more women will get to work on the material and share their interpretation of it. Wouldn't it be great if we too could update the story in a way that was closer to our experience?"
"We're making Eva a real person!" shares Pfeiffer, excitedly. And no statue can beat that kind of beauty.
Jose Solís is a Honduran theater critic based in New York. His work appears in The New York Times, TDF Stages, and American Theatre.