On Musicals
A Renewed Passion for Evita
September 20, 2019 by Jose Solís
When one thinks of Eva Perón, it's impossible not to think of her hands. Whether they're reaching out to the heavens as she stood outside the balcony of the Casa Rosada to address her descamisados or extended as a warm greeting to those who came to her with pleas, her porcelain fingers covered in exquisite jewelry, topped by a perfect manicure, are central to the image of the iconic Argentinean first ladyFirst Lady.
"Eva's pretty hands reached out and they reached wide," sings Che, the narrator of Evita, the Tony-winning musical by Andrew Lloyd Webber and Tim Rice, which will be presented by City Center as its Annual Gala Presentation from November 13 through 24. But this revival, directed by Sammi Cannold, will reexamine what we think we know about Eva, including the power of her hands.
When Cannold visited Argentina this summer while doing research for the production, she met María Eugenia Alvarez, Perón's private nurse who held her hand when she died of cancer in 1952 at age 33. The line that opens the musical, "Eva Perón, spiritual leader of the nation, has entered immortality at 20:25 hours today," came from Alvarez herself.
The 93-year-old explained to Cannold that she believed energy was transferred through the hands, and as she held the director's palm she expressed "I want to transfer Eva's energy to you."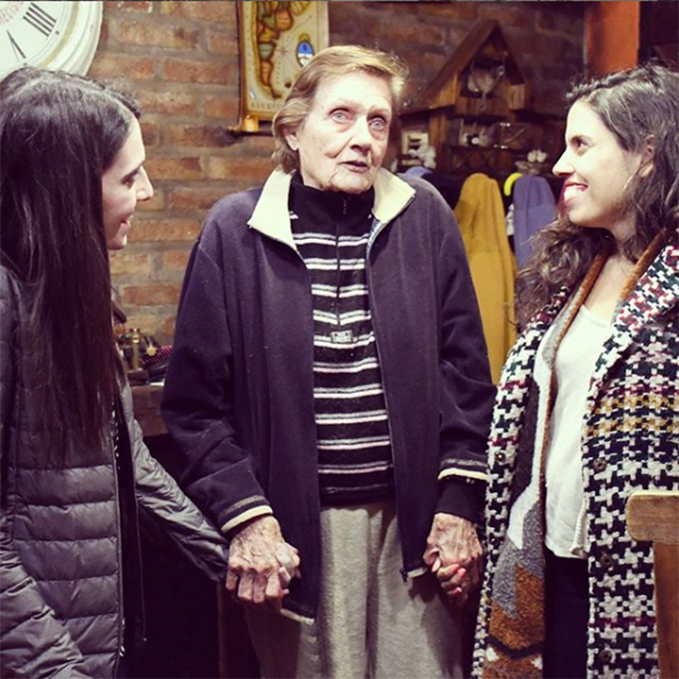 María Eugenia Alvarez with Sammi Cannold and Rebecca Aparicio in Argentina, 2019
Hands, Magic, Rings, Glamour.
Cannold's summer pilgrimage was the culmination of a journey that began seven years ago when she became obsessed with Evita after seeing the 2012 revival, starring Elena Roger and Ricky Martin, a total of seven times. "I went for my birthday, for Hanukkah: I was hooked. All I wanted was to go and watch that story again," she explains.
As a teenager, barely older than Eva when we first meet her in the show, Cannold didn't understand why Perón's story was filtered through the eyes of the men in the musical. Book writer and lyricist Rice added the character of Che (a loose take on Argentinean revolutionary Ernesto Guevara) to serve as the Greek chorus who cross-examines Eva's deeds and criticizes her ascent to power.
The first time Cannold saw the musical, she attended with older family members who left hating Eva. "I came out of the show loving her, so what I'm trying to explore in this production is how can I help the audience see the story from her perspective," she says, "Seeing the story through Che's eyes allows us to criticize Eva's politics, the regime, and all the things the Peróns did wrong. But there's also a human in there."
To accentuate the humanity of the character, Cannold cast two actresses to play Eva at different ages. "If we want to tell the story of a woman we critique for the use of her talent and sexual power, we need to take into account that in her teenage years she had severe trauma, with multiple incidents of sexual victimization," explains the director.
For Young Eva "we wanted someone who had an indignant spirit, an anger, a fight, a fury at the world that treated her so badly," she continues. After seeing more than 60 actresses ranging in age from 12 to 22 years, she chose Maia Reficco, an Argentinean-American performer known for her starring role in the Nickelodeon Latin America series Kally's Mashup, in which she plays a musical prodigy who, not unlike Eva, leaves her small town to meet her destiny in the big city. "The show is exceptionally hard to sing, so obviously that was a major part of the process as well," adds Cannold.
To portray Eva's iconic rise, the director wanted an actress who could convey the remnants of feistiness from the younger actress, while adding a maturity that comes with having conquered trauma and being in charge of her life. The older Eva "is now the high class one, the one carving her way through, versus being responsive to these men who shaped her life," adds Cannold.
"It was important to find an actor who had a great elegance in the way they perform and carry themselves," she continues. She found all these qualities in Solea Pfeiffer, the daughter of anthropologists who was born in Zimbabwe and has lived in Seattle, Michigan, and New York City. Eva, who was born in poverty and deemed "illegitimate," always knew she was destined for greatness, and it was important for Cannold to cast an actress who understood that drive and dedication.
Who better than Pfeiffer, who was cast as Maria in the 2016 Hollywood Bowl production of West Side Story straight out of college? She then went on to play Elizabeth Schuyler in the national tour of Hamilton and starred in City Center's Encores! Off-Center production of Songs for a New World in 2018. Before taking on Evita, she is playing Penny Lane in the musical adaptation of Almost Famous at the Old Globe in San Diego.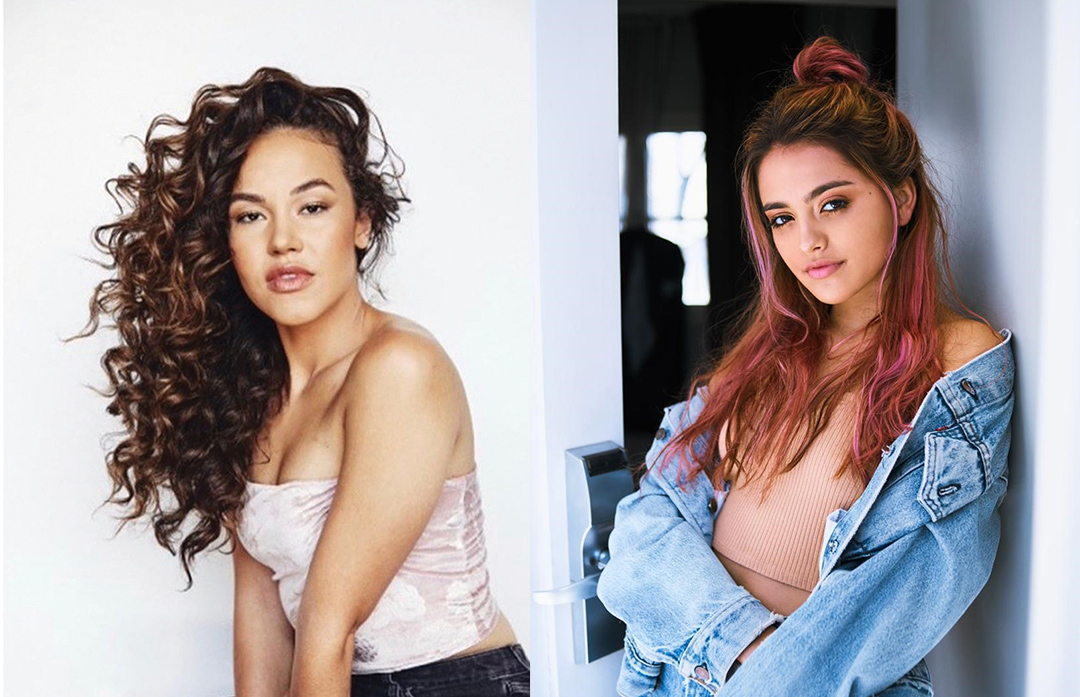 Solea Pfeiffer and Maia Reficco, starring as Eva and Young Eva, respectively.
Eva Perón became First Lady of Argentina at age 25, and soon after would become one of the most famous women in the world. Her every move and word became newsworthy, and while some criticized her for what they deemed as extravagance, she made the globe turn their eyes to a nation trying to recover from a period of sociopolitical unrest.
As a collector of all things Evita, Cannold, who is also 25, owns a little prayer book given to her by her friend Carlos Gauna, who first received it from his mother, who met Eva as a child. "When he told me his mother received it from the hands of Evita I was mindblown," exclaims the director.
In moments of doubt, as she holds the prayer book, Cannold wishes she could ask Eva, "how do we tell your story?" Based on the almost decade-long passion that has ignited her being, it's safe to say Eva's legacy has landed in the right hands.
Evita runs from November 13 – 24, 2019. Tickets start at $50 and can be purchased here.
Jose Solís is a Honduran theater critic based in New York. His work appears in The New York Times, TDF Stages, and American Theatre.