On Musicals
Discovering Three Unforgettable Scores ...Again
December 4, 2019 by Jack Viertel
The Encores! 2020 season brings us opportunities we've looked forward to eagerly for years and haven't been able to present until now. It's the culmination of a lot of planning and hoping and dreaming—some of which stretches back a decade or more—and we're excited to share it with our audiences.
Mack & Mabel, Jerry Herman and Michael Stewart's love letter to the early days of Hollywood, is a show that we've long wanted to do, but the rights have never, until now, been available to us. After we were able to present the first two scenes in our compilation show Hey, Look Me Over! as part of our 25th Anniversary celebration, we were finally granted the opportunity, which we seized immediately. One of Jerry Herman's finest scores—featuring both memorable ballads and outsize production numbers— the boldness of the piece is that it dares to combine a sunny movie-land exterior (and songs to match!) with a darker love story of two Hollywood pioneers, producer and director Mack Sennett and comedy star Mabel Normand.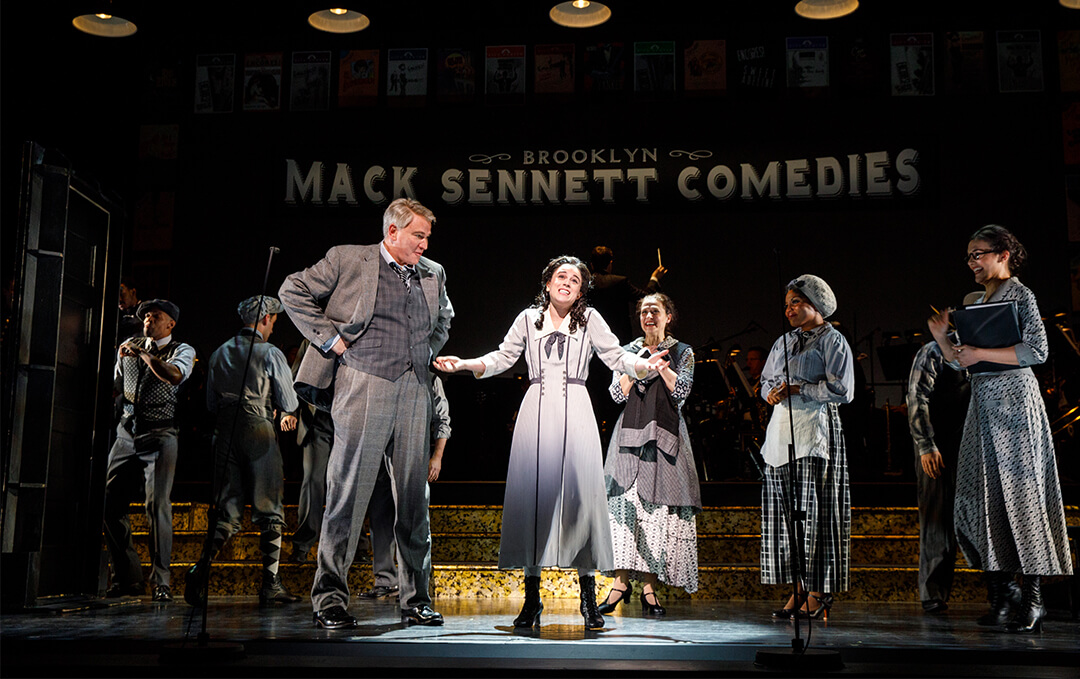 Alexandra Socha and Douglas Sills in Hey Look Me Over!
In 1974, this unapologetic mixture of textures and tones proved a challenge, even for the creators, although the score has been universally hailed thanks to a great cast album. But there is much more to be discovered, and in the absence of the artistic conflicts that accompanied the show's original production, we are anticipating the unveiling of something unique, more easily accepted by today's audience, which has long since grown accustomed to musicals with more complex emotional arcs than was typical during the Golden Age. Josh Rhodes, who directed our acclaimed production of Grand Hotel, will once again direct and choreograph, and Alexandra Socha and Douglas Sills will return to us as the title characters.
Alan Jay Lerner and Kurt Weill's Love Life, which will be directed by Tony Award winner Victoria Clark, was a pure experiment in 1948, much as Stephen Sondheim's Company was in 1970 and Andrew Lloyd Webber's Cats was in 1981. Centered around the theme of America's endless ambition for progress, security, and happiness—and how it impacts the emotional life of individuals and families—it chooses to tell its story focusing on only one family; but that family lives through 160 years of history without ever aging. Susan and Sam Cooper and their two kids navigate agrarian society, the Industrial Revolution, the spread of the railroads, women's suffrage, Prohibition, the Great Depression, and post-World War II prosperity as they strive to hold their little family unit together—with dramatically mixed results.
Brian Stokes Mitchell and Kate Baldwin will sing from a newly restored score created by the Kurt Weill Foundation, which now makes it possible for us to hear the show as it was originally done on Broadway for 252 performances. Although never recorded, the score is a gem containing beautiful ballads, sardonic and satiric pastiches, elements of jazz and blues, the occasional operatic flight of fancy, and even a madrigal. The show is presented as a vaudeville, with "acts" in between the scenes and, as such, greased the wheels for later musicals like Cabaret and Follies—laying claim to possibly being the first "concept" musical.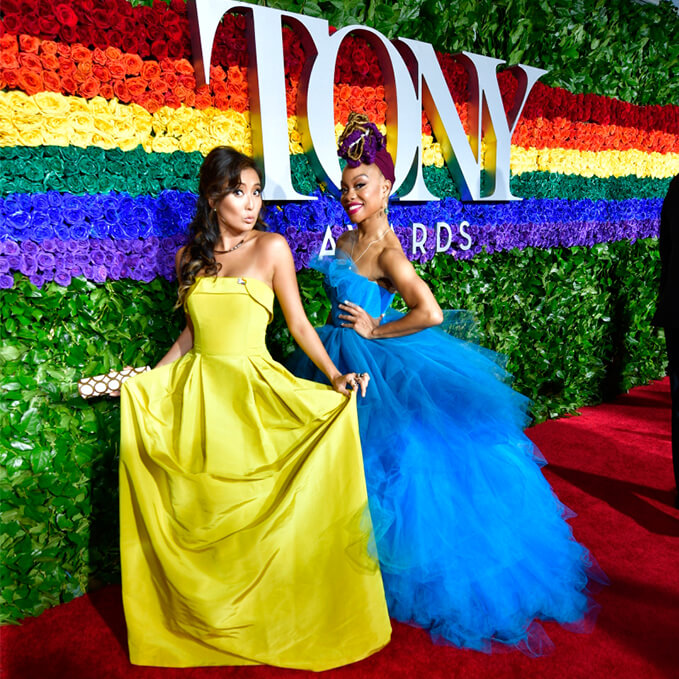 Ashley Park (Millie) and Camille A. Brown (Choreographer) at the 2019 Tony Awards.
Thoroughly Modern Millie will be the most recent show Encores! has presented, a mere 18 years after its Broadway premiere. (Chicago previously held this record, having been 20 years old when we presented it in 1996. It's still running!) The brainchild of Encores! Resident Director Lear deBessonet, this production, starring Ashley Park as Millie, is being prepared in a renewed edition with the help of its original authors, Jeanine Tesori and Dick Scanlon, and playwright Lauren Yee as creative consultant.
Millie will preserve its bright-as-a-penny tone, which revels in the energy, hope, and ambition of a young woman arriving in New York just as the Jazz Age is dawning, sending out signals of new and thrilling possibilities for women in America. At the same time, the authors, director deBessonet, choreographer Camille A. Brown, and playwright Yee will tackle the issues of Asian stereotyping and the underlying idea of human trafficking, which were treated in the original production in ways that we would not accept today. It may appear ironic that the newest of these Encores! productions should receive such service, but it is merely proof that, as Tony Kushner wrote in Angels in America, "the world only spins forward"—apparently at a brisk and accelerating pace.
Encores! is proud to be a part of that forward motion, even as it celebrates the past and holds multiple eras in a delicate balance. We look forward to you joining us for that act of legerdemain this season.
Jack Viertel is the artistic director of Encores! and the author of The Secret Life of the American Musical: How Broadway Shows Are Built.