On Musicals
Torch Bearers of Off-Off-Broadway: Promenade's Maria Irene Fornes and Al Carmines
June 25, 2019 by Alisa Solomon
When Promenade—written by Maria Irene Fornes, with music by Al Carmines—opened at the Judson Poets' Theatre on April 9, 1965, Off-Off-Broadway was at its peak. Reporting on this burgeoning experimental movement some months later, The New York Times estimated that some 400 new plays by more than 200 playwrights had been introduced on the Off-Off-Broadway circuit since 1960.
That's an astonishing number in any event, but even more so when you consider that the "circuit" primarily consisted of four downtown venues within walking distance of each other: one in a coffeehouse (Caffe Cino), two in churches (Judson and Theatre Genesis), and one on the second floor of a red brick East Village building (the third location in three years for La Mama, E.T.C., which had been chased out of one space after another by city authorities for alleged zoning violations). A handful of itinerant ensembles rounded out the scene.
The work ranged widely: from the campy romps of the Playhouse of the Ridiculous to the macho musings of Sam Shepard's early plays, from Adrienne Kennedy's nightmarish images of racism's psychic ravages to Jeff Weiss's deliriously demented solo epics, from Bread and Puppet's papier mâché spectacles to the Open Theater's humanistic investigations into the actor's presence. What the artists shared—what made Off-Off a "movement"—was a countercultural spirit that was equal parts earnest inquiry and playful irreverence.
Playwrights honed their craft, not in pricey MFA programs, but by hammering work into shape in collaboration with directors and actors and putting it up in front of audiences sometimes twice in a night—Cino's curtains were at 9pm and 11pm and, on weekends, also at 1am. As with any kind of theater, a significant percentage of what they produced was, inevitably, bad. But, as the Times declared, "Even when they stink, they're alive!" And that vital, kicking, try-anything-and-then-try-something-else exuberance enabled good work to emerge—sometimes, great work.
Fornes once said that the real source of energy for Off-Off-Broadway "came from painting, music, dance, from people who were interested in theater but had nothing to do with the theater that existed—not from people already in the theater who wanted to do a different kind of theater." People, that is, like Fornes herself.
Having immigrated to New York from Havana in 1945 at age 15, Fornes dropped out of high school to pursue painting. She studied for a few years with the abstract expressionist Hans Hoffman and then moved to Paris to develop her art further. There, she saw Roger Blin's iconic production of Waiting for Godot. Though it was performed in French, a language she didn't know, the play made a profound impression. Fornes returned to New York in 1957 and found work as a textile designer and soon caught the wave of the surging experimental theater. She started writing and helped make costumes at Judson.
Judson Poets' Theatre began in 1961 as part of an arts ministry that also hosted exhibits, the influential Judson Dance Theater, and more under the leadership of the endlessly inventive associate minister Al Carmines. Born in 1936 in Hampton, Virginia, Carmines was a talented pianist from childhood who turned down scholarship offers to conservatories to study literature in college and then to prepare for the ministry at Union Theological Seminary in New York. At Judson, he found his double calling, becoming a composer, almost by accident, when the director Larry Kornfeld asked him to rig up some incidental music between scenes of a play he was working on. He went on to write music for dozens of shows, operas, and oratorios in a wide range of styles that the critic Michael Feingold once summed up as "joyous eclecticism." (One of them was a pioneering LGBTQ revue presented in 1973, The Faggot.)
For Judson Memorial Church's progressive head pastor, Howard Moody, providing space for artists was as crucial a part of the church's mission as its homeless shelter, counseling for draft dodgers, and abortion referrals (pre-Roe v. Wade). As for Off-Off irreverence? Not a problem. Judson did not censor. Carmines himself performed as a pregnant woman in one Judson play and as a lascivious priest in another.
When Fornes wrote Promenade, she knew he was the presenter to bring it to. She had seen Rosalyn Drexler's antic musical satire Home Movies, staged at Judson in 1964 with music by Carmines, and she recognized an affinity.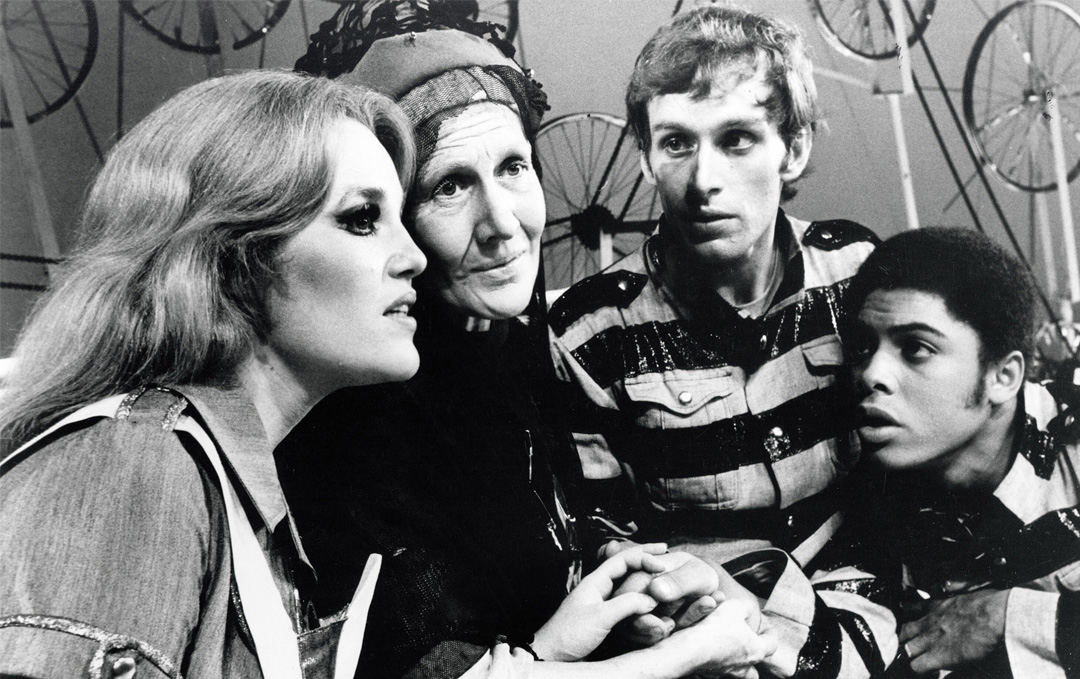 Promenade Off-Broadway, Photo Courtesy of Photofest
Fornes had begun work on the play with a John Cage-like device: On each of eight index cards, she wrote down the names of some character types, and on eight more, the names of locations. She shuffled the two piles and pulled their top cards: aristocrats and prison. That gave her the opening scene—two men breaking out of jail and hightailing it to a black-tie affair. The play capered forward without a linear plot, jagged and jaunty, disarmingly whimsical with a streak of dismay as its characters enjoyed the latitude—and confronted the limits—of changing costumes to alter their social roles. Carmines's mix of musical styles for the score—big-band, operatic, vaudevillian—matched the play's collage-like aesthetic and expanded his reputation as one of the most imaginative and resourceful composers writing for the stage, especially when the show moved to an Off-Broadway venue a few years later.
Meanwhile, revealing her tremendous gifts as a conjurer of theatrical worlds— along with her wit, originality, and tightly tuned language—the play crowned Fornes not quite the quintessential playwright of Off-Off-Broadway (so vast and various a movement couldn't have one, after all) but certainly as one of its brightest torch bearers, and inarguably, the one who carried the flame the longest. Fornes continued to experiment daringly until she wrote her last play, Letters from Cuba, in 2000, after which Alzheimer's curtailed her creativity. (She died last November.)
By 1970, Off-Off-Broadway was dwindling for many reasons. Not least, its economic model—no pay for artists—was unsustainable. But other forces—gentrification, political fragmentation, competition over grants, creeping commercial ambition, and just plain exhaustion—also contributed to dousing its fire. Only La Mama continued to thrive—as it does to this day—thanks to the vision, charisma, and brazen creativity of its founder, the late Ellen Stewart.
In Promenade, Miss O sings: You have, perhaps, made me feel something. But the moment has passed. And what is done cannot be undone. Once a moment passes, it never comes again.
That's as true of the Off-Off-Broadway explosion as it is of a thwarted romance. Nonetheless, Fornes, Carmines, and dozens of their compatriots on the experimental circuit of the 1960s opened up possibilities for the theater makers who followed: for the collectives of the 1970s and performance artists of the 1980s, right down to the spate of exciting playwrights today, who are carrying forward the Off-Off spirit by inventing new notions of what makes a play. And showing why it matters.
See Encores! Off-Center's Promenade at City Center, July 10 & 11
Alisa Solomon is a critic, dramaturg, and professor at the Columbia School of Journalism. She is the author of Wonder of Wonders: A Culture History of Fiddler on the Roof and Re-Dressing the Canon: Essays on Theater and Gender.