On Dance
Matthew Bourne's Legendary Swan Lake
December 4, 2019 by Susan Reiter
Nearly 25 years after it first caused a sensation and became an internationally acclaimed production, Matthew Bourne's theatrically vivid and idiosyncratic Swan Lake returns to City Center (January 30 – February 9) where it was last seen in 2010. Following its Tony Award-winning Broadway production in 1998, that City Center run re-confirmed the dramatic persuasiveness of Bourne's bold, witty conception.
The primary, and most celebrated, aspect of Bourne's transformation of the Tchaikovsky classic—which remains a perpetual repertory mainstay of ballet companies worldwide—was the way he changed the traditional swan maidens into fierce, sensually-threatening male bird figures. No tutus and pointe shoes here—just alluringly dangerous bare-chested creatures in feathered leggings who swarm and threaten, luring the Prince away from the safe confines of his bland existence into a realm of imagination.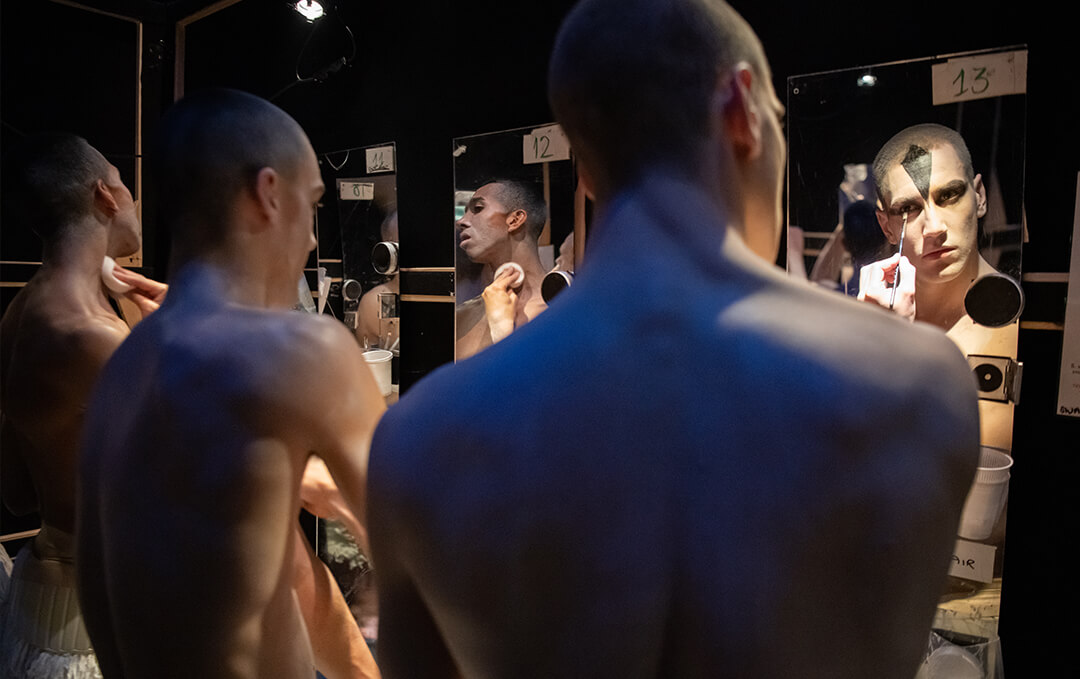 Members of the Swan Corps apply their menacing makeup. Photo by KSP Images
As his breakthrough work, Swan Lake paved the way for Bourne's impressive subsequent productions, all marked by striking imagination and wit, as well as vibrantly cinematic pacing. His works require the singular performers of his New Adventures company to become brilliantly communicative actor-dancers. City Center has welcomed two of these in recent years: Sleeping Beauty in 2013 and The Red Shoes in 2017.
Using the complete Tchaikosvsky score, Bourne finds fascinating and imaginative parallels to the ballet's traditional structure as he shapes his distinctly contemporary tale. He gets his story going with a series of swift, pointed scenes depicting the regimented existence of a young prince—pampered by an army of servants, never allowed an unscripted moment. He is perpetually on display and held to expectations of predictable behavior and routine. Small wonder he has strange, fearful nightmares.
The Prince's curiosity and yearning to break free from predictable routines are hinted at along the way—until they take flight once he encounters the swans. These proud, muscular figures swoop in as the ultimate fever dream of the Prince's repressed, confused mind, and the lead Swan offers his first opportunity to forge an intense, spontaneous connection.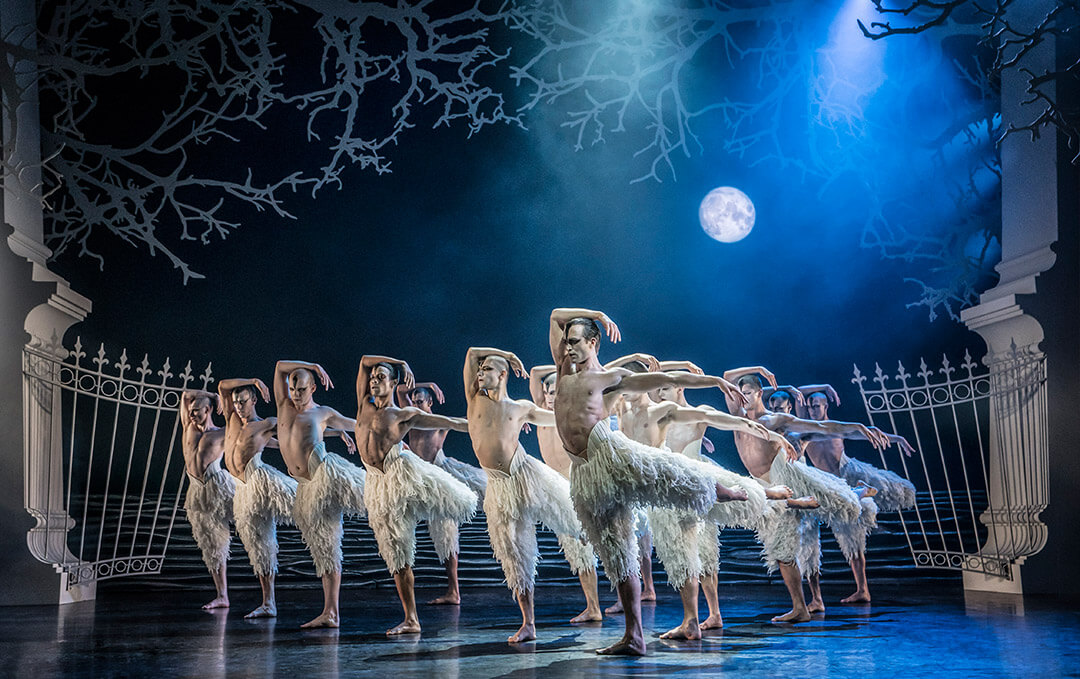 Photo by Johan Persson
Bourne's eloquent and emotionally resonant duets for the two men are at the heart of his Swan Lake. As brilliantly as he can establish a dramatic scenario and present multiple activities at once in a scene, he is also able to focus purely on movement as dramatic expression.
Now Bourne has re-thought his enduring classic for the 21st century. "Re-imagined" last year when New Adventures brought the production back to the stage for a UK tour, this latest incarnation of his iconic production features revisions to the set and costume designs by Lez Brotherston—Bourne's brilliantly imaginative longtime collaborator—and new lighting by Paule Constable.
Reviewing this latest revival, the Financial Times critic noted that Bourne has "tweaked the staging here and there" but noted that "the substance of the show survives unaltered." What has always been remarkable about that staging is how effortlessly it eliminates distinctions between "dance" and "theater." Bourne is first and foremost a storyteller, and his unique approach blends both disciplines into a remarkably expressive style that leads the audience into his highly original dramatic worlds.