On Musicals
Jerry Herman's Legacy Lives On With Mack & Mabel
January 27, 2020 by Jack Viertel
Jerry Herman, who died at the very end of 2019, probably supplied as much pure pleasure to theatergoers as any Broadway songwriter of the later 20th century. It was his ambition to be the musical reincarnation of Irving Berlin, and there is a good case to be made that he largely succeeded. More than Berlin's tunefulness, his open-heartedness and his love affair with both love and show business, Herman admired his idol's hard-won simplicity and always fought to achieve it.
Songs like "Put on Your Sunday Clothes," "Hello, Dolly," "Mame," and "The Best of Times" never failed to supercharge audiences, though when carefully examined, they are made by the simplest of means. And ballads like "If He Walked Into My Life" and "Ribbons Down My Back" hid their compositional technique neatly, so that they seem to have come directly from the hearts of the characters singing them, unadorned. But what marked him most as a unique voice was his unchallenged ability to celebrate joy in the moment. He didn't need a special occasion. Any day could be a spectacular day if we made it one, and he wanted us to know that, and feel it.
Be that as it may, it was also Herman, never a man to wave his politics in anyone's face, who created (back in 1983!) "I Am What I Am" an anthem that gave strength, hope, and energy to hundreds of thousands of gay Americans during the AIDS crisis, and helped create a dawning understanding in many more straight ones. It meant to the gay rights movement what Berlin's "This is the Army" must have meant to our soldiers in World War II. He was, alas, the last of his kind—there will be no musical reincarnation of Jerry Herman.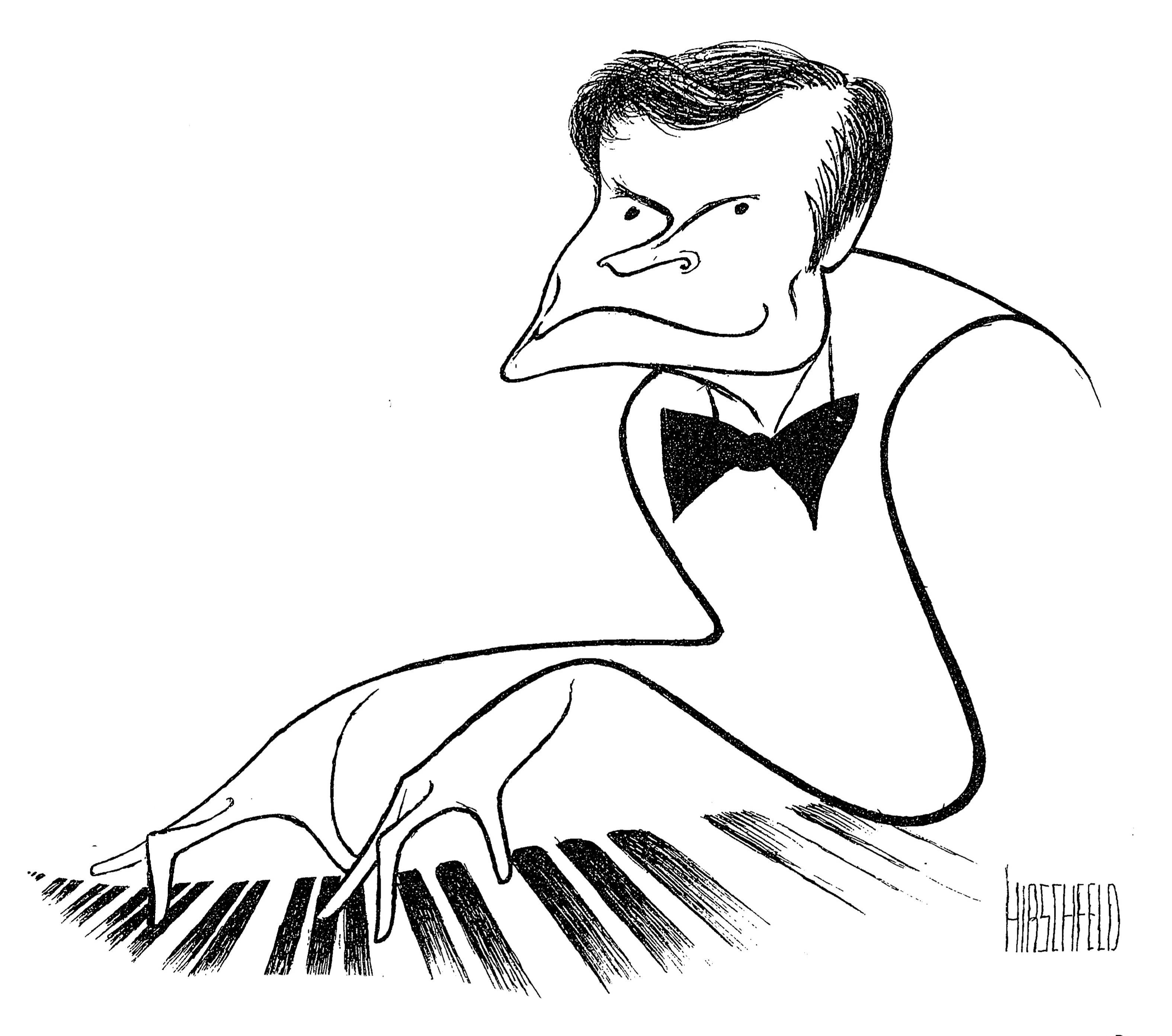 Jerry Herman, drawn by Al Hirschfeld © The Al Hirschfeld Foundation.
www.AlHirschfeldFoundation.org.
But we will always have the songs. Some of his very best comprise the score of one of his least often seen, but most eagerly anticipated Broadway ventures, Mack & Mabel.
When plans were announced for this new musical, Broadway fans must have been ecstatic. After all, the team putting together this valentine to the silent comedy era was the team that had created Hello, Dolly!: composer-lyricist Jerry Herman, book-writer Michael Stewart, director-choreographer Gower Champion and producer David Merrick. Almost no team had had comparable success in the years since Dolly! opened back in 1964, and here it was 1972. What could possibly go wrong?
The idea for the show came from Jerry Herman's friend Leonard Spigelgass, a Hollywood screenwriter and producer who had one claim to fame as a Broadway playwright— the successful, though now largely forgotten A Majority of One, which had starred Yiddish theater favorite Molly Picon, who had also starred in Herman's first musical Milk and Honey. Spigelgass believed there was a compelling story in the romance of silent comedy pioneer Mack Sennett and his lover and first comedy star Mabel Normand. The rise-and-fall of their tumultuous affair had more or less paralleled the rise-and-fall of the silent film era itself—a promising structural quirk of fate. Spigelgass was initially slated to write the book for the show but was quickly distracted by other work. So, Herman turned to Michael Stewart, with whom he had had his greatest success. It was natural for the two of them to bring the project to Champion, who in turn suggested that Merrick—always difficult, but all-powerful—be their producer.
But a lot had happened since 1964. Dolly!, which was a smash hit musical comedy, was a kind of joyous throwback to the antic shows of the pre-war era; it didn't always make a lot of sense, but it spread a huge amount of joy. It was also an especially welcome antidote to President Kennedy's assassination, which took place just a few months before it opened. America needed the tonic. In the ensuing ten years before Mack & Mabel saw its opening night, things had turned darker, and Broadway musicals were beginning to respond to a restive national mood.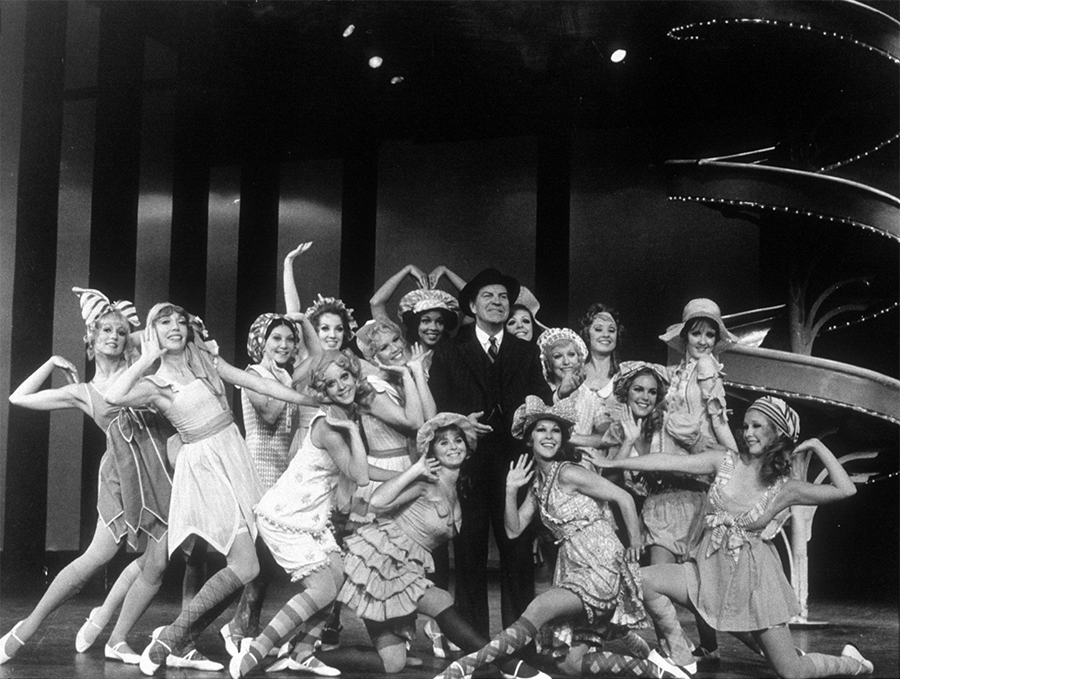 Robert Preston and the chorus girls in a 1974 production photo of Mack & Mabel; photo from Photofest
Champion sensed this; he was already trying to recast himself as something more than a stylish merrymaker. Herman and Stewart also recognized that Mack & Mabel couldn't and shouldn't try to recreate their earlier success in its tone. It was a tragic romance about silent comedy—not an easy thing to pull off. Still, they went to work enthusiastically, believing that they could have the best of both worlds. Sennett's inventive comic spirit (he can claim credit for innovations like the custard pie-fight and the Keystone Kops, and he was responsible for the early career of Charlie Chaplin) was matched by his workaholic single-mindedness and lack of sentiment. Mabel Normand, meanwhile, was an adorable natural comedienne (as she was called in that era) and a beauty, whose real life was dogged by rumors of alcohol and drug abuse. It was, in some sense, a show about trouble in paradise.
Stewart and Herman created a tragicomedy about two flawed talents who couldn't live with or without each other, but who made the world laugh while trying to banish their personal demons. Meanwhile, Champion turned to the challenges of creating an event that sometimes behaved like a traditional musical comedy but rarely looked like one. The show was designed so that it appeared to take place largely in Mack Sennett's abandoned studio after his luck had run out, with each of its scenes growing from Mack's memory. There were extensive film clips employed, which ran the risk of being more compelling than the live performers competing with them. Casting was difficult. After Jerry Orbach flirted with the project, Robert Preston was finally cast as Mack. For Mabel, the rising star Bernadette Peters was chosen after three or four more experienced stars were rejected by one or another member of the creative team. Looking to make money on the road, Merrick booked the show on a long tryout tour crossing the country from San Diego to L.A. to St. Louis (where it played the 11,000 seat outdoor arena known as the Muny) to Washington, D.C. before landing at Broadway's Majestic on October 6, 1974. Along the way, Mack & Mabel underwent significant changes that suggested a push-pull between Champion's vision of it as a darker, post-60s musical drama and Herman's consistently upbeat, optimistic, and unfailingly attractive score. The opening night product was probably not what any of the creators had hoped for, and Herman, at least, felt that the show had been in better shape in San Diego at the beginning of the tryout than it was by opening night.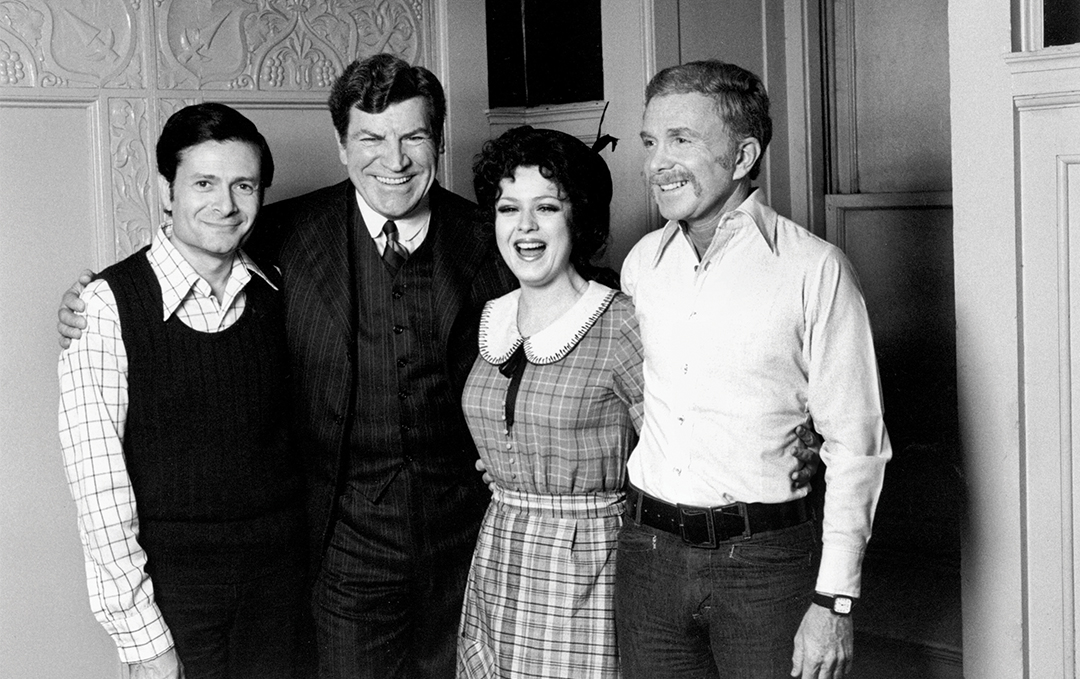 Jerry Herman and Michael Stewart with original cast members Robert Preston and Bernadette Peters; photo from Photofest
The critics were quick to pounce, probably because the team was so famously successful from its last outing, and the outcome was a mere 66 performance run. Years later, Stewart's sister Francine Pascal, who had taken on the task of rewriting the show after Stewart's death in 1987, began to produce more definitive revisions. Believing that course correction was not only possible but essential, Mack & Mabel's new team was able to find something like a final form.
Even in its original production, however, it was virtually impossible to ignore the joy and skill built into Jerry Herman's score, although some critics of the day managed to do so. Herman was particularly besotted with the period of silent movie music—the jangling piano figures and hyper-energized orchestral underscores that were played live in movie theaters across the country to accompany the melodramatic films of the pre-sound era. Beginning at the very top of the show with Mack Sennett's credo that "Movies Were Movies" back in his day, the composer treated theatergoers to a parade of stylistic tributes, while as a lyricist, he evoked some of the most famous silent comedy tropes—drunken ministers, "the guy with the fly on his nose," and "itching powder in papa's mustache." Anyone who has sat through an hour or two of Chaplin or Keaton will recognize the references.
Herman wasn't a strict writer of pastiche, however, and although songs like "Look What Happened to Mabel" and "Tap Your Troubles Away" evoke another time, they always sound blissfully like Jerry Herman. The two ballads from the show that have become cabaret standards, "I Won't Send Roses" and "Time Heals Everything," are also redolent of the past—although the latter perhaps evokes something more from the film noir era than from pre-talkies. (It's worth noting that the lonesome, ardent saxophone solo that accompanied it both in the Broadway show and on its original cast album was played by Encores! Music Contractor Red Press—still going strong at 96.)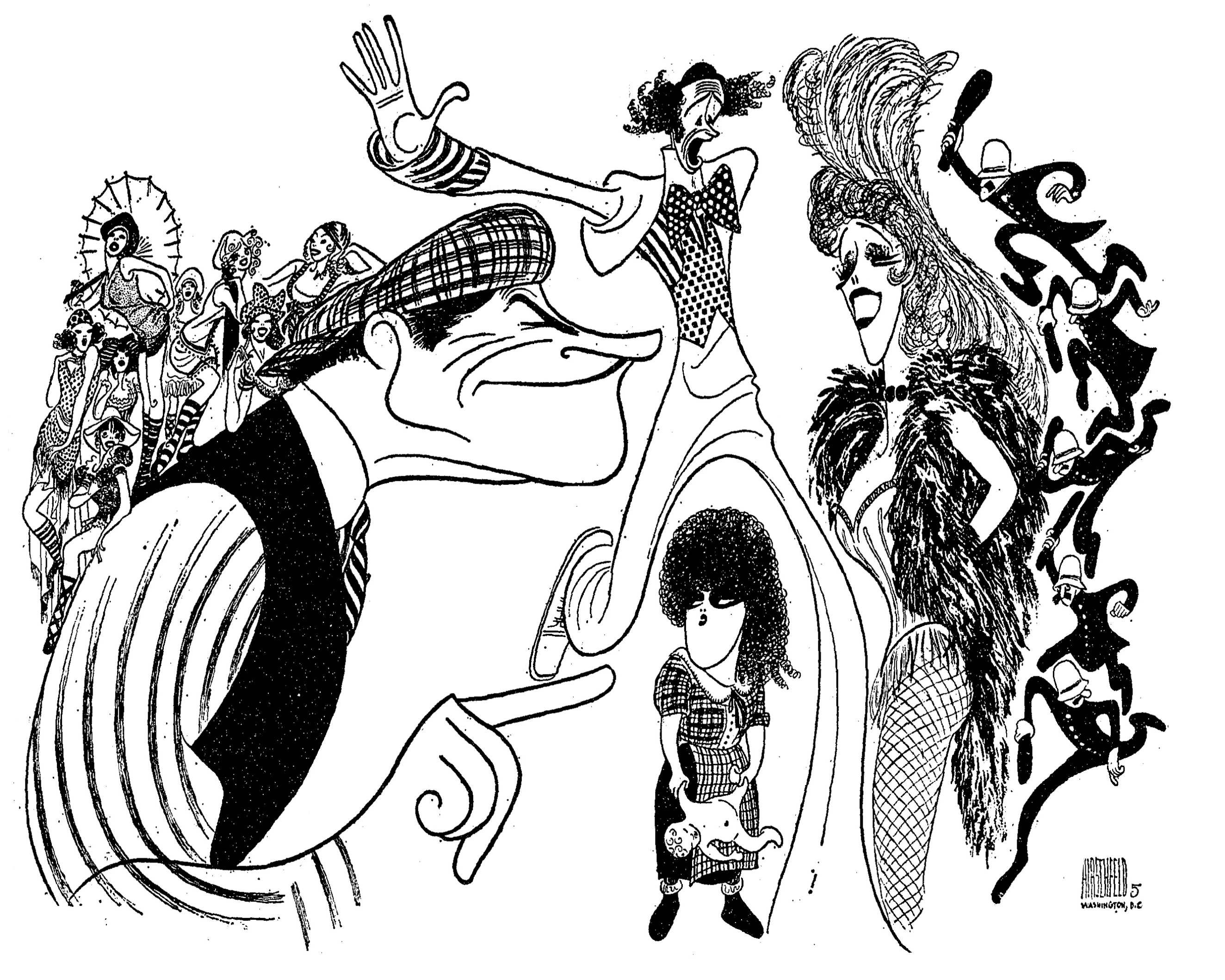 The cast of Mack & Mabel, drawn by Al Hirschfeld © The Al Hirschfeld Foundation.
www.AlHirschfeldFoundation.org.
Mack & Mabel vanished from Broadway quickly, but it has stubbornly refused for more than four decades now to pass into theatrical history, largely on the strength of Jerry Herman's score, which many consider to be his best and most consistent. Revised and revived at various times and places (most successfully in London) it remains a show that audiences want to see. More than a curiosity, never a piece of the standard repertoire, it is, among so many other things, a testament to the challenge of trying to get things right, and to Herman's indefatigable gifts as a songwriter for all times.
Jack Viertel is the artistic director of Encores! and the author of The Secret Life of the American Musical: How Broadway Shows Are Built.