On Musicals
Love Life in the 21st Century
February 27, 2020 by Rob Berman and Victoria Clark
Love Life, the 1948 collaboration between Kurt Weill and Alan Jay Lerner, hasn't been revived often. In fact, the Encores! presentation is the first New York production since its original run on Broadway. A musician strike at the time meant that no cast recording was ever made. And so, the show has remained a bit of a mystery to theater lovers. Yet Love Life's unusual and experimental form has inspired the likes of Stephen Sondheim, Hal Prince, John Kander, and Fred Ebb—who went on to create shows such as Cabaret, Company, Chicago, and Follies.
Right before the show opened on Broadway, The New York Times ran a delightful piece titled "Two on the Street" in which Lerner and Weill explained the show to a fictional theater-goer. Inspired by the piece, Director Victoria Clark and Encores! Music Director Rob Berman had a conversation of their own in advance of the Encores! Production.
ROB: Vicki, yesterday we heard the Encores! Orchestra play the score for the first time and I think we were both inspired by hearing these songs and orchestrations up close.
VICKI: Yes, it was a strikingly visceral experience. This is a late theatrical work for Weill (only Lost in the Stars was completed afterwards) and the score has the wit, complexity, nuance, and gutsy emotion of his life experience.
ROB: Often referred to as the first "concept musical," Love Life operates on three levels: the story of a marriage that falls apart, the history of the United States, and the overarching frame of a vaudeville show. Were Weill and Lerner just trying to do too much here?
VICKI: The structure is actually simpler than it seems. I see Love Life as two interlocking descending spirals. One spiral tells the story of the Cooper family and a marriage that is stretched and eventually broken by the stresses of modern life. The other is the story of the American Dream, and how it threatens to undermine us. Both stories inform each other. The family's story is actually a memory play about a relationship; the country's story is told through a series of vaudeville acts that serve as socio-political commentary. Because of the entertainment value of both stories, we are forced to see America and our lives as a "show." Sound familiar?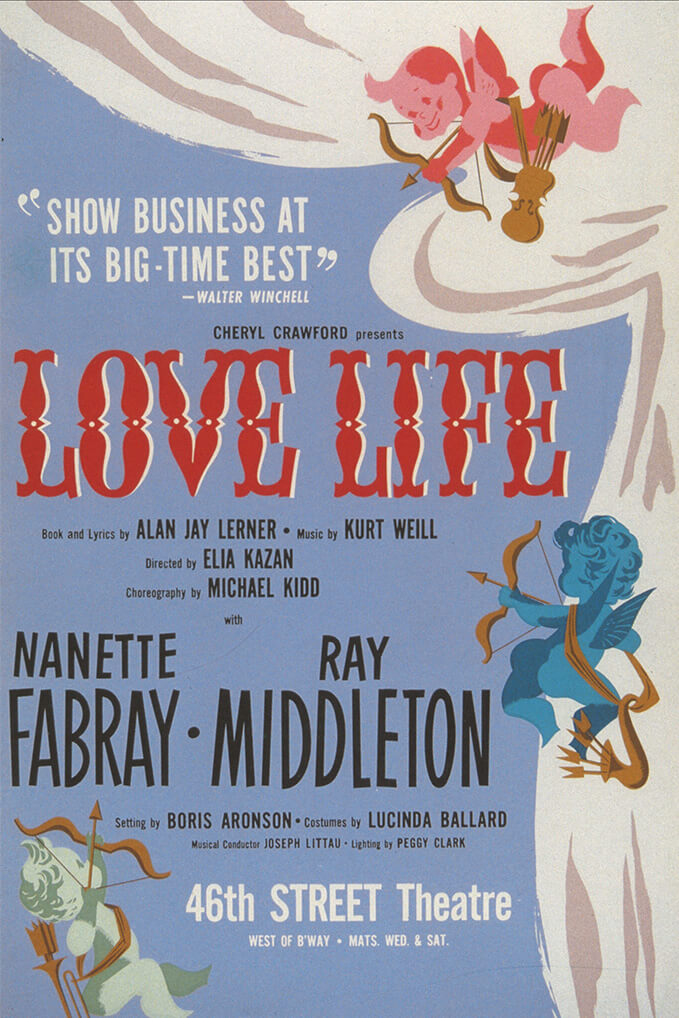 Courtesy of the Weill-Lenya Research Center, Kurt Weill Foundation for Music, New York.
ROB: We are so delighted to have you making your Encores! debut as a director after appearing onstage at City Center in shows such as Juno, Follies, and Assassins. I know this piece has interested you for a long time and am wondering what about it speaks to you personally?
VICKI: It's a thrill to be directing for Encores! and to be collaborating on this project. This piece is deeply insightful about what skill it takes to communicate, and how we are lured as Americans by the shinier thing—the bigger paycheck, and how our own greed and egos take us farther and farther away from the simple act of loving one another. That kind of admonition is exciting to me. And I am always drawn to family stories. Divorce doesn't always mean the end of something; sometimes it is the beginning of a new chapter of deeper understanding, forgiveness, and grace. It was for me, and I think this is an important story to tell.
ROB: In this score Weill was writing in so many American idioms. There is a soft-shoe, a blues, a Tin Pan Alley number, a hoedown, a torch song, and on and on. And yet none of it feels generic or pastiche. His distinct compositional voice is still quite present. Things don't go where you think they are going and there are musical surprises at every turn. Weill was one of the few composers on Broadway who orchestrated his own music so it's not the typical "Broadway sound" of the era.
VICKI: Because Weill and Lerner were writing about America in the context of our history, there is ample opportunity to explore all these styles, and it is really fun. A true melting pot.
ROB: The original creative journey of the show took many twists and turns. It has been documented how many rewrites and revisions there were between the show's out-of-town tryouts and New York. Having studied the piece so carefully, what do you think they were struggling with? I think some of your ideas about the piece are picking up where they left off in terms of trying to find the best version of the show.
VICKI: In studying this piece, I've been impressed again and again by how ambitious and brave Lerner, Weill, Elia Kazan (director), and Michael Kidd (choreographer) all were in their construction and interpretation of this work—testing ideas and changes. Eventually, the more heartbreaking scenes and songs about the marriage were cut, and we are restoring them for this production. I believe modern audiences can hold and appreciate all that complexity, and I think those moments are integral to the depth of the story.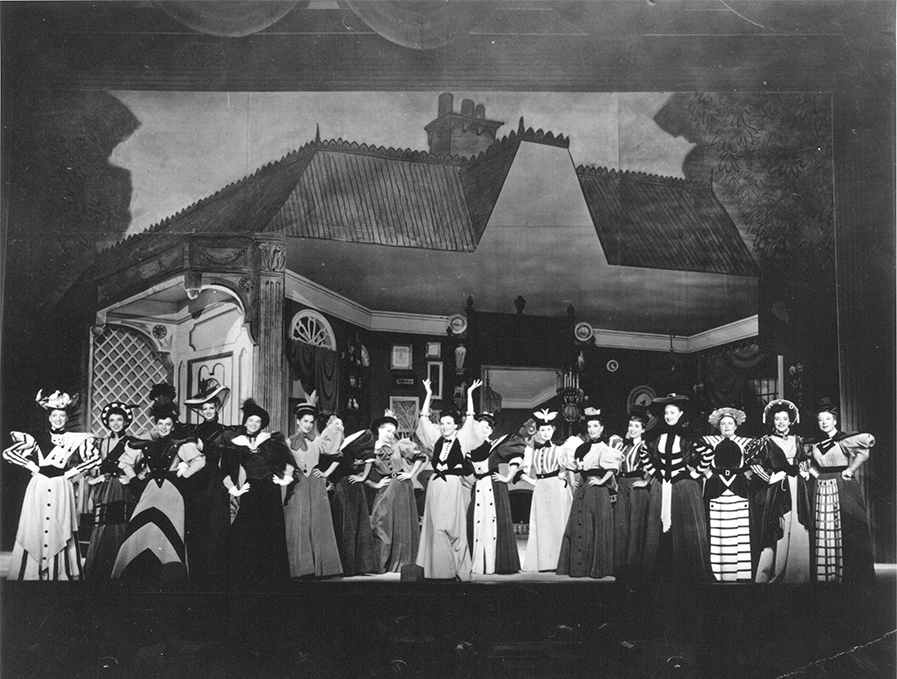 Courtesy of the Weill-Lenya Research Center, Kurt Weill Foundation for Music, New York.
ROB: One adjustment you have made is enlarging the roles of the two Cooper children. What effect will that have on the piece?
VICKI: We are allowing the characters of the Cooper children, Elizabeth and Johnny, to guide the story-telling, which was not the case in the original. We are hoping that this point of view will provide some structural glue and emotional underpinning.
ROB: "Here I'll Stay" is a classic Weill ballad that comes at the end of the first scene and sets us on the emotional course of the evening. The very first bars of the introductory music in the show is a phrase from that song: "For that land is a sandy illusion." The theme of illusion vs. reality runs throughout the piece culminating in the finale, the illusion vaudeville show. What do you think Lerner and Weill were trying to get at?
VICKI: Perhaps it's the reminder that the American Dream, after all, is really unattainable. And that any dream or ideal we have of what "love" and "life" are supposed to be only prevents us from seeing who and what are actually standing right in front of us. It is a gold mine of themes and resonates on many levels. I'm interested to hear what audiences take away from this work.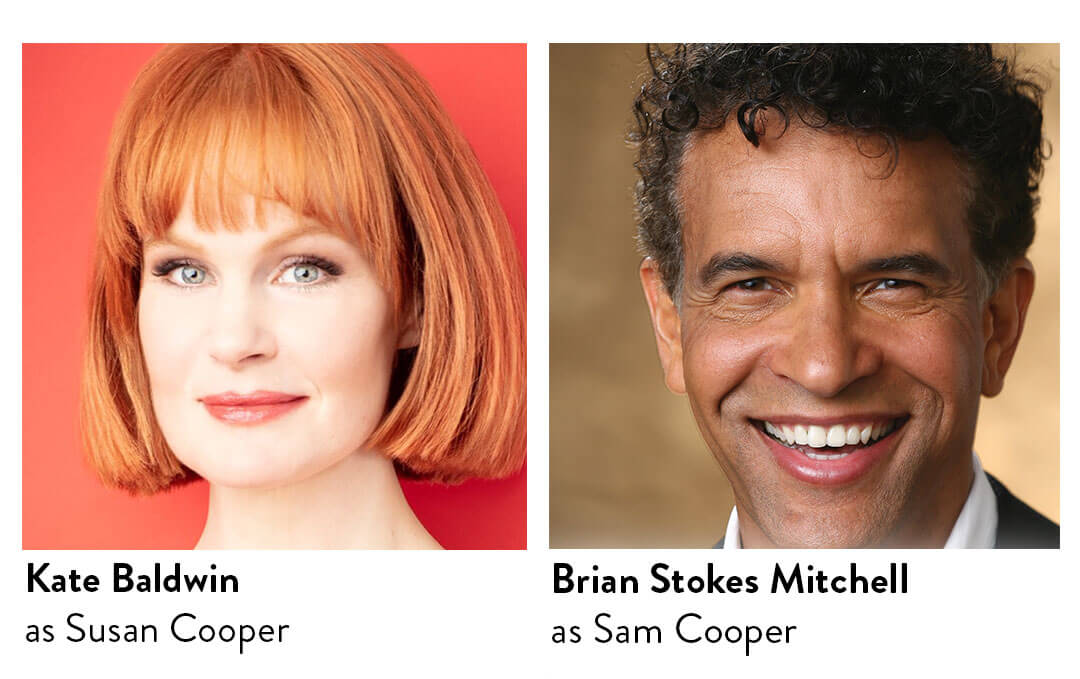 ROB: And how about our cast? Brian Stokes Mitchell and Kate Baldwin are two of our great musical theater performers.
VICKI: Yes! They are the quintessential Sam and Susan. Stokes is our great American heroic baritone. Kate is our modern-day Nanette Fabray, with all her wit and heart. And they are joined by a company of all-stars including John Edwards, Clarke Thorell, and Sara Jane Ford. We are blessed beyond measure.
Rob Berman is the Encores! Music Director and Victoria Clark (Vicki) is the Director of Love Life.