City Center Throwbacks
Barbara Cook Talks about Working with Rodgers & Hammerstein
October 25, 2014 by Matt Weinstock
The glorious Barbara Cook never originated a role in a Rodgers & Hammerstein show, but she's been very good at pinching their songs, co-opting them, to the point that we think of her as having created them in some fundamental way. That habit began at City Center in the 1950s, when Cook lent her pure, Rockwellian soprano to revivals of Oklahoma! (1953), Carousel (1954), Carousel again (1957), and The King and I (1960). As Carrie Pipperidge, Cook received her first rave New York notices (Brooks Atkinson called her "obviously the biggest find Mr. Hammerstein has made….in appearance, acting and singing she is perfect"), and her Anna Leonowens was so thrillingly sung that it prompted the following note: "We wish last night had been the Broadway opening." The note was signed, "Dick and Oscar."
In a recent phone conversation, Cook talked about rehearsing with Richard Rodgers, why The Sound of Music isn't as schmaltzy as everyone thinks, and why "the lady who played Aunt Eller was just a pain in the ass."
CITY CENTER: When did you first hear the music of Rodgers & Hammerstein?
BARBARA COOK: Their first big hit was, what, Oklahoma!? Well, I got out of high school in '45 and took a trip to New York, and that's the show that I saw. I remember sitting there being a nervous wreck, because I knew that's what I wanted to do. I couldn't even really see the show properly and enjoy it, because I kept thinking, Oh my god, those people up there—they're not real people. How could I ever do that?
And then you ended up playing Ado Annie at City Center in 1953. I think you and your husband David LeGrant—who played Ali Hakim—were the only new cast members.
Some of them had done it for ten years or something. Florence Henderson was in that production [as Laurie], and she had done it the year before. Florence and I worked very well together, and we're still friendly. Everybody was nice. Actually, there was one bad apple. The lady who played Aunt Eller was just a pain in the ass.
Since you were joining a pre-existing company, was it hard to make Ado Annie your own?
I never was able to make it my own, because there was this asshole—you'll beg my pardon—who worked for R&H. His name was [Jerome] Whyte, and he was given the job of directing the show when it toured. He insisted that I do it like [original Ado Annie] Celeste Holm, which is just—you know, it's death. By the time we got to City Center and opened, I had tried to find some stuff of my own. He came backstage and he said that if I did that, he would see that I never worked again. He was not a nice piece of work. And it was ridiculous; you can't ask somebody to have the comic timing of somebody else. I didn't know R&H that well then, or I would have gone to them and said, "Look, this is not working." But I was so young. I didn't even think about doing it.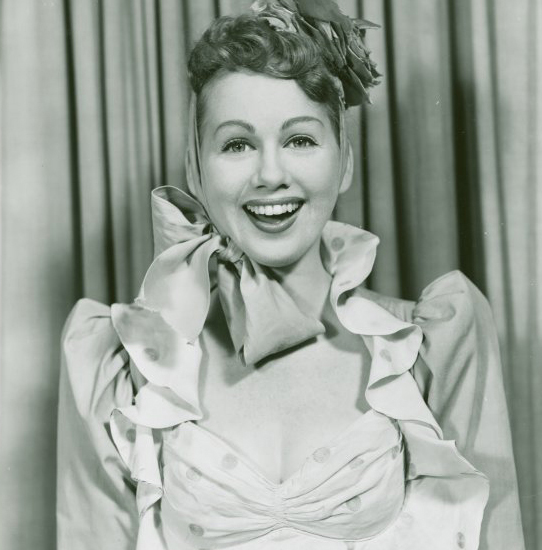 Barbara Cook as Ado Annie in a publicity photo for Oklahoma! (1953). Billy Rose Theatre Division, The New York Public Library for the Performing Arts, Astor, Lenox, and Tilden Foundations.
Was Whyte acting on the orders of Richard Rodgers, who was famously meticulous?
Oh, very meticulous. But you know, I'll tell you the thing he was good about. When I was doing Carrie at City Center [in 1954], he came in to watch a rehearsal. Now, there is a point where she exits and Jean Darling, who played the role originally, wore all these bustles and did some funny little walk off that made her bustle bounce, and she got a laugh. Well, Rodgers wanted me to do that. And I said, "I can get the laugh another way. Why, suddenly, do I walk that way when I never walk that way in the rest of the show? It doesn't make sense." He said, "You're right." He listened to me, and I did it my way.
So he wasn't beholden to the original production.
Oh, he was! But I showed him that I could do it another way and make it more honest and real. [Carrie Pipperidge] was the first time the critics really paid attention to me. It was like I was the new young thing. It was very important for me. And I loved that role. It was so much fun. I would step forward and sing "Mister Snow" and the damn roof came off all the time.
A few years later, you did Carousel again. It was August 1957, and you had already signed to play Marian Paroo in The Music Man, but City Center prevailed upon you to play Julie Jordan for three weeks after Janet Blair quit during rehearsals. Was it hard to dive into that part?
You know, as far as I'm concerned the key to that role—particularly in the scenes with Billy Bigelow—is that he's in trouble. He's a troubled guy and she is like this calm, cool lake.
Right—she's "quieter and deeper than a well."
(laughs) Yeah. Julie is a wonderful character, and I loved doing it, but it's really quite a dramatic thing. Carrie's a lot more fun. I'm lucky that I was able to play both of 'em. I have such wonderful memories of City Center. I did so many things there that I'm proud of—particularly The King and I. And Farley [Granger, who played the King] felt exactly the same way. We both think it's the best thing we ever did.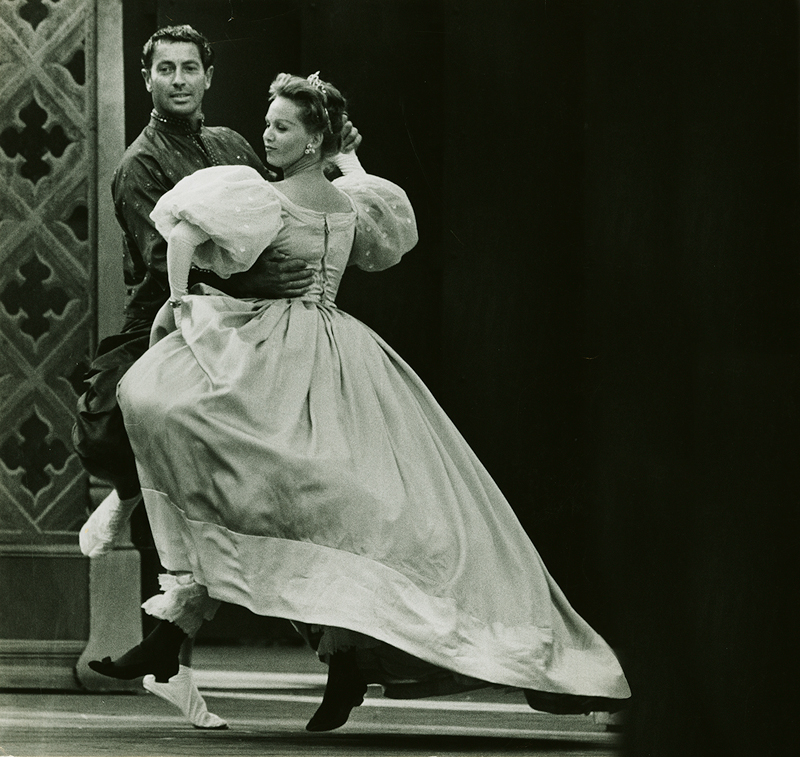 Farley Granger and Barbara Cook in The King and I (1960). Billy Rose Theatre Division, The New York Public Library for the Performing Arts, Astor, Lenox, and Tilden Foundations.
So did Brooks Atkinson. In his New York Times review, he said that it was the best performance of your career, and that City Center's production was better than the original. Why did it work so well?
Well, first of all, we were good. (laughs) And second, there was a wonderful sexual chemistry between the two of us—really sexy. There was never any stuff between us, but people have certain chemistry that they can use on stage, and man, we had it. I thought he was a very good-looking guy, so I didn't have to do a lot of acting. You know the scene when they do the waltz? That was hot. (laughs)
That was director John Fearnley's concept for the piece, right? According to Granger, he "saw the King and Anna as a young couple whose sexual chemistry the audience could buy into."
It made the story make more sense, I think. In fact, Arthur Laurents wrote a note to Dick Rodgers and said that until he had seen this King and I, Carousel had been his favorite R&H show, but that Farley and I changed his mind. Then Dick wrote back and was very, very complimentary to the two of us. I'm so happy to have those notes.
So why didn't the production transfer to Broadway?
There was suddenly an equity strike, dammit. I would love to have played it longer. I could hardly wait to get to the theater every night and have the opportunity to do that show again. We played it once after that, in an outdoor arena thing in Washington, but I'm so sorry we didn't have a chance to have weeks and weeks of playing it, because, oh God, it's a great show.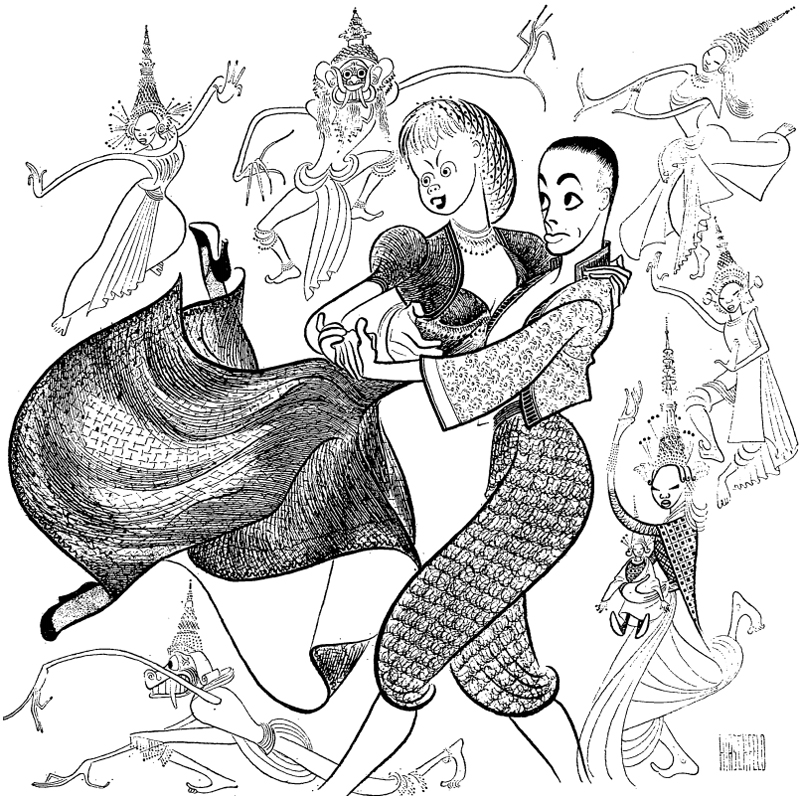 Al Hirschfeld caricatured Farley Granger and Barbara Cook in The King and I (1960). © The Al Hirschfeld Foundation. www.AlHirschfeldFoundation.org. Al Hirschfeld is also represented by the Margo Feiden Galleries Ltd., New York.
The King and I closed in June 1960, and Oscar Hammerstein died two months later. Did you know that he was sick?
I did not know. I remember when I heard it come in over TV or the radio or something, I was ironing something. I was so shocked. Such a shame. I feel really fortunate to have known both of them, and worked with them. I never did the original productions, but I did their shows many times, all over the place.
Did you audition for any of their original productions? Me and Juliet, Pipe Dream, and The Sound of Music all opened when you were in New York.
Pipe Dream…come to think of it, I think I did audition for that. They had me work with the director [Harold Clurman], and I think I did fine. But you know, I had this little-girl look, and I think they wanted a more womanly look. Which is what they got with Judy Tyler. It was not a very good show.
So you lucked out. But was it a source of disappointment that you never got to originate a Rodgers & Hammerstein role?
I feel very disappointed that I never did one of their shows from scratch, do you know? It's the sort of thing you always want to be able to do, and it never happened. But when I did Mrs. Anna in King and I, Hammerstein in particular was really thrilled with my performance. He didn't say very much, but you know, when he did, it really meant a great deal. Oscar was a quiet, gentle kind of person. He seemed very centered. And Dick was full of energy. Both very nice to me, I must say. And I loved doing their stuff.
What do people tend to underrate, or forget, about Rodgers & Hammerstein?
I think Oscar Hammerstein has not gotten enough credit for his books. A lot of people denigrate The Sound of Music, but I've played that role, and it is put together like the Brooklyn Bridge, you know? The book is so well-crafted, and I think he often does not get enough credit for that.
I also want to talk a bit about Rodgers and Hart. You've called "He Was Too Good to Me" one of your favorite songs to sing. Why?
It's about the lyrics. Of course, the music is nice too—don't think it's not. But there's just so much to act in that song. I haven't done it in a while, but I'll bring it out again one of these days.
There's a thrilling moment in your 1994 London concert in which you do "He Was Too Good to Me," and then the music morphs and deepens into Sondheim's "Losing My Mind." In a small way, that has been your career arc: in the '50s you did several major Richard Rodgers shows and recordings, and today you're thought of as the premier interpreter of Sondheim. As you got older, did you find that there was less to plumb in Rodgers's songs?
No, there is, I think. But Stephen's songs, and even Rodgers & Hart songs, are more appropriate for cabaret. The Rodgers & Hammerstein songs, for the most part, are really kind of showy and singy and big-concerty. It doesn't mean you can't do them in cabaret, but I think they are not as appropriate, maybe, as some of Stephen's things. Stephen—I haven't said this to him and I won't, because he'd knock me sideways, but he kind of reminds me of Shakespeare. You can go back to Shakespeare again and again and again and find new things all the time. I think that's very often true of Stephen's work. It's so rich, so rich.
Does your interpretation of a song change over time?
Everything has changed as I've gotten older. You know, you get smarter as you get older. You do! If you've got any sense at all, you do. And I have worked hard to go farther [emotionally]—hopefully with good taste. Of course, I don't have the range that I had—nowhere near—but I have much more ability to communicate than I used to. I trust myself a lot more, d'you know?
I read that you take a Lee Strasberg approach to singing—that you "call up memories, and see photographs."
In a way, I do. People used to say to me, some time ago, "You're a wonderful actress," when I was singing. Well, I never realized that that's what I was doing: really acting it. I didn't do it on purpose. It was just the way I worked, and I wasn't really aware of it. Now when I teach master classes, I sometimes suggest to people that they think of the lyrics as dialogue. Particularly with show tunes.
Do you have them actually talk through the lyrics?
I sometimes do. What happens is, young people come in—young ones who are not all that experienced—and they just want you to know they can sing. So they come on like a singing machine. And slowly, slowly, slowly, I get them to be a human being again. It almost always works. It's quite exciting, and very moving.
How did you know to do that yourself? Even in Oklahoma! in 1953, you refused to fit into the Broadway machinery of replicating a performance. How did you know that early on…
…that I didn't have to be Celeste Holm? Well, that's easy. It just feels like wearing somebody else's shoes. Somebody else's clothes. It's uncomfortable.
For nearly sixty years, Barbara Cook has been recording the songs of Rodgers, Hammerstein, and Hart. Here are some of City Center's favorites:
---
Matt Weinstock writes for the publications at New York City Center.
Top photo: Barbara Cook, photographed by Denise Winters.