Studio 5
STREET DANCE
Mon May 22, 2023 at 6:30pm
All tickets $35
In this edition of Studio 5, a cohort of some of New York City's most riveting street dance artists share their expertise in various vernacular forms including breaking, hip hop, house, popping, locking, waacking, and lite feet. Acclaimed artists Ephrat Asherie and Adesola Osakalumi moderate an evening of conversation that centers the social and political contexts that birthed each of these dance forms, helping audiences gain a more in-depth understanding of the nuances and developments within the expansive canon of street and club dances.
Featuring Victor "Kid Glyde" Alicea III, Jonathan "Jon Lock" Amable, Noah "Noahlot" Catala, Tatiana Desardouin, Mai Lê Hô, Alain "Hurrikane" Lauture, and Nubian Néné
---
Previous Events
FALL FOR DANCE FESTIVAL | STAGING THE VIRTUAL
Thu Sep 15, 2022 at 6:30pm
In anticipation of the 19th annual Fall for Dance Festival, join selected artists in our historic studios as they perform excerpts from work previously commissioned for our 2020 Digital Fall for Dance Festival, and discuss the intricacies of restaging these works for a live audience.
Sara Mearns previews The Two of Us with choreographer Christopher Wheeldon, a piece set to classic Joni Mitchell music that will be performed as part of Program 4.

Choreographer and original performer Jamar Roberts discusses his solo work Morani/Mungu (Black Warrior/Black God) with moderator Brian Schaefer before the piece's Live Premiere in Program 3.
MR. B: GEORGE BALANCHINE'S 20TH CENTURY
Mon Nov 14, 2022 at 6:30pm
Celebrate the launch of the new book Mr. B: George Balanchine's 20th Century with author Jennifer Homans (Apollo's Angels: A History of Ballet). Moderated by Alastair Macaulay, and featuring Lourdes Lopez, this evening of conversation and performance includes excerpts from Balanchine's Agon and The Four Temperaments, performed by Gilbert Bolden III, Adrian Danchig-Waring, Emilie Gerrity, and Miriam Miller. With pianist Elaine Chelton.
Excerpts from GEORGE BALANCHINE'S THE NUTCRACKER®
Mon Dec 5, 2022 at 6:30pm
Experience excerpts from George Balanchine's The Nutcracker®, performed by New York City Ballet Principal dancers Unity Phelan and Indiana Woodward with special guest teacher Suki Schorer. The evening is moderated by Alastair Macaulay. Pianist: Elaine Chelton.
AYODELE CASEL | ARTISTS AT THE CENTER
Mon Mar 6, 2023 at 6:30pm
Collaborators Ayodele Casel and Torya Beard discuss this season's carefully curated Artists at the Center showcase of tap's infinite expressions with moderator Aaron Mattocks in advance of the April program. Featuring performers Naomi Funaki, Crystal Monee Hall, and Dre Torres.
---
Photos & Videos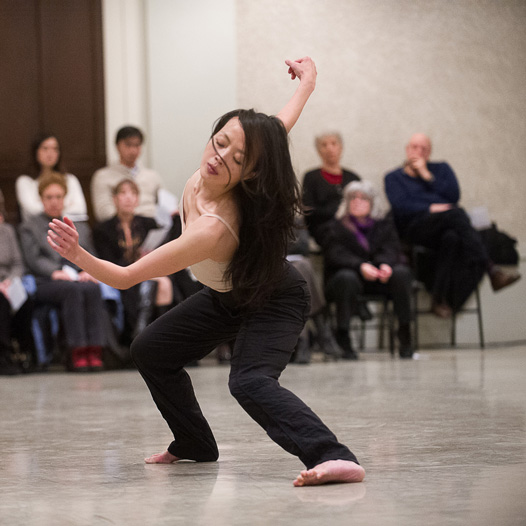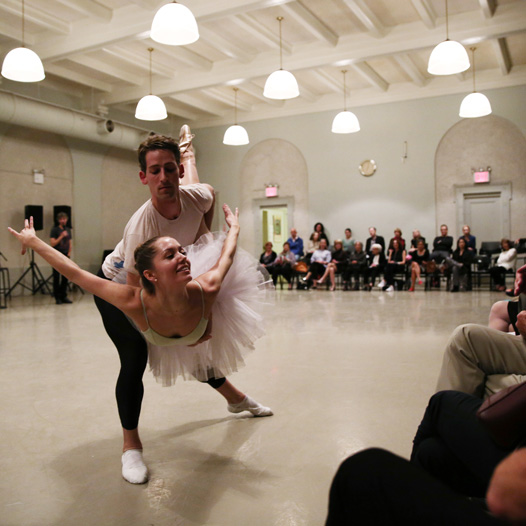 ---
This popular evening series of conversations and performance excerpts offers audiences the unique opportunity to get closer to today's great dance artists. Most evenings feature previews of our mainstage dance programming and are moderated by leading scholars and writers in the dance world. We're also proud to offer select Studio 5 evenings as livestreamed online events, and as on-demand video content.