Studio 5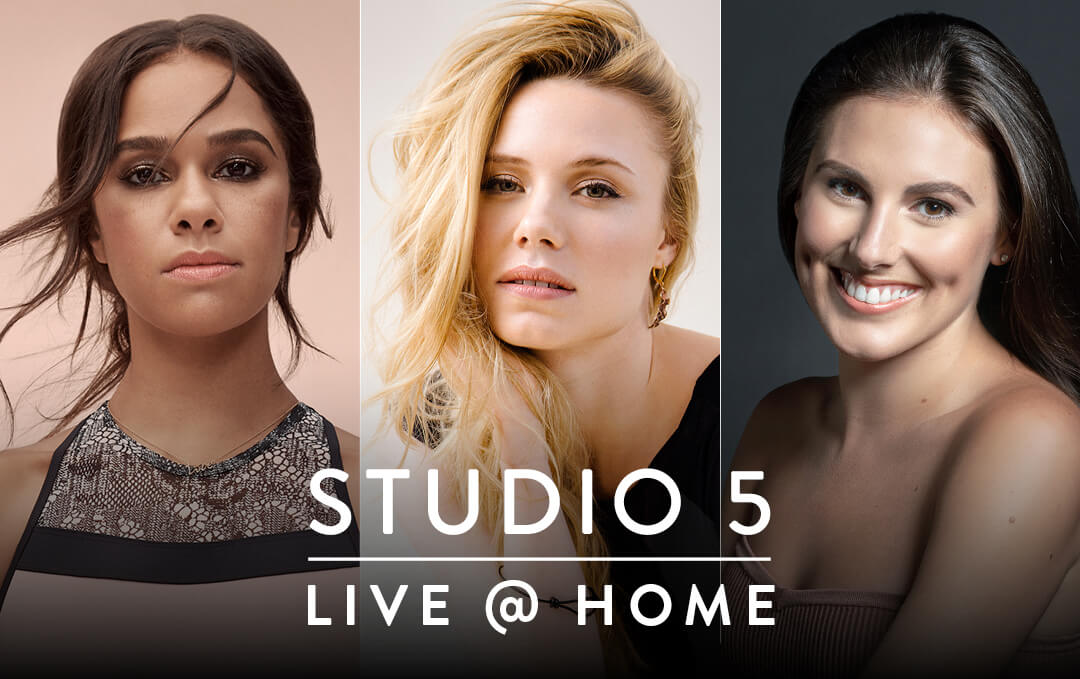 "BETTER ON ZOOM: STUDIO 5 MAKES THE MOST OF GOING VIRTUAL"
—Dance Magazine
Become a Friend of City Center today to receive access to an archive of the full five-part Studio 5 | Great American Ballerinas series and other great benefits. Memberships start at $100. Join today!
If you are a member and would like to watch all episodes on demand, simply log in to your account and scroll down to the Members-Only Archive section.
American Ballet Theatre principal dancer Misty Copeland and New York City Ballet principal dancers Sara Mearns and Tiler Peck feature in conversations and coaching sessions with acclaimed dance artists Nina Ananiashvili, Merrill Ashley, Alessandra Ferri, Stephanie Saland, and Pam Tanowitz. This special series is curated and hosted by dance critic and historian Alastair Macaulay. Learn more.
Past Events

APPROACHES TO MASTERING CHOREOGRAPHY
Mon Jan 27, Mar 23 & Apr 20, 2020
New York City Ballet principal dancer (NYCB) Tyler Angle hosts a three-part Studio 5 series that explores the different ways in which dancers learn, rehearse, and perform the choreography they receive from creators of original work, as well as restagings of existing ballets. A rotating cast of guest artists over the series includes NYCB soloists Daniel Applebaum and Lauren King, NYCB principals Jared Angle and Taylor Stanley, former Miami City Ballet dancer Patricia Delgado, and former Sleep No More performer Austin Goodwin. Susan Walters accompanies on the piano. Among other topics, each discussion and performance demonstration addresses the process by which ballet dancers execute work created on them by modern dance choreographers, learn existing ballet masterpieces, and allow themselves to explore and interpret dances after they have assimilated to a choreographic style.
MERCE CUNNINGHAM'S SUMMERSPACE
Mon Oct 28, 2019
At its premiere, Merce Cunningham's Summerspace (1958) made little impression except on those performing the work, yet within a few years, it became recognized for innovative use of space and time. Since then, it has been performed by New York City Ballet and other major ballet companies around the world and is regarded as a masterpiece. Macaulay moderates a conversation with Cunningham stager Jean Freebury alongside demonstrating City Ballet dancers.
THE ART OF PARTNERING
Mon Nov 25, 2019
The choreography of George Balanchine makes singular demands on the male partner, who must sometimes efface himself while anticipating the ballerina's movements in each moment. Macaulay hosts an insightful evening of performances and explanations of the intricacies of partnering with New York City Ballet dancers, in conversation with NYCB Artistic Director Jonathan Stafford.
HERMAN CORNEJO: CELEBRATING 20 YEARS
Mon Dec 2, 2019
Virtuoso dancer Herman Cornejo celebrates his 20th anniversary with American Ballet Theatre in Fall 2019. Cornejo is recognized for his range as a performer, in works from Giselle to Twyla Tharp's Sinatra Suite; to premieres by Justin Peck and Alexei Ratmansky; to classics by Ashton, Balanchine, Fokine, MacMillan, and Robbins. Macaulay, in conversation with Cornejo, discusses an illustrious career and the significance of range. Cornejo and guest artists perform excerpts from a broad selection of works.
Photos & Videos