A celebration of flamenco's global allure, this exhilarating festival brings Spain's finest dancers and musicians together, challenging the conventions of form while remaining stirringly authentic.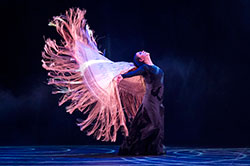 COMPAÑÍA EVA YERBABUENA
CARNE Y HUESO
MAR 9 & 10
"EVA YERBABUENA IS A VISIONARY, MAGISTERIAL DANCER, WHOSE EFFECTS GO FAR BEYOND TECHNIQUE"
—THE GUARDIAN


Flamenco superstar Eva Yerbabuena presents Carne y Hueso (Flesh and Bone), a striking piece that serves as a prologue to the 20th anniversary of her company. Joined by five dancers and a cadre of musicians, Yerbabuena delivers an unforgettable tour de force performance as one of the most expressive figures dancing today. Her generous intimacy with the audience and technical dominance of the art form has widened the choreographic possibilities of flamenco.
Pre-show dance lessons in the Grand Tier Lobby*
MAR 9 & 10 at 7pm
---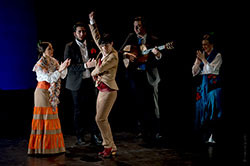 BALLET FLAMENCO JESÚS CARMONA
ÍMPETUS
MAR 11
"THE FAST-SLICING PERCUSSIVENESS OF HIS FEET IS BRILLIANT"
—THE NEW YORK TIMES


Jesús Carmona—a pioneer in flamenco's evolution—is a former dancer with Ballet Nacional de España. The flawless footwork and ballet-infused moves that make him a dynamo of a dancer translate masterfully to the work he creates for his own company. For the festival, Ballet Flamenco Jesús Carmona performs its emotionally charged Ímpetus, an irresistible interpretation of famous scores from Spain's most beloved composers.
On Friday, March 9, Carmona is joined by dancer/actor David Neumann and New York City Ballet principal dancer Joaquín de Luz for a Studio Event, Exploring Stillness, which shares the results of a five-day artistic exploration of stillness as a choreographic concept and expressive force in dance. Learn more here.
Pre-show dance lessons in the Grand Tier Lobby*
MAR 11 at 6pm
*Pre-show talk and dance lessons are free to same-day ticket holders.
Tapas and Spanish wine will be available for purchase at the bar.